Crestron Video Distribution and Control
An in depth review of the Crestron Digital Media system
The Crestron Digital Media system forms the video distribution back bone of all our projects. It is a hugely powerful and scalable video distribution system – allowing any video source to be sent to a display over HDMI, Cat6 or Fiber infrastructure, depending on site conditions and distances involved. There is no loss of quality so video resolutions and multi-channel audio formats which are present on the source material are sent at the same quality through to the end device. The majority of our residential installations use HDMI for distances of less than 15m and Cat6 for distances of 15m to 100m so these technologies will be the focus of this article.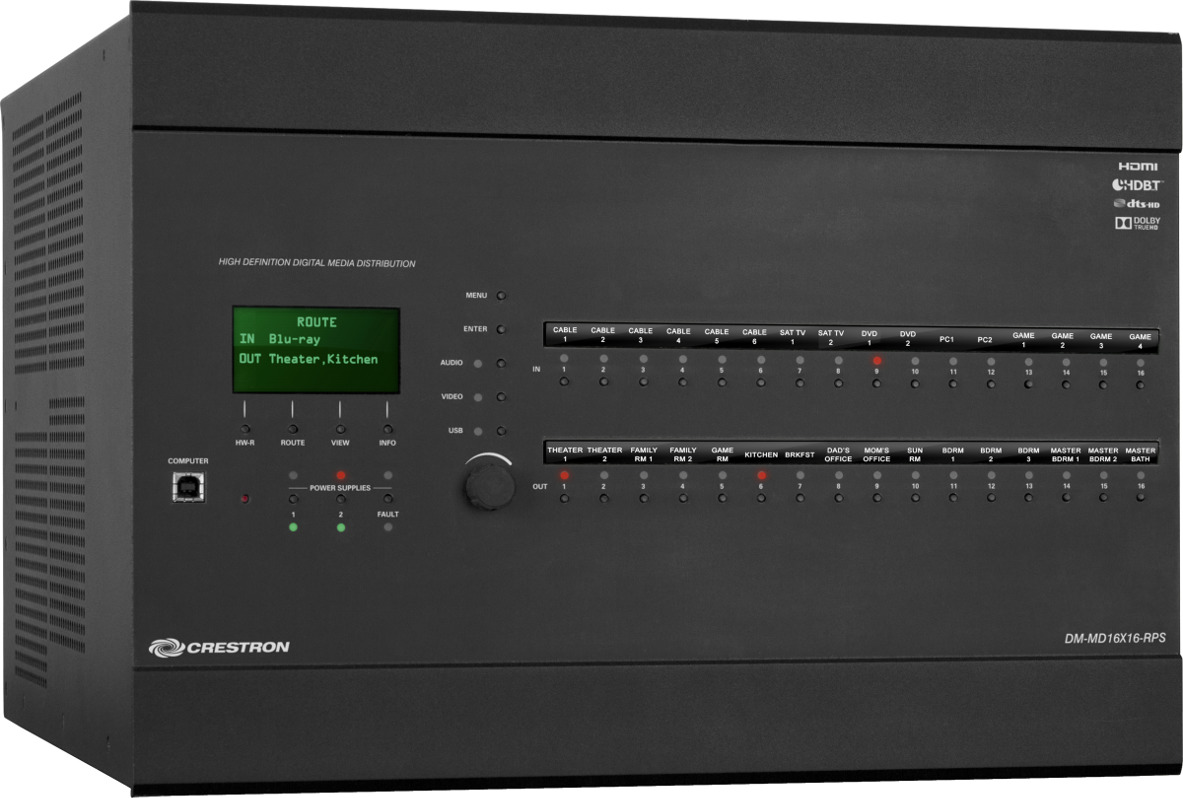 The Digital Media system is available in array of sizes from 6 input to 4 output models (expressed 6:4) right up to 128:128, designed for huge video distribution projects. The smaller matrices of 6:6 and under are HDMI distribution only whilst the larger systems have interchangeable input and output cards providing a range of inputs and outputs and also allowing the right number of cards for the project to be installed. For example a home with seven TV's would need an eight way matrix but may only have seven output cards installed. Up to eight input cards could be installed, for example HDMI cards for Sky HD, Blu-Ray, Apple TV and a component card for older CCTV recorders. VGA inputs for computers and composite video input cards are also available for computers and older satellite receivers. The modular nature of the matrix ensures complete flexibility and any type of input card can be sent to any display – they can even stream the same thing at once. This flexibility allows clients to start watching something in one room and continue watching in another or to have their Sky HD recordings available at any TV in the home.

The above image is an example of an input card – the DM-4K-HD-DSP. This card allows us to input resolutions up to 4K on a standard HDMI connector which can then be distributed via the matrix to any  displays in the property. Multi-channel audio is included in the video feed so surround sound zones are catered for and the two stereo jacks on the card isolate stereo audio which can be fed in to a multi-roomaudio system like the Crestron Sonnex.

Another hugely flexible element of the Crestron Digital Media is the option to install Cat6 input cards – this means that sources do not need to be physically close to the rack. An input plate (or unit) at a remote source takes the signal and sends it back to the Digital Media system for distribution – a great solution for games consoles or Blu-Ray players installed in home cinema rooms. Sources sent to the matrix can then be enjoyed anywhere in the home.

Video and Audio sent from the Digital Media matrix is sent over inexpensive Cat6 cable to a room receiver which converts the signal back to HDMI for presentation to a display. Control options such as infrared, serial and relays allow precise control of displays, local source equipment and TV lifts with feedback being sent to the system from the ports to provide reliable control. The unit itself canbe powered by a convenient power socket or by the Digital Media matrix over the Cat6 cable.

The above dual output card uses one Cat6 cable to send video and audio out to the above room receiver. The second network port is used to inject power in to the system from a conventional POE network switch allowing a very tidy install in the room. The HDMI output on this card mirrors the first output so video can simultaneously be sent to a room display over Cat6 and also HDMI to surround sound amplifiers based in the rack. This flexible solution allows many design options – allowing us to house surround sound amplifiers locally in the room or in the AV rack, depending on distances from one to the other.

One of the advantages of installing a Crestron system is the huge availability of products and the way they work together. The HD-XSPA is a great example of this – it is a home cinema receiver which fully integrates with the Crestron Digital Media solution. A full high end home cinema room can be hosted off a single Cat6 cable with access to all sources and the HD-XSPA is also a HDMI matrix in it's own right so local sources and centralised sources from the Digital Media can all be enjoyed.No other manufacturer makes a product to rival the flexibility and quality of a Crestron Digital Media system. The scalable and configurable nature of these matrix's provides a perfect solution for every project and the system is extremely reliable allowing 24 hour, 365 days a year enjoyment.