High End Hi-Fi Designers & Installers | Bespoke Stereo Systems | London
Designers & Installers of the World's Best Hi-Fi Solutions
We are not a hi-fi shop – we are designers and installers of high end hi-fi systems. The difference is huge, we have no manufacturer targets or tie ins. We are completely independent which means we choose the best products for every single project. In the past we have installed HiFi systems from the likes of Magico, PMC, Bowers & Wilkins and Artcoustic. The fact we are not a shop means we have no special relationships with manufacturers – our advice is completely independent and we wont push a product we have on demonstration or push a particular product due to manufacturer promotions. We can use manufacturer demonstration facilites to allow clients to audition equipment before purchase and manufacturers work with us to deliver the very best experience for our clients. Often manufacturers will loan us equipment to allow us to perform demonstrations for clients in their own home and the same manufacturers will often send out engineers to help us commission the system – manufacturers at this level are very keen to help ensure their equipment performs at it's absolute best. Our Custom Installation approach is very different than a traditional hi-fi shop.
Two Channel Audio Solutions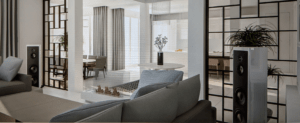 Our home cinema experience feeds in to our two channel designs, after all the acoustic requirements for a room are the same for a cinema or a listening room. This is an area which is overlooked by a traditional hi-fi shop – clients demo equipment in a custom made listening room and then can be disappointed when they listen to the same products at home where aesthetics dictate that a room and a listening position may be compromised. Our acoustic consultancy services analyse the room and make sure the equipment is able to perform at it's absolute best. Sometimes even a carefully places bean bag or cushion is enough to change the dynamic of a room. By performing the installation service in the clients home we can tweak speaker positioning and a myriad of other factors to ensure the client's new system performs as well as a given environment will allow.
Cables, Interconnects, Spikes and Racks
The two channel audio industry is awash with products which claim to perform miracles – often with little to no scientific basis. We use our experience to help clients navigate the selection process and ensure their system performs at its absolute best whilst ensuring value for money and a maximum return for funds spent – whatever the system cost. We have a huge array of racking and enclosure options to fit any environment regardless of whether equipment should be on show or hidden away out of sight. High end source equipment ensures clients have access to a wealth of music with digital music complementing analogue audio – studio quality downloads co-existing with vinyl, the best of both worlds!