Cinema Room Installers | Home Cinema Specialists | London | Cheshire | Dubai
Installers of High End Home Cinema Rooms! Working Worldwide Since 1998.
Custom Controls are a high end home cinema installation company, based in London and Cheshire, specialising in dedicated cinema rooms. As experts in home cinema design, we deliver the best possible experience for a client's budget. For dedicated cinema rooms and home theaters we design the room from the ground up with acoustics in mind, ensuring audio as good as it can possibly be and minimising sound leakage to the rest of the home. We produce renders of our designs, allowing clients to visualise the space before any construction begins, meaning we can guarantee complete client satisfaction. Once approved, we have teams of exceptional tradesmen ready to fit out your home cinema. We can manage the whole process, from construction through to soft furnishings, or we can manage the client's own tradesmen.
High End Home Cinema Brands and Products
Each project is unique and benefits from a custom design service. We have a huge variety of products available which allow us to maximise return for a given budget. We tend to pick products from a preferred list of manufacturers – ones who we know provide outstanding products and support. Our main suppliers are Trinnov Audio, Artcoustic Speakers, Sony Projectors and Cineak Home Cinema Seating. For smaller rooms and living room solutions we also use products from the likes of JVC projectors, Samsung Displays, Denon Amplification and Origin Acoustics Speakers. We engage directly with the manufacturer, working with them to help design the best possible home cinema solution, ensuring their products are performing to the best of their ability – they even come along after installation to help calibrate the system ensuring their equipment is performing at its absolute best!
Stunning Media Rooms, Dedicated Home Cinemas & Living Room Systems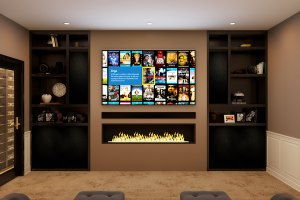 We are an expert home cinema company, regularly performing home cinema installation into basements, attics, dedicated rooms and living rooms. We are experts in delivering the best possible system for a client's budget and have access to a wealth of products that aren't available on the consumer market. We have a defined process and deliver stunning projects: we analyse the room available, ascertain the budget and then propose a solution which maximises the client's return on investment. Once agreed, we fully design the room – even considering room shape and construction in terms of acoustics – before producing 3D renders of the space showing seating, lighting and surface finishes. This allows clients to visualise the entire space before commencing the project, ensuring their satisfaction and allowing us to 3D model the room to be sure it performs acoustically. We have teams of high end tradesmen who have experience delivering our projects to an exceptional standard – or we can project manage the client's own team. Our acoustic design approach sets us apart in the industry: an outstanding home cinema needs to be designed right from the outset
Home Cinema Acoustic Treatments
In order to properly acoustically treat a cinema we have two approaches. A full outer skin of Acoustiblok sound deadening can ensure sound does not leak in to adjoining rooms (4mm of Acoustiblok stops as much sound as a foot of concrete!) which has the advantage of ensuring sound levels are maintained in the room, really making the most of bass produced by our system. The acoustics in the room then need to be treated to minimise standing waves – essentially sound from the speakers should not reflect back on the same path but dissipate naturally, which can otherwise cause a muddled or bass-heavy sound. A combination of Acoustic Panels and bass traps ensure peak performance from the sound system, all enhanced by the furnishings in the room. These two approaches – coupled with our knowledge of ideal room dimensions – allows us to create a room which really excels, making the absolute most of the equipment specified. We regularly perform acoustic upgrade work to existing home cinemas that are under-performing – correctly installing acoustic treatments can transform an existing home cinema room.
Hugely Flexible Bespoke Media Rooms
Our Media rooms provide a truly flexible approach: high end displays and surround sound systems allow clients to experience the joy of cinema in their own living room. These systems can be based around a projector or large TV, depending on client requirements and the space available. Media rooms have access to sources such as Sky HD, Apple TV and Kaleidescape Movie servers but also feature inputs allowing clients to quickly and easily add in any source. Games consoles are simply plugged in to the system and then enjoyed the same as any source with full surround sound and a huge cinema screen. This easy integration allows clients to upgrade games consoles and take advantage of new products instantly with no need for our involvement – providing a future-proof solution is important to us. Other inputs into the system can easily be changed as the clients require. Inputs such as Google Chromecast (or Apple TV) allow them to share content from mobile devices on the fly – great for guests, as well as the home owner. Our control systems bring all devices in the room under one controller – ensuring the room is simple to use for all members of the family. We can even ensure that children can only access age appropriate content.
High End Dedicated Screening Rooms
A private cinema can be a great addition to any home – an oasis where all the family can relax. Our expertise comes from regular installation of systems in basements, attics and garages, not just living rooms. Involving us at an early stage allows you to factor acoustic elements into the room design, ensuring an outstanding cinema from the very beginning. Our designs work to maximise your budget while still delivering a great cinematic experience at home. In addition to audio visual elements, we can design the lighting scheme, interior decor and supply bespoke home cinema seating. This turnkey approach ensures you get the very best cinema possible, fully managed by our highly experienced team – the room is literally designed from the ground up to perform acoustically as well as visually. Check out our case studies for inspiration.
Home Cinema FAQ
Yes! We are happy to design home cinema rooms for clients on a consultancy basis – you just pay for our time. We are experts in designing home cinema systems for awkward spaces such as basements and attics. We recently completed a design for a system in a glass box extension – a real challenge to incorporate technology yet the end result produces both an outstanding experience and great aesthetics. In our home cinema designs we always take in to account acoustic requirements, ensuring your home cinema audio system sounds the best it possibly can. We have lots of home cinema case studies which show some of our installed systems and our designs are sometimes detailed on our Blog (when clients allow it).
We even produce 3D visuals of the designed space to allow clients to walk through the room before committing to the build.
As part of your research in to home cinema rooms you may have come across the term "anamorphic" and seen images of cinemas with different projector screens. Anamorphic home cinema rooms feature screens which are wider (for a given height) than a "normal" widescreen picture – like your TV probably has. More screen is better and a larger width definitely makes a home cinema more "immersive". To work properly we install an extra lens kit in front of a compatible projector – this ensures that a compatible film is then displayed to fill the entire film. On BluRay packaging you will often see a ratio of 2.39:1 or similar. For comparison a widescreen image is 1.78:1.
If you inspect your BluRay library you will find the vast majority are anamorpohic films – on a
widescreen home cinema the extra picture is simply discarded!
To read more on this subject we would recommend checking out our blog entry –
https://www.customcontrols.co.uk/blog/movie-aspect-ratios-explained/
Yes! Clients often hand over a blank space or a room used for another purpose and our team handle all the elements required to produce a stunning home cinema room – from joinery work through to decoration and carpets. We have professionals who we have worked with in the past and can handle the whole process from design through to hand over. Our designs ensure the room performs at it's absolute best but we also aim to minimise sound leakage in to the rest of the home.
We do! We have a huge range of home cinema seating available from traditional right through to comtemporary and with formal styles through to day beds for lounging. Each of our projects is bespoke so the seating we install varies wildly! We have a few blog articles and a dedicated seating page too.
Examples of Our Home Cinema Installations:
We would also recommend viewing our Blog articles – Top 10 Home Cinema Ideas for inspiration!