Multi-Room Audio Video | Whole House Systems | London | Cheshire | Dubai
Designing & Installing the Best Whole Home Music Systems | Powerful & Flexible
Our Whole Home Audio Video Installations are the best available – truly flexible high definition audio video distribution ensures that AV sources are available anywhere in the home with no loss of quality. Sources such as Sky HD, BluRay servers and on-line services such as Spotify, iTunes and internet radio can all be enjoyed anywhere in the home with sound perfectly balanced between surround sound and stereo rooms. The flexibility of our systems ensures a future proof solution – new sources and devices can be incorporated with ease. Different zones can have different audio playing or be ganged in to parties zones – easily controlled and setup. Our Crestron AV installations are truly scalable from a single room to huge multi-building sites with huge numbers of sources and complex routing requirements. No matter how complex the system the user is always presented with an easy to use interface – our systems do the hard work so clients don't have to!
A home entertainment system can change how you enjoy your home. More and more people access online content and our systems allow services such as iTunes, Spotify and Internet radio to be enjoyed anywhere in the home. The system is completely flexible so multiple rooms can enjoy the same music in party mode or rooms can stream individually. High Definition Video distribution allows centralised sources such as Sky HD, Kaleidescape Blu-Ray Servers and on-line services like Netflix and LoveFilm to be enjoyed anywhere in the home at the same quality as having the source in the room. Any display has the option of any source so catching up on the soaps in the bath is as easy as enjoying a feature film in the living room or cinema. This flexibility, and quality of distribution, is what sets us apart from our rivals.
Ultimate Hi-Fi Stereo Audio Systems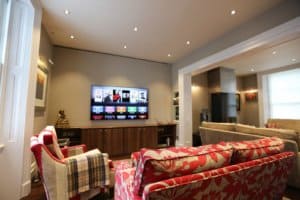 Our hi-fi systems are quite simply the best available. We offer systems to the true music enthusiast who isn't prepared to compromise. In addition to offering the best equipment our service includes a full system set up and review of the listening environment. The best speakers in the world will struggle to perform in a bad listening environment, luckily our acoustic panels and room treatments provide an easy answer. Speakers at this level need to be of a substantial size – they need to move substantial amounts of air which involves reasonably large drive units. The good news is your speakers don't need to be ugly black boxes or even particularly dominating in the room. Bowers & Wilkins 800 series speakers are beautiful pieces of cabinet work available in a choice of finishes to enhance any environment. The unique design is beautiful to look at and an aural masterpiece. Our Crestron control systems enable you to hide away your DVD player and amplifiers and easily control them through a custom touchpanel. With amplifiers and source components from Classé you may want to keep them on show. Classé are truly passionate about their products and this shines through in the build quality of the product. Classé amplifiers and source components are ideally matched to the B&W 800 range of speakers and provide almost unlimited power. A combination of B&W 800D speakers and Classé Omega Components is the absolute best possible system – with a price tag to match.
Audio Video FAQ
Yes! Our Crestron Digital Media systems can happily distribute 4K video. This allows all sources to be centralised and enjoyed anywhere in the home. You may have heard of HDCP 2.2? The good news is that the Crestron DM is also 2.2 compliant ensuring no handshaking or distribution issues. We install a range of copper based and fibre based solutions, depending on length of run and installation environment, and both can easily handle 4k video.
Get in touch to see how your home can benefit from a Crestron 4K video system.
A soundbar is a slim speaker which sits under your TV and provides a better audio experience than your TV speakers would. There are a few different varieties with the likes of the Sonos Playbar being a self contained unit – it just needs power and a feed from the TV to produce great audio. Our soundbars tend to be at another level from this – for starters they are made to a custom width to match the TV (which looks better) and then they have front left, centre and front right speakers built in to the speaker. We couple these with surround speakers and an audio video receiver (an amplifier) to produce a full surround sound system from a very subtle package. In even bigger TV based home cinemas we may also install a sound bar which is just the center speaker, this means we also install Front left and right speakers independently. You can see a case study of this type of installation here.
We do sometimes "just" install Sonos music systems, although our installations tend to have centralised amplifiers and ceiling speakers in the room. In our larger whole house audio video systems we need to use the ceiling speakers to provide audio for TVs in the rooms so we install a Crestron Sonnex system centrally. This allows us to input music servers, audio from satellite systems and Apple TVs – in fact any AV Source which is in the rack. The Sonnex system is more powerful than the Sonos alternative – both in watts per channel and functionality.
Our multi-room TV designs focus on centralising all audio video sources – allowing any room to access any source with the option of each TV viewing different sources or multiple TV watching the same. This flexibility allows clients to pause watching something in one room and continue watching in another – great for watching late night shows in bed. We even install bathroom TVs which have the same functionality – catch up on the soaps whilst soaking in the bath!