Mood Lighting Controls | Mood Lighting Systems | London | Cheshire | Dubai
Powerful & Flexible Mood Lighting Systems for Smart Homes. Lutron & Crestron Lighting Controls
Mood lighting control systems are the most popular service we offer. Lighting controls show the home at its best, highlighting architectural features and creating the desired atmosphere – all while saving energy. A Crestron or Lutron lighting control system is scalable so can control everything from a single room through to entire homes and gardens, even including curtains and blinds. Automated functions, such as bringing certain lights on at dusk, or replaying regular activity to make your home look occupied when away are all easily achievable. Due to the way digital dimming systems work, huge amounts of energy can be saved throughout the home, especially when coupled with our LED lamps – the difference can be startling. This energy saving can feed in to the overall energy plan for the home, making planning permission more easily achievable. Recalling a lighting scene is as easy as tapping one button on a labelled keypad, with each button labelled for an activity (for instance reading, entertaining or watching a film). Meanwhile, amending scenes (to account for the changing seasons, etc.) is as easy as switching the individual lights to your preferred level and then hitting save.
Features of our Lighting Control Systems: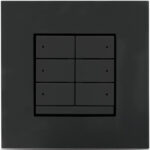 Easy to Use – no training required, easy to use for children and non english speakers
Powerful – Fully configurable keypads – Welcome home scenes and all off buttons are easy to configure
Efficient – Digital dimming saves huge amounts of energy!
Convenient – Easily bring lights on to your preferred level, every time.
Flexible – Control any type of light fitting.
Retrofit or New Build – We have wireless lighting solutions for retrofit projects with zero compromise.
Security – Make your home look occupied when away and never approach a dark, unwelcoming home again!
Curtains & Blinds – Fully integrate curtains and blinds in to your lighting scenes.
Electronic Curtain & Blind Controls
Adding curtains and blinds in to a lighting control system can create a truly automated home – curtains and blinds close automatically when darkness falls and can open automatically at sunrise. Our systems offer you control at the push of a button, which can automatically be replicated when you aren't at home. This holiday mode ensures that your home always looks occupied as curtains and blinds follow your usual pattern. Advanced control of curtains and blinds can also be used to naturally regulate temperature in the home; if lighting levels are high and the temperature is rising in rooms on one side of the house, our systems can close the blinds by small amounts to regulate the temperature, saving on the use of expensive air conditioning. The more intense the sunlight the further the blinds will close. The same lighting control system can also be used to protect fabric on soft furnishings, artwork and other items in rooms from the bleaching effect of direct sunlight. Our lighting control systems can also incorporate curtain and blind control into lighting scenes. One button press can even close blinds in all the communal rooms in the home.
Mood Lighting Control Systems for Single Rooms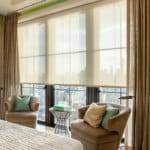 Mood lighting systems can be easily installed in single rooms during renovation and extension projects and are incredibly convenient. More and more households are opting for multi-use kitchen/diner/living rooms. These large rooms really benefit from a lighting system that ensures lighting is just right for any activity, whether cooking, dining or watching TV. The majority of our lighting control systems require different wiring than a traditional lighting system, so it makes sense to install them either during a renovation or when creating an extension. For our systems each lighting channel would be wired back to a central dimmer. A lighting channel can be one or more lights: the more the lights in the room are split into channels, the more control over lighting you will eventually have. Lighting keypads (not to be confused with standard light switches) are wired in low voltage cable and allow any of the centrally wired channels to be controlled by a single button press. In reality, lighting keypads in different areas of the room may control channels local to them with an all-off button, allowing the whole room to be switched off at night.
Bespoke Lighting Design – High End Lighting Solutions
Well designed lighting transforms spaces in to warm, inviting environments and highlights architectural and interior features. Of all the services we provide, we feel lighting design and control is the most critical. Lighting affects our perception and enjoyment of spaces – by involving us at an early stage in a new build or retrofit, we can design a lighting scheme which adds warmth and character to a space. We see the effect of lighting everyday: our Crestron and Lutron lighting control systems are initially programmed as flat scenes, 100% brightness, 75%, 50% and 25%, and we only change these settings once final decoration and furniture positioning is complete. Our fully configured lighting scenes transform spaces with a number of techniques and "tricks" to show spaces off at their best – these techniques vary from room to room but include using an LED strip to illuminate book shelves, picture lights to enhance artwork in the room and directional spot lights to enhance architectural features. A huge advantage of a lighting control system is having the ability to illuminate a lamp even when it isn't required as a light source – for instance dimming ceiling downlights to 10% brightness: light output is negligible but the glow from the fittings provides a warm feel to the room.
We specialise in whole house lighting designs and have partnerships with lighting manufacturers who provide the highest quality fittings, ensuring the same lighting colour from each lamp and 100% reliable dimming. Most of our lamps are LED which use minimal amounts of energy and have warrantied long life – circa 50,000 hours of use. The range of fittings is huge from downlights and uplights to LED strips and LED lamps which replace traditional classic light bulbs.