High End Home Automation Systems | Smart Homes | London | Cheshire | Dubai
Designers & Installers of Smart Home Systems for Luxury Homes | Working Worldwide
We are expert installers of high end smart home automation systems, having installed hundreds of systems, which are used daily by happy clients. As specialists in complicated systems for large houses, we can simplify complex electrical systems such as heating and air conditioning making them energy-saving and easy to use. We look at the house as a whole in order to create an energy plan that allows us to determine the systems with the most energy use and subsequently make them more efficient. Any electrical device in the home can be controlled automatically or by clients inside or outside. In the past we have controlled everything from irrigation systems to swimming pools and saunas. Our designers are experts in simplifying controls, making very complex systems easy to use – for example a simple temperature set point can control heating, air conditioning, blinds or roof lights, performing different actions on different subsystems as required. Our home automation systems should be standard issue on new build properties and the larger the property is, the more efficient it becomes. We have won multiple awards for our installations and are often commended on our innovative solutions – something reflected by our case study pages
Powerful, Flexible and Efficient Smart Home Systems
Our Crestron Home Automation Systems simplify your life by adding convenience and saving energy. Advanced heating controls only heat your home when you are in it and offer precise control of each room, saving energy but also creating the most comfortable environment possible. Lighting Controls allow precise lighting scenes to be controlled at the touch of a button – lighting your home as you like it with different scenes for different activities (dinner party, entertaining, TV-watching and reading etc). These same lighting systems increase convenience and security by lighting the exterior of your home automatically at nightfall – they can even simulate occupancy in the home by replaying your usual lighting activity when the security alarm is set.
Using Home Automation Systems to Save Energy & Increase Convenience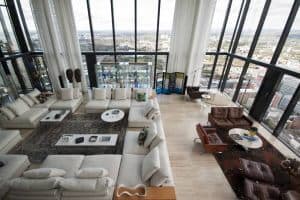 Our Smart Home Automation systems control everything electrical in the home, including renewable energies. By monitoring energy production and controlling its use, we can save huge amounts of energy whilst ensuring your home is always performing at its best. Imagine a scenario where a set of solar panels on a roof are producing energy: we can monitor their output and direct the energy to the most power-hungry devices in the home. For instance, our first priority might be to warm the hot water tank via immersion heaters, providing hot water and heating to the entire home. We trickle energy in throughout the day to ensure consumption never outstrips supply. When the hot water tank is at temperature we consult our energy plan and divert the energy to the next most power hungry device – this might be heated towel rails in bathrooms, swimming pool heating or utilising a tumble drier. Clients have the option to override at any point – switching devices as normal but the energy plan ensures that energy is used in the most efficient way possible and your home is running optimally.
Advanced Energy Controls
By analysing which electrical sub systems in the home use the most energy usage we can ensure your home runs as efficiently as possible, scheduling their use for when electricity is cheapest, or renewable energies are at their highest output. Intelligent switching of devices ensures that rooms are warm when required and hot water is always available, while making sure energy usage is as low as possible. The savings can be huge; by controlling subsystems we can offer more flexibility than the controls which manufacturers provide. For instance, on past projects we have enhanced the standard air conditioning controls – which continuously provide air at a certain set point – to cycle the air conditioning when the correct temperature is reached. This logical approach saves clients huge amounts of energy with air conditioning now operating for a fraction of the time, compared to the manufacturer's standard approach. When a home includes renewable energies, we can divert energy to sub systems as required – using it to heat hot water first, then towel rails in bathrooms before diverting it to swimming pool heating. The Energy plan is hugely flexible and ensures your home runs most efficiently – increasing convenience whilst minimising energy use.
Smart Home Automation Control of Renewable Energies
More and more clients are integrating renewable energy in to their new homes. We are experts in integrating solar PV panels, solar thermal and ground source heat pumps. We can precisely monitor their output and make intelligent decisions based on the heating and energy plans created above. We usually find directing energy to a hot water store is the priority – hot water can then be used to heat the home as well as being used in showers and baths. If energy production continues, we can keep the hot water tank at temperature whilst pre-warming areas of the home – either common areas or bringing colder rooms up to temperature – pre-emptively warming the space, ready for the family to arrive home. This smart home approach to renewable energy controls ensures the maximum return on the investment of renewable energy – and also increases convenience.
Home Automation FAQ
Home Automation is simply using a control system to control anything electrical in the home. We commonly control devices for home entertainment, bespoke security and mood lighting but have done things as diverse as irrigation systems, fire pits and car lifts! A Home Automation system can aid convenience and save energy – the larger the house the greater the justification for a bespoke system. A central processor sits over the top of electrical sub systems in the house and ensures they work in harmony (so underfloor heating and air conditioning don't compete for instance) creating the perfect environment in the home.
Home Entertainment is by far the most popular system we integrate – Music and TV around the home with every room connected.
Whole Home Lighting Control allows us to show the home off at its best whilst adding warmth and ambience.
Heating Controls allow you to save energy and add convenience – ensure your home is warm when you need it!
To perform the above we use a few basic elements – a central processor (the brain), user interfaces (touch panels or remote controls) and control interfaces (infrared, serial or Ethernet). The brain communicates with devices in response to a press on a user interface, a timed event or some other external stimuli (night fall, temperature, motion etc). Our larger systems contain multiple processors which communicate between themselves – so audio video processors talk to lighting processors and heating processors ensuring redundancy, efficiency and scalability.
This is incredibly difficult to answer! Each project is bespoke and every client is different. Our usual process is to get a brief from the client and plans of the home, we can then work out an initial approach (with costs) which we can then run through with the client. It's important to note that the cost of a system can vary by as much as 50% simply due to the quality of speaker systems, number of lighting channels etc – this gives us huge amounts of flexibility to meet a clients budget requirements.
The systems on our case studies pages vary in cost from approximately £35,000 to £1million+.
Yes! Our systems are designed to be extremely easy to use. As we bring multiple devices together on to one remote control or interface our systems are easier to use than the individual systems. For example a simple heating page with a temperature set point allows you to easily make the room cooler or warmer – the fact our system controls underfloor heating and air-conditioning is transparent, if the room needs to be cooler we switch off the underfloor heating and bring on the air-conditioning. We can control multiple devices through one easy to use interface.
All your AV devices have the same look and feel so it doesn't matter if you are controlling Sky, Apple TV or Amazon TV – the interface is the same. We can even create custom shortcuts to frequently used services – in Dubai the home page of the kitchen touch panel contains radio station favourites allowing clients to switch on the radio, their most common source in the kitchen. This understanding of the clients requirements and the power of our systems combine to create the perfect Smart Home system.
Our systems are regularly used by visitors and staff, some of whom don't speak English – there is no training required to use one of our systems.