Lutron Dealers & Installers | London | Cheshire | Dubai
Lutron Specialists Providing New Installations & Maintenance / Support.
The benefit of being a Lutron dealer means we are able to offer the full Lutron lighting controls range, from Grafik Eye to Homeworks QS. We have extensive experience in integrating Lutron lighting products with Crestron and AMX control systems. The lighting solutions from Lutron are suited to a whole range of applications from residential to commercial. The technology can either be hard wired for new builds/renovations, or rely on radio frequency control with no new wiring. New product developments mean that new lighting circuits can be incorporated into your existing Homeworks system. A 75% dimmed lamp saves 60% electricity, and bulbs last more than 20 times longer while your dimmer will last for years – the company was founded in 1961 and many of the original dimmers are still in use today! We now have a dedicated service for Lutron Homeworks QS programming and design to help electricians who are installing for the first time, or home-owners who have a lighting control system they need configuring.
Lutron Homeworks QS Installations
The Homeworks QS interactive home lighting control system gives you the capability to interact with lighting, entertainment and security systems like never before. Full control of scenes throughout the home are at your fingertips. Centralised dimmers ensure an economical and efficient approach to whole house lighting control. In-room keypads can reach any number of lighting channels, either a specific room or throughout the house. For instance a single button press can recall a scene which lights all communal areas (eg. hall, stairs and landing) – even outdoor lights. Any type of lamp can be included in lighting scenes from traditional incandescent lamps to exotic neons and LED's. If you have an existing Grafik Eye installation then expanding to a Homeworks QS system is easy – the Homeworks processor can utilise the Grafik Eye as a remote dimmer whilst still allowing local scene selection and design.
Lutron Grafik Eye Lighting Dimmers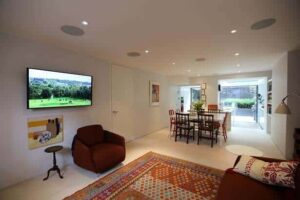 The Lutron Grafik Eye replaces traditional light dimmers to become a great solution for single rooms or small lighting control systems. Each Grafik Eye can allow up to 6 lighting channels (for instance ceiling pendant, picture lights and a few table lamps) to be individually controlled, creating mood lighting that can easily recall saved scenes.
Lutron Homeworks RF
The Lutron Homeworks RF lighting control system is the perfect way to upgrade your home. It is easily retrofitted to existing homes simply by swapping out the light switches. The Lutron Homeworks RF dimmer enables local scene settings and allow Master Control light switches to be easily added for remote control access. Integration with a Lutron Homeworks QS system allows whole house lighting control; imagine being able to light all your communal areas from one button press at the front door. All our Lutron Homeworks systems allow access to Holiday Mode, (which automatically plays back your usual lighting patterns when you're out) and Security Mode which flashes external lights and disables lighting keypads should your intruder alarm activate and roll back, automatically switching off lights which have been forgotten. Smart programming involving these features can ensure your Lutron system enhances the way you enjoy your home.
Lutron Keypads
It is important to remember a Lutron lighting keypad performs no dimming locally, instead commands are sent back to a central Homeworks dimming system (either Homeworks 4 or Homeworks 8) where the button press is translated into an action. This means a single press could bring on one lamp at up to 75% brightness, while pressing the same button again could make it dim back down to 0%. Simple. The Homeworks system could just as easily be programmed to bring on every light in the home to a preset level – this is more commonly used in communal areas and gardens. This scene setting provides huge amounts of convenience: you'd be able to bring on your home lights and close your Sivoia QED blinds at the same time.
Lutron Sivoia Blinds
Controlling lighting in the home or office involves more than dimming and switching lights. Managing natural light around the property increases privacy and security at night ans protects from harsh UV light during the day. Integrating electronic blinds with Homeworks QS makes perfect sense: programmable presets can be incorporated into lighting scenes or given their own button on conveniently located keypads. Various sizes ensure the most discreet installation possible, different sizes are designed to move different amounts of fabric – up to 225 square feet at once.
Lutron Programming
Our team are trained and accredited Lutron programmers. We are used to designing, programming and deploying large whole home Lutron lighting controls using Homeworks QS. A well thought out system can make all the difference to the look and feel of a family home and we are used to working with lighting designers and architects to provide a high end finished system. The Lutron Homeworks QS system is an extremely efficient way of providing whole home lighting control and it is flexible enough to control the vast majority of lamp types.
We regularly perform programming changes and maintenance on existing systems.
Lutron Installation London
We have recently been commissioned to install our biggest Lutron Homeworks system yet. Our initial meetings with the lighting designer are indicating approximately 200 channels of lighting being controlled by something in the region of 75 keypads! We can't wait for the project to evolve and reach the installation stage (currently slated for the end of the year as the house is undergoing substantial renovation and remodeling). In addition to controlling all the lighting in the home, every window will feature a whisper quiet Siovia electronic blind – ensuring the perfect management of natural light in the property, either automatically or by the easy touch of a button.
If you are looking for the Lutron site please click here.