Mood Lighting
An explanation of Mood Lighting Systems
As a company we install lots of Mood Lighting Systems. This blog entry aims to address some of the common questions we are asked by prospective clients.
A mood lighting system is simply a lighting system which controls the lights in a room (or every room of your home). Lighting is split in to channels and a lighting keypad has a number of buttons which allow you to recall scenes. Pressing a button on the lighting keypad (recalling a scene) simply brings light channels on to preset levels.

In the above example of one of one projects the room has a number of lighting channels – highlighted in different colours on the above picture.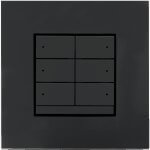 A Lighting Keypad
The lights are:
Ceiling Down lights (red circle)
Shelving Down lights (purple circle)
Fireplace Down lights (green circle)
Bar chandelier (blue circle)
Using an app on their iPad the clients can raise or lower the individual lights – creating different moods in the room and save them down as a lighting scene. Recalling a scene is just a simple button press on a lighting keypad, located where a traditional light switch would be at the entrance to the room. The room pictured above also has a number of lighting circuits at plug level which allows the clients to incorporate table and floor standing lamps in to their lighting scenes.
For Example:
Scene 1 for TV watching might be might be Red 5%, Purple 30%, Green 30%, Blue 40%
Scene 2 for Entertaining might be might be Red 20%, Purple 10%, Green 10%, Blue 75%
Scene 3 for Reading might be might be Red 60%, Purple 50%, Green 50%, Blue 70%
Scene 4 for Cleaning might be might be Red 100%, Purple 100%, Green 100%, Blue 100%
We normally find that dimming unwanted lights to 5% means they don't contribute much if any light to the room but add a warm glow creating ambiance and as our mood lighting systems are based on digital dimming they consume hardly an energy when dimmed to this level. We can control any type of lamp from compact fluourescent through to colour changing LED and have relationships with a number of lighting designers and suppliers if a particularly high end result is required.