Samsung The Frame TV
A Totally New Approach to Installing TVs
The new Samsung "The Frame" TV is one of the best products we have seen for some time. Normally we balance TV picture quality with aesthetics – normally choosing Samsung TVs to go in our home entertainment systems due to the great picture quality and slim bezels. The Frame TV takes a totally different approach – hiding in plane sight as a piece of artwork when not in use. A decent number of frame colours, coupled with a huge amount of artwork ensures the TV will blend in to any interior.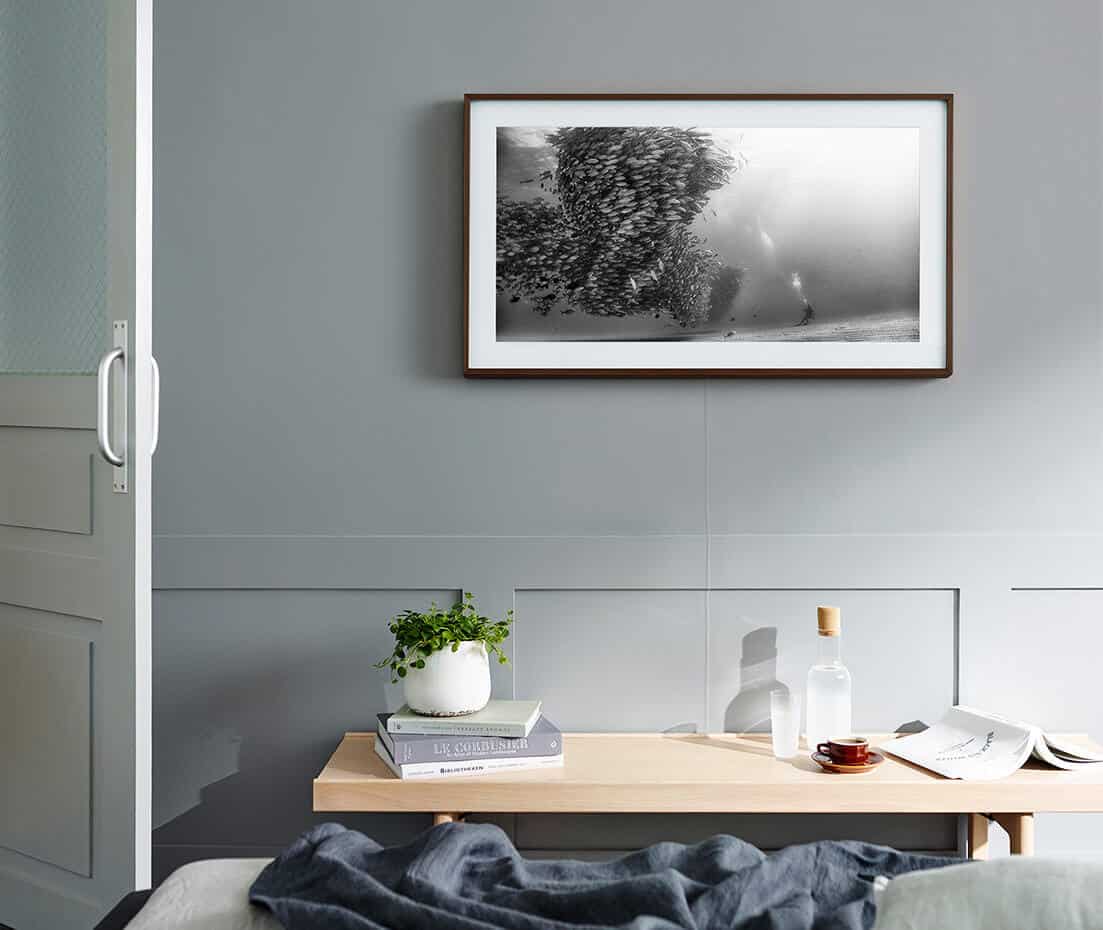 By installing The Frame TVs with one of our centralised home entertainment systems any TV in the home can access any source – from Sky Q or Virgin Media through to Apple TVs and Amazon Fire TVs. Sound is reinforced by high end in-ceiling or on-wall Artcoustic speakers – making these TVs one of the most discreet installs possible. The TV itself is as cutting edge as they come – Full 4K ready and a huge amount of smart apps ready to stream your favourite content.
Frame Colours and Artwork
The frames themselves are user swappable – choose from Walnut, Beige Wood and White and swap easily by snapping the frames on and off. The same principle applies to the 65″, 55″ or 43″ models and the unit can be mounted on a stand or hung on the wall like a picture – with no gap between the frame and the wall. Choosing Artwork is as easy as browsing the on-line store through the TV – allowing clients to change their artwork as often as they wish, simply by clicking a button!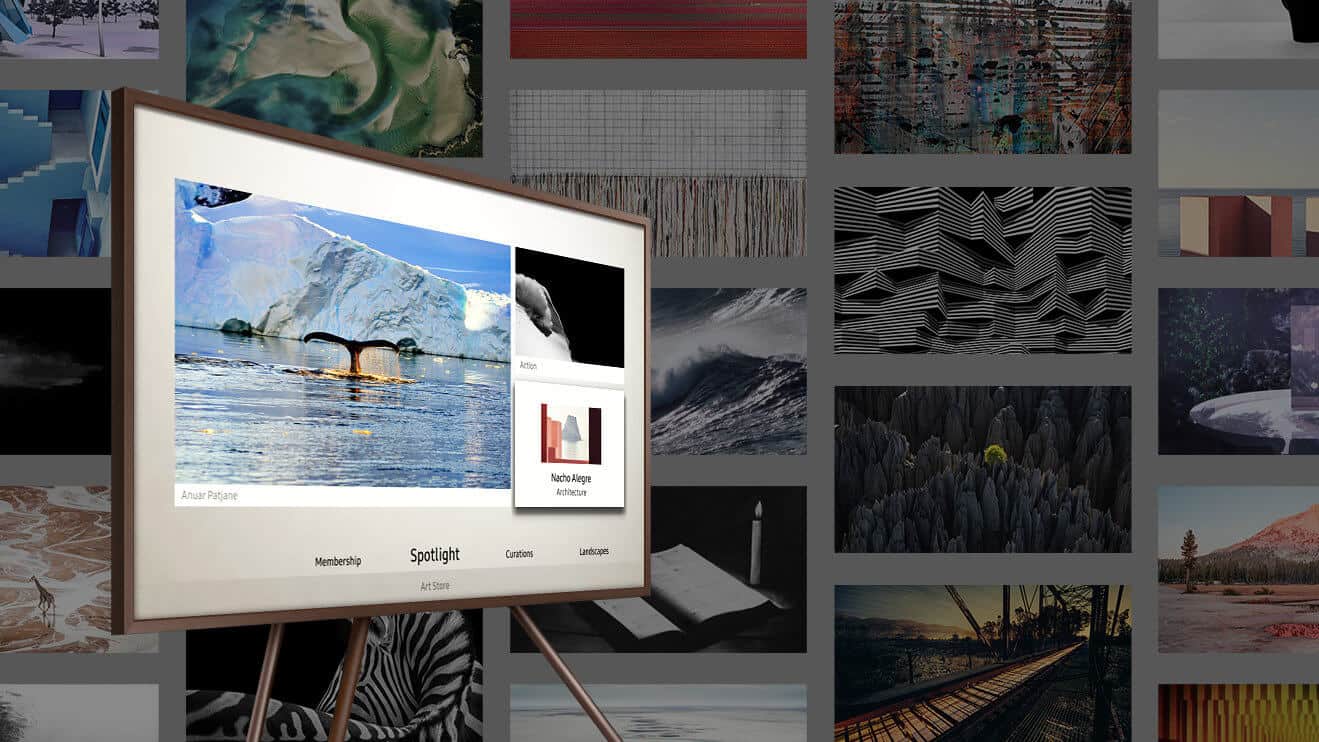 Enhanced audio with The FrameBar from Leon Speakers
Leon's FrameBar is a great way to enhance the audio from a Samsung Frame TV – the soundbars match the finish of the Frame TV perfectly and are a bespoke width to match each size of TV. The ultra-thin soundbar works perfectly with our whole home audio video systems allowing high performance audio from a Frame TV.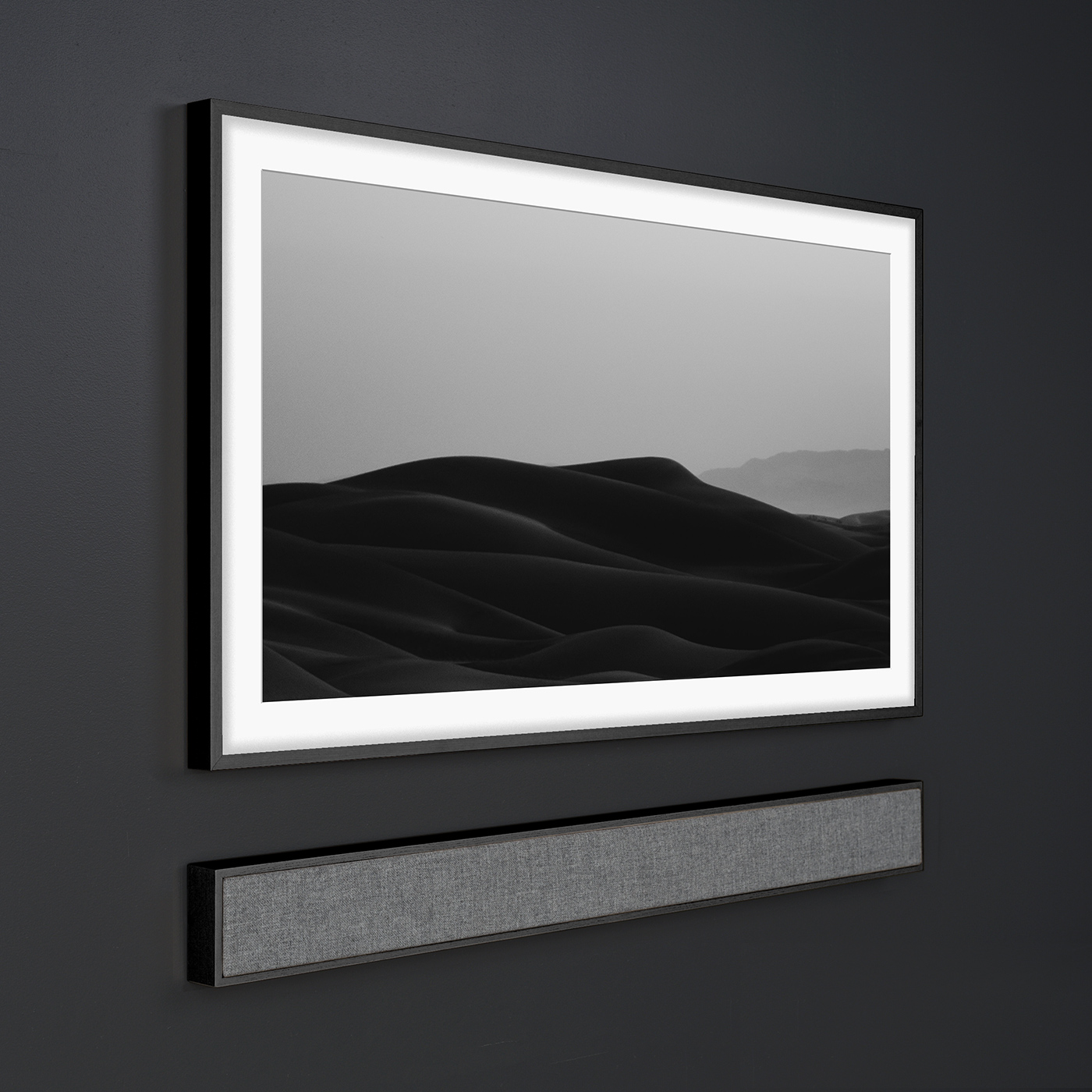 Easy Mount options with Future Automation
The Frame TV looks great when mounted flush to the wall but careful consideration needs to be paid to power and housing the One Connect Box. The One Connect box handles all connectivity for the TV with HDMI connections and power, it is the thing which allows the TV to be so slim. Luckily Future Automation produce an all in one product for the Frame TV which handles the One Connect box perfectly. A recessed box allows the One Connect box and power to go behind the TV which is easily pulled out for service work. Some models even allow us to fit Crestron NVX video receivers and Wifi access points too. Allowing a total rooms worth of connectivity to be hidden behind the Frame TV!