Trinnov Home Cinema 3D Audio System
Introducing the Stunning Trinnov Home Cinema Audio Solution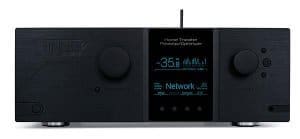 It could easily be argued that the Trinnov home cinema range of audio products (the Trinnov Altitude32 Pre-amplifier, Magnitude32 Processor and Amplitude8 amplifier) are the most important home cinema product of the last few years. They revolutionise how we design and install cinema's and, crucially, the client experience. In a traditional home cinema design guidelines dictate where speakers must be positioned for optimum sound reproduction and to ensure proper surround sound, and Dolby Atmos, effects. With a Trinnov system speakers can be placed almost at will in the room and the hugely advanced processor will determine where to direct sound for optimum reproduction. With 32 channels available it is possible to ensure a complete surround experience with different height channels playing as much of a role as the traditional surround speakers. By utlising ceiling speakers and wall speakers at different heights a truly unrivalled audio experience can be created. The Altitude32 supports all the latest 3D Audio formats and decodes these up to 32 discrete Dolby Atmos channels.
In addition to the Altitude32 handling 32 channels of surround sound the four channel crossover in the Magnitude32 can ensure audio perfection. By splitting each of the 32 channels each speaker only receives the correct frequencies – allowing sub-woofers installed around the room to enhance the audio from surround or height speakers. Gone are the days of a single sub-woofer providing bass for all channels, with a Trinnov system each speaker in the room can be enhanced by a sub-woofer – this results in a fantastic dynamic range around the room – bass can be steered around the room providing a seamless audio experience.
We partner the Trinnov Home Cinema solution with speakers from a number of manufacturers – depending on the room size and shape – Artcoustic speakers lend themselves incredibly well to the Amplitude32 and Magnitude32 approach with arrays of speakers and sub-woofers working in harmony to provide a stunning audio surround sound experience. The slim profile allows us to install huge numbers of drive arrays for a stunning home cinema solution.
The Trinnov Home Cinema solution comprises of three main elements: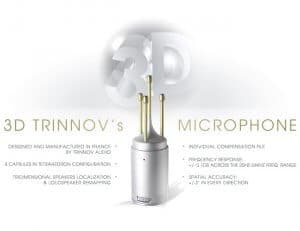 Altitude32 – The main Pre-amplifier. This takes audio feeds from video sources and distributes the signal to as many as 32 speaker channels.
Magnitude32 – Active Crossover Processing. This takes the 32 channels and directs certain frequencies to different speakers.
Amplitude8 – Amplifier units. These take the signal from the Magnitude and amplify the signal to drive the individual speakers.
3D Microphone – This unit is essential for mapping the room. By positioning the 3D microphone at the usual listening position the Altitude32 cleverly sets up all the surround sound processing to ensure the optimum sound from each of the 32 channels of audio.