Energy Monitoring and Smart Home Automation
Using Smart Home Automation Systems for Energy Management
Smart Home Automation systems excel in new build properties – more and more new build properties have high amounts of insulation and renewable energy elements. Our Smart Home systems increase convenience whilst lowering energy use. We create a bespoke energy plan for each property to ensure this happens in the most efficient way possible – energy created by solar panels can be directed to any number of sub systems in the home – hot water immersion heaters, towel rails and electric underfloor being classic examples. Energy produced by solar panels can feed immersion heaters in the hot water store which can then heat the home via underfloor heating with different rooms being prioritised depending occupation or their contribution to the whole house heating plan. When the hot water store is at the correct temperature we can divert energy to towel rails in en-suites and bathrooms, keeping them warm and ready for use. High energy usage devices such as tumble driers can be scheduled to operate when the house energy production is at its highest, minimising usage of grid power. We create a complete plan of electrical devices in the home which allows us to manage them in the most efficient way possible.
Our intelligent heating systems allow precise control from anywhere in the world – automatically lowering the set point when the home is unoccupied and pre-warming ready for your arrival. Any excess energy produced by solar panels, solar gain (through windows) or air source heat pumps can be distributed via heat recovery ventilation systems to colder rooms such as north facing or basement rooms. These intelligent heating controls work in the background to keep the fabric of the house warm – increasing convenience and comfort in the home. In hotter climates we may automatically bring on air conditioning to make use of excess energy – pre-cooling rooms and minimising the energy required to get them to the correct set point when the room is occupied.
Remote control of electrical sub systems in the home extends beyond heating control – any device can be controlled remotely allowing Saunas and Jacuzzi's to be pre-warmed ready for your return, increasing convenience and minimising energy use when they aren't required. Lighting, irrigation systems and electric curtains can all be scheduled remotely by time or sun rise and sun set ensuring complete convenience and the most efficient running of the home possible.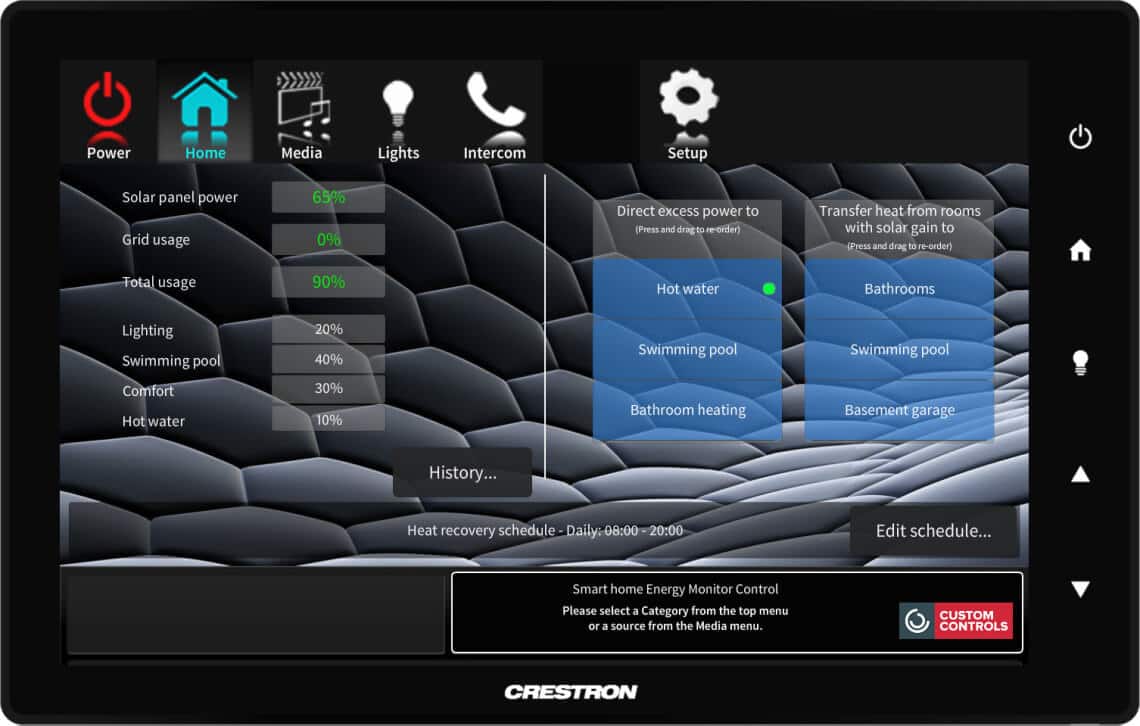 If your new build property would benefit from a Smart Home Automation system then please get in touch to discuss the possibilities.