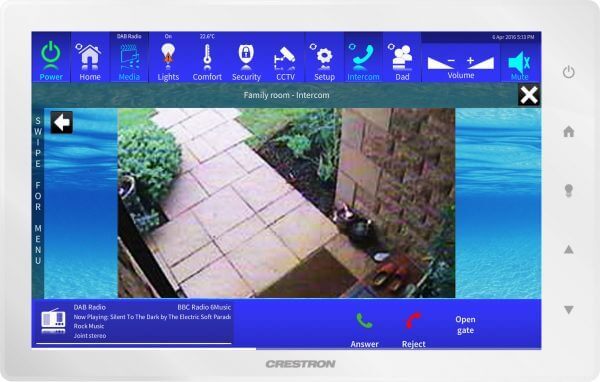 Crestron Intercom Solutions
Using a Crestron Home Automation System for Intercom Functions
Update! Crestron have just partnered with 2N – a high end IP based intercom company. This allows us a huge range of door intercom stations (from a simple camera, microphone and bell right through to multi-dwelling intercom systems capable for a block of apartments) which can be easily integrated in to Crestron touchpanels. The 2N service can also be integrated in to mobile phones ensuring no missed deliveries or visitors again! For larger homes with multiple entrance doors integration is straightforward and easy to use.
The Benefits of Intercom Integration with Crestron.
Integrating a front door intercom station is fairly standard practice in high end Crestron installations. Clients can view a camera from the front door intercom station on touch panels around the home and hold a two way conversation before deciding whether to allow access. The convenience of being able to talk to the front door from any room of the home is a good advantage over the standard systems which tend to have an interface by the front door.
Our intercom implementations take things a stage further – intercom within the home. In a larger home it can be a hassle to communicate from one end to another – our systems allow you to page a specific room or broadcast a message to the whole home. This makes it easy to quickly and easily tell the whole home dinner is ready or that the car has arrived to take you to the airport. Rooms can be added or taken out of the paging system so the staff quarters don't receive family messages and the guest sleeping in one of the bedrooms isn't disturbed. Front door intercoms can be configured to only ring certain rooms – family spaces and the master bedroom for instance – ensuring the children or guests can not answer the door and allow access without the homeowner being aware.Our audio video systems have the option of profiles – so you select your name in the room you are in and all your usual sources are presented. This allows recorded TV and the correct Netflix account to follow you around the home, in addition to favourite Spotify playlists and radio stations. When we use profiles the intercom system also has the option of paging a specific person, we know where you are in the home so someone in the kitchen can easily page "Dad" and only the touch panel wherever "Dad" is will ring. If "Dad" has multiple rooms joined together in party mode – for instance Master Bedroom, Bathroom and Dressing Room – then all the touch panels in that group will ring.
On a recent project we even integrated the garden speakers in to the system – allowing the client to page the garden area. This is great functionality for when the clients are walking the dogs in the grounds or using the swimming pool.