Home Cinema Design – Greater Manchester
A Challenging Home Cinema Design for a Converted Lounge
This home cinema room was incredibly tricky to design. The brief from the client was to deliver a home cinema room which would delight with seating for as many people as possible. However, with a full wall of bifold doors, a window wall and a huge set of double doors we really had to think differently to deliver a room which would delight the clients whilst working within the architectural challenges!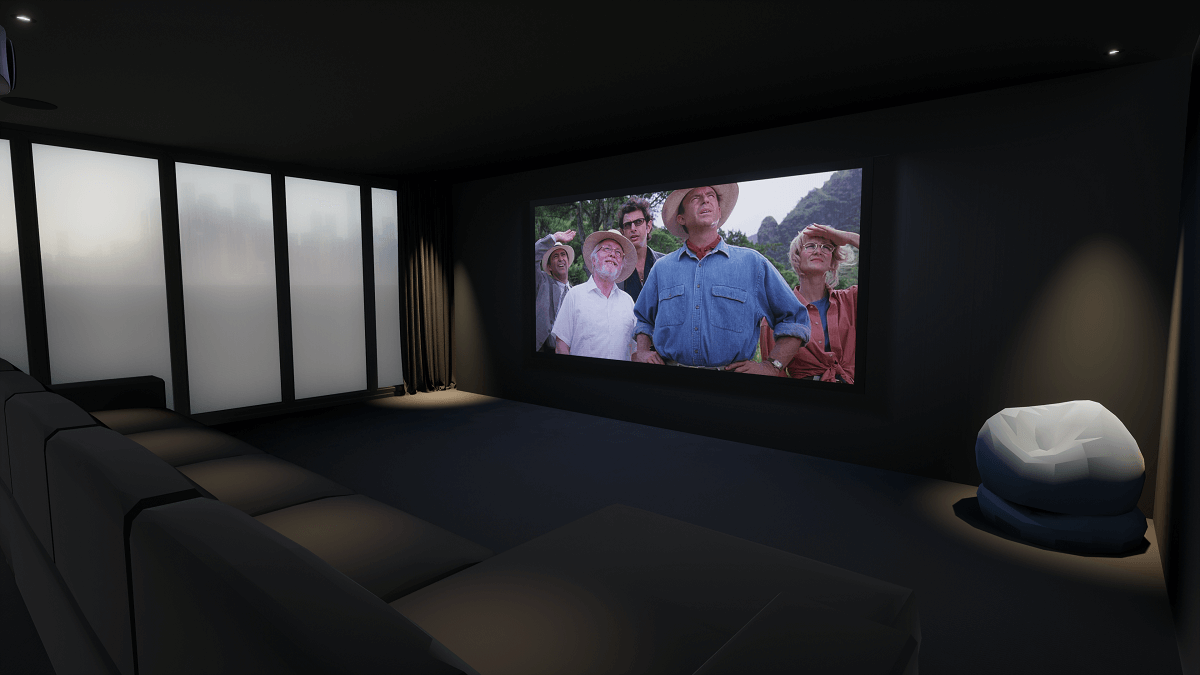 The Home Cinema Room Design
With three walls occupied with architectural features we needed to think differently. We utilised the only free wall to house the huge 3.5m cinema screen and front audio channels and then utilised in-ceiling speakers from Artcoustic to deliver surround sound, with Dolby Atmos! The front screen wall was built out 300mm in stud work which allows us to incorporate the front channels (Artcoustic SL24-12 for the Front Left, Center, Right) and two Artcoustic Subwoofers, behind the acoustically transparent screen. The rest of the stud work was the infilled with acoustic treatments and the whole lot covered in stretched fabric. We stopped the wall just before the bifold doors to create a pocket to house the electronically controlled curtains. The rear and height speakers are all ceiling mounted and ensure a completely immersive sound with different speaker choices for the surround speakers and height channel (Dolby Atmos) speakers.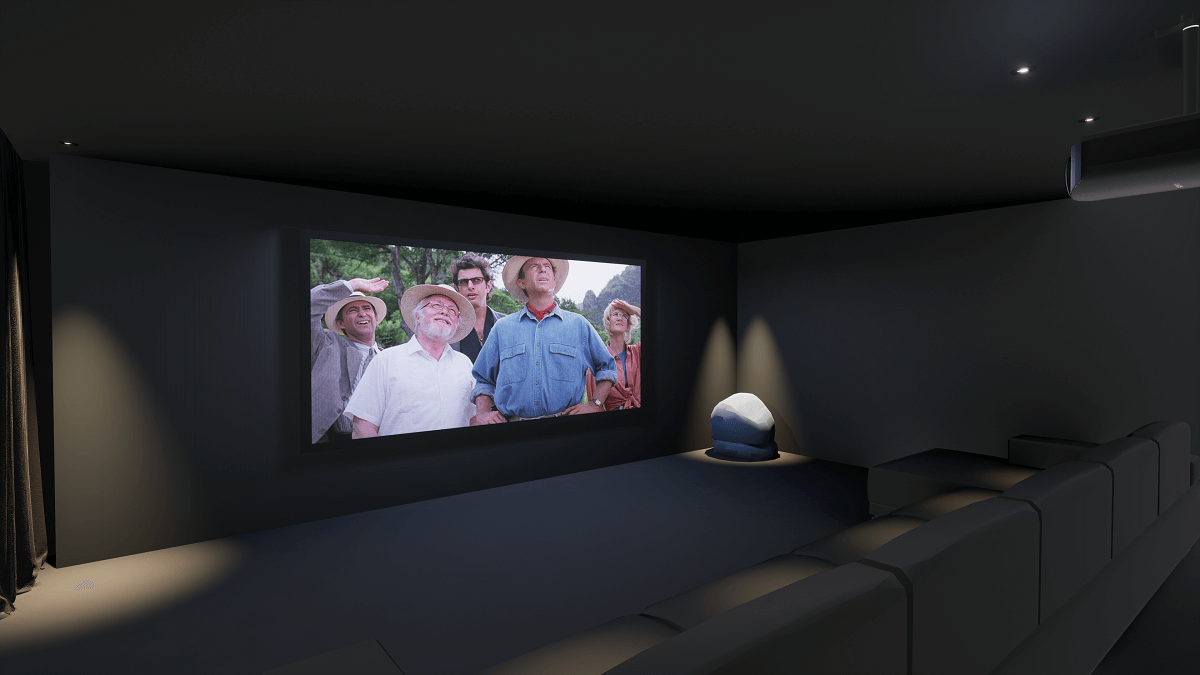 The Cinema Projection system
A ceiling mounted Sony 4k laser projector delivers a stunning picture on the 2.35 aspect projector screen with a wealth of sources including Sky Q and Apple TV, covering all the live TV and streaming needs of this family. The bright projector enables viewing without having to close the curtains, perfect for sporting events where the sound is a little lower than for a movie night! Films and louder viewing really need the curtains shut to stop the hard glass surfaces affecting the audio characteristics of the room.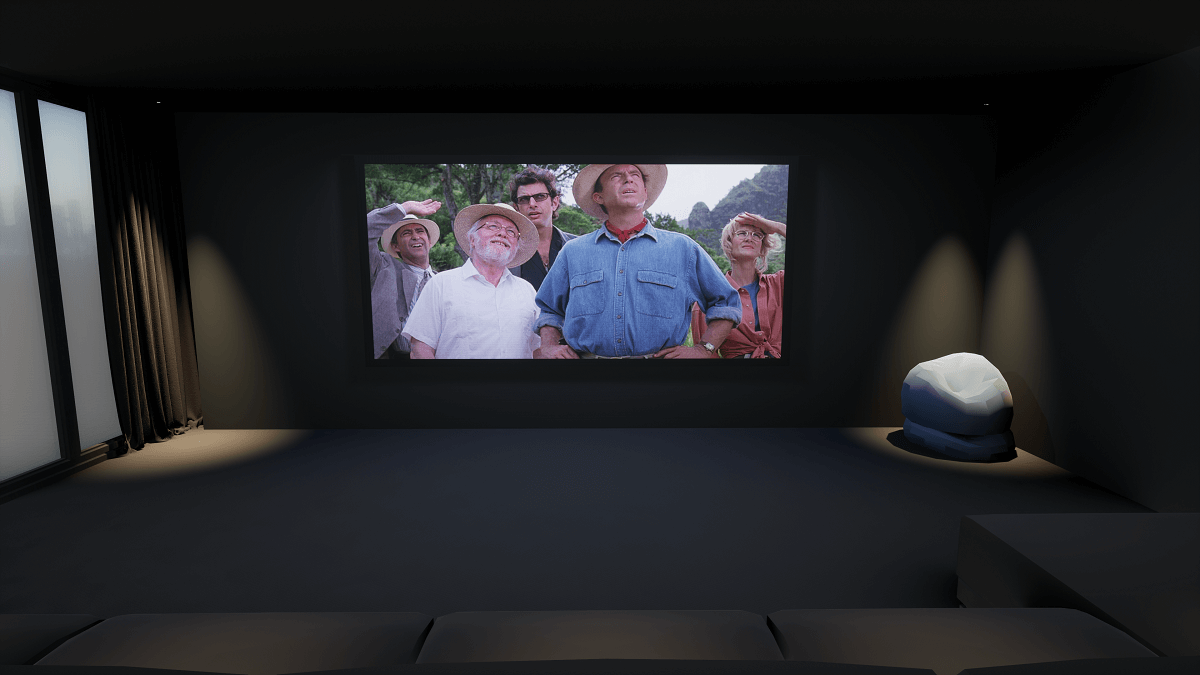 Bespoke Home Cinema Seating
An off the shelf leather sofa by Natuzzi completes the design with seating for five in comfort, one lucky cinema-goer even gets a chaise longue to relax in style! Additional seating, for younger guests, is provided by a couple of bean bags, stored in a corner of the room they also help acoustics!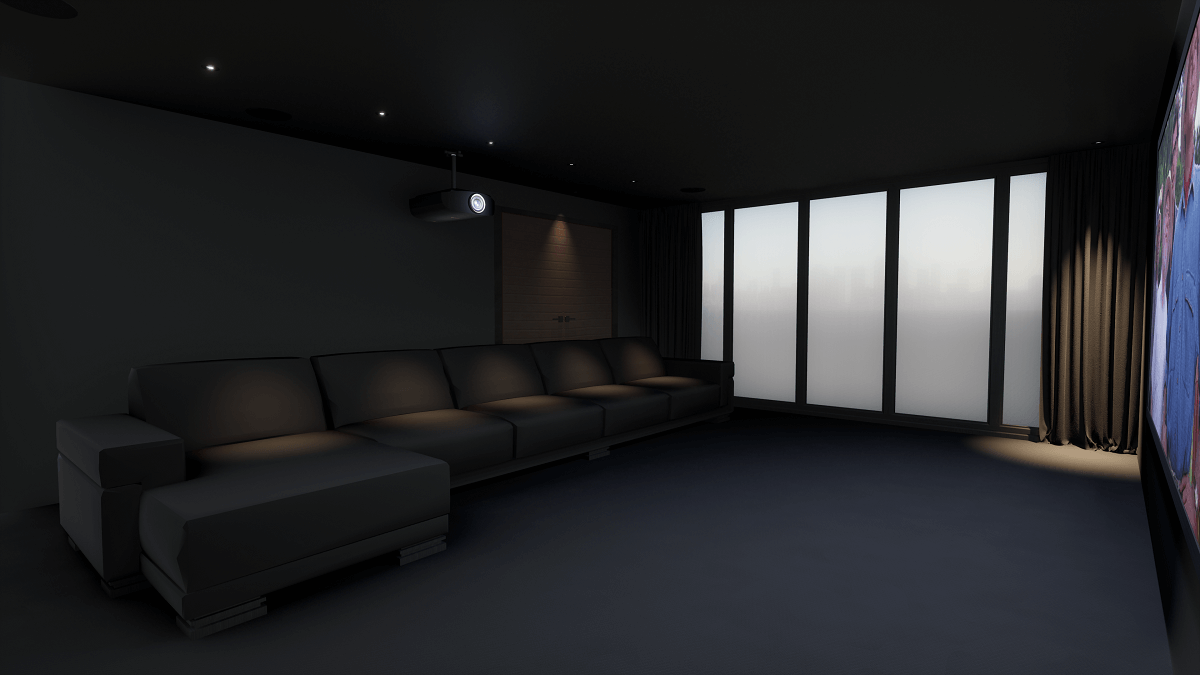 The construction of the Home Cinema
With the exception of the screen wall the rest of the room is a standard construction. Plastered walls are simply painted in Matt finish Little Greene paints (to a colour scheme designed by us) with deep pile carpets and lined velvet curtains. The curtains in particular are very important to stop unwanted reflections from the glass on the bifold doors. The curtains and lighting is all controlled by a Lutron lighting control system which allows lights to dim when the film starts! Adding a real wow factor! This fairly simple room benefits from a full lighting design with spotlights picking out seating and also architectural features.