Bespoke Home Cinema Room Design
A Stunning Bespoke Home Cinema Room Design for a London based Client
We love designing home cinema rooms and this client came to us with the perfect brief – "Please convert this unused room in my home in to a bespoke home cinema room." The client pointed us in the direction of a couple of our case studies which he liked the look of and gave us a healthy budget to work from. The end result is perfection – a stunning 9.2.4 audio system hidden partly behind a massive 3.5m Screen Excellence acoustically transparent projector screen with the rest hidden behind the stretched silk walls. The front 3 channels of audio (front left, center and front right) are the stunning Artcoustic Spitfire 24-12 speakers complemented by huge Control 3 subwoofers – all installed in a void behind the projector screen. Each row benefits from a pair of Artcoustic 8-4 speakers (so each row experiences the same audio) and a further pair of Artcoustic 8-4 speakers on the rear wall provide surround channels. This is a tried and tested audio solution for us which sounds amazing and can be scaled up or down as required by adding further pairs of Artcoustic speakers for more rows. The all important height channels are handled by Artcoustic architect speakers – allowing a fully immersive audio experience!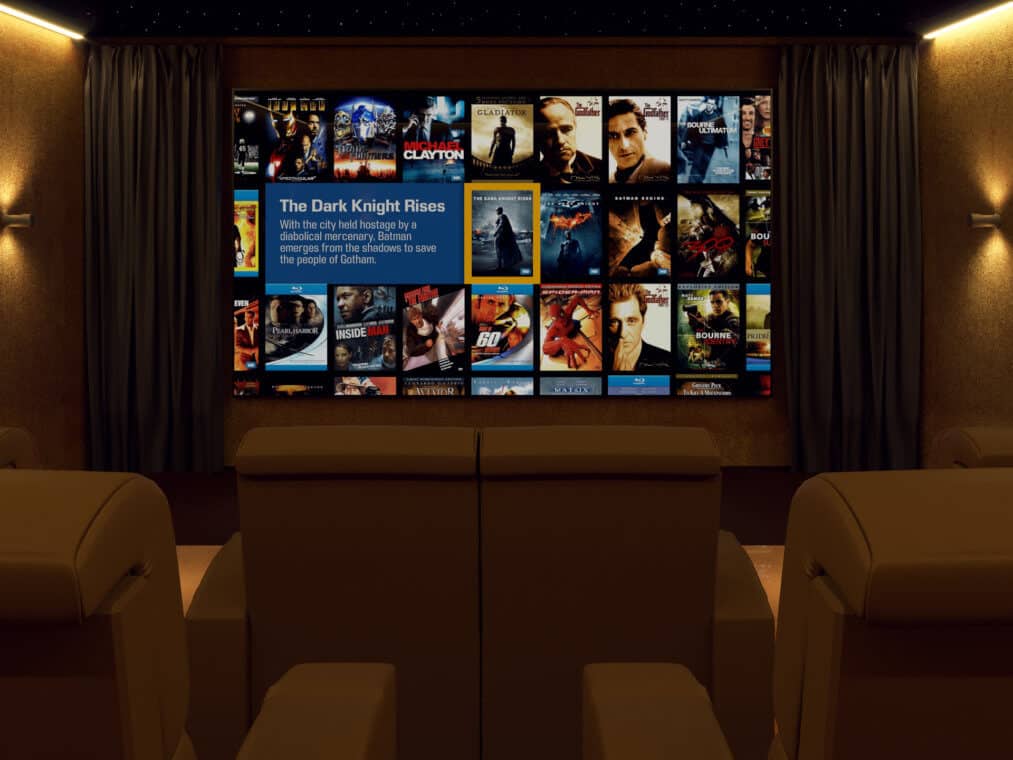 Our Home Cinema & Home Theater Services
Read more about our Home Cinema and Home Theater work:
Home Cinema Design & Build
The entire room has been modelled from an acoustic point of view with strategically placed treatments installed behind the stretched fabric walls – ensuring the room does not reflect too much but still retains some life. Crucially the acoustic modelling takes in to account the different rows of seats ensuring the people on the back row enjoy the same audio experience as the people on the front. A top of the range Anthem AVR provides amplification and also enables a full room EQ to be configured during the calibration stage – ensuring the surround sound system performs at it's absolute best. The 3.5m Screen Excellence projector screen displays a wealth of sources from Kaleidescape through to 4k Apple TV and Sky Q, this is a hugely connected room which is equally at home showing a big sporting event as a blockbuster film or box set. A middle of the range Sony projector provides a super bright and crisp image with 4k resolution and 2500 lumens of light which is plenty for a room such as this with no natural light and a lighting control system working in harmony with our lighting design.
In designing home cinema rooms we like to give a level of luxury and this room delivers in spades – deep pile carpet, silk walls and custom lighting all help deliver a wow factor which is only heightened when clients sink in to the bespoke Cineak home cinema seating. Electrically operated recliners ensure clients are held at the optimum position for marathon watching events with the whole room gently illuminated by underlit onyx tables. The rear row of seating is elevated on a platform just enough to provide an unobstructed view of the screen.
Home cinema rooms do not get better than this!