Home Entertainment Complex – Prestbury, Cheshire
Home Entertainment on a Grand Scale
This design for a Home Entertainment complex is due to be installed in one of Cheshire's finest halls. This room is to be constructed as part of a new swimming pool and gym complex in the grounds of the hall and the below room sits below the gym area. The brief was to create a space for the clients to entertain friends and family with a cinema, seating area and pool table.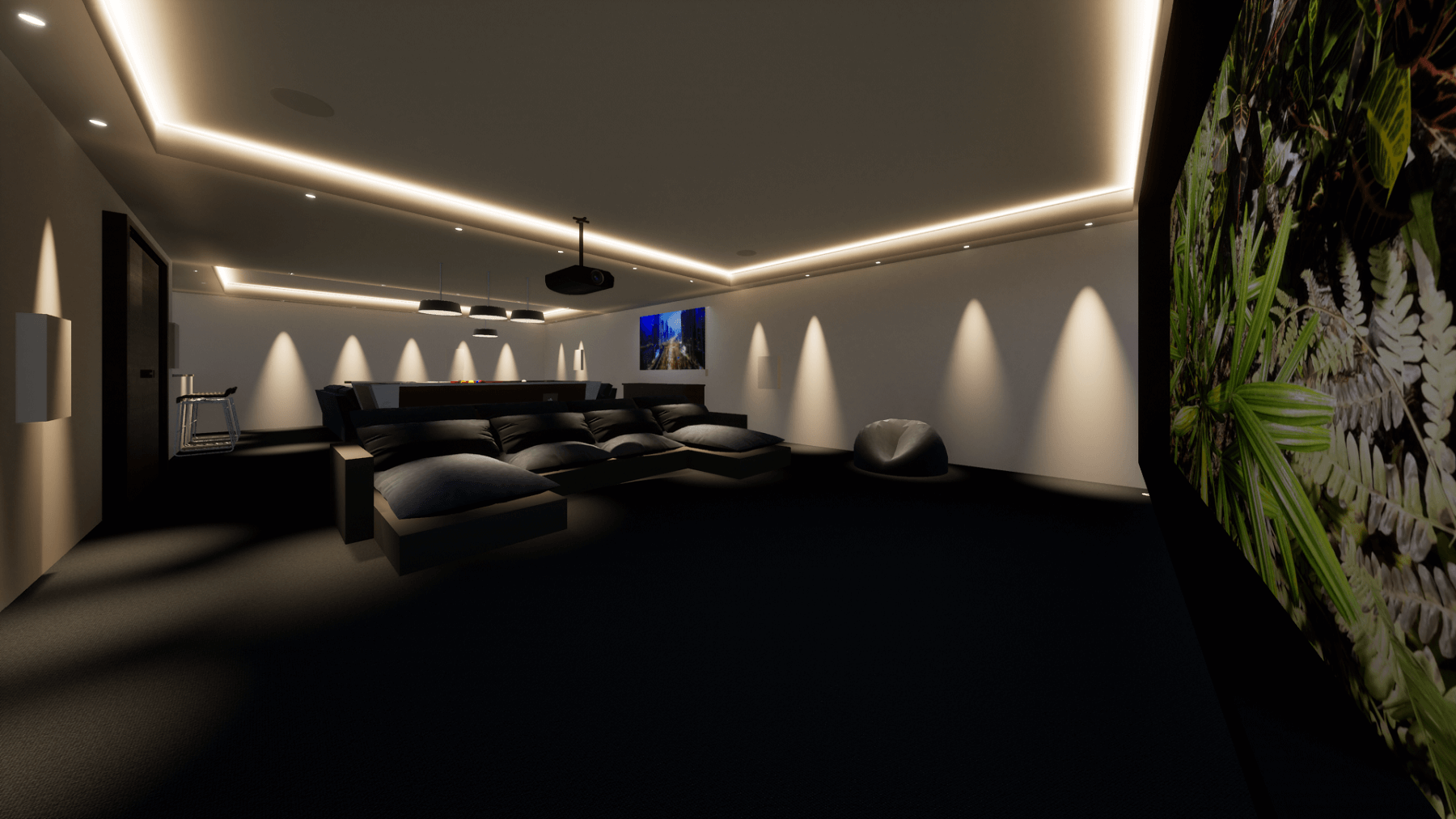 The Home Cinema
We divided the space in to three distinct areas. Obviously, our design started with the home cinema, it's space allowed us to fit a 3.8m wide projector screen with a ceiling mounted Sony projector and an Artcoustic speaker package (front channels installed behind the screen). The audio system is powered by a Trinnov receiver and amplifier package feeding the speakers in a 5.2.2 format – five speakers performing surround sound duties, two subwoofers and two ceiling speakers for height channels. The cinema seating is a bespoke design using the Cineak Intimo range and allows easy seating for 4 with the option of including the four bar stools behind for sporting events and the like. This is a fairly standard cinema design for us and we are able to guarantee an absolutely epic cinematic experience!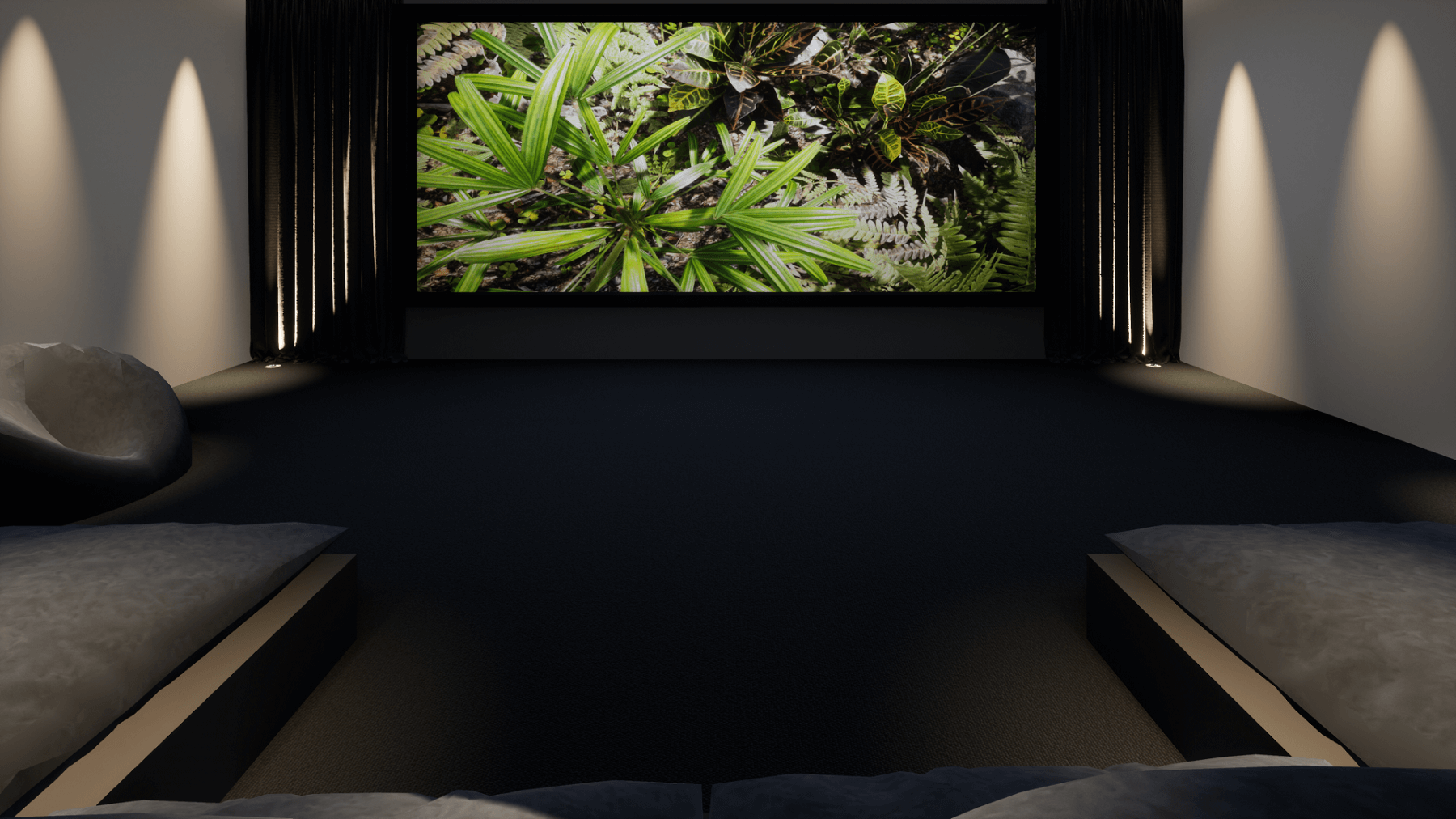 The Pool Table
The pool table area was specifically chosen to allow plenty of cueing space and we added a Samsung 65″ TV with soundbar to provide entertainment whilst playing. The TV has access to the same sources as the cinema system – Sky, Apple TV and Amazon Fire. The same sources can be played on both screens simultaneously or they can be used independently – a sports event on the big screen with a music video on the TV for instance. Sound can follow either the cinema or the TV source for true flexibility. The lighting above the table can easily be controlled and incorporated in to lighting scenes using the Crestron lighting control system.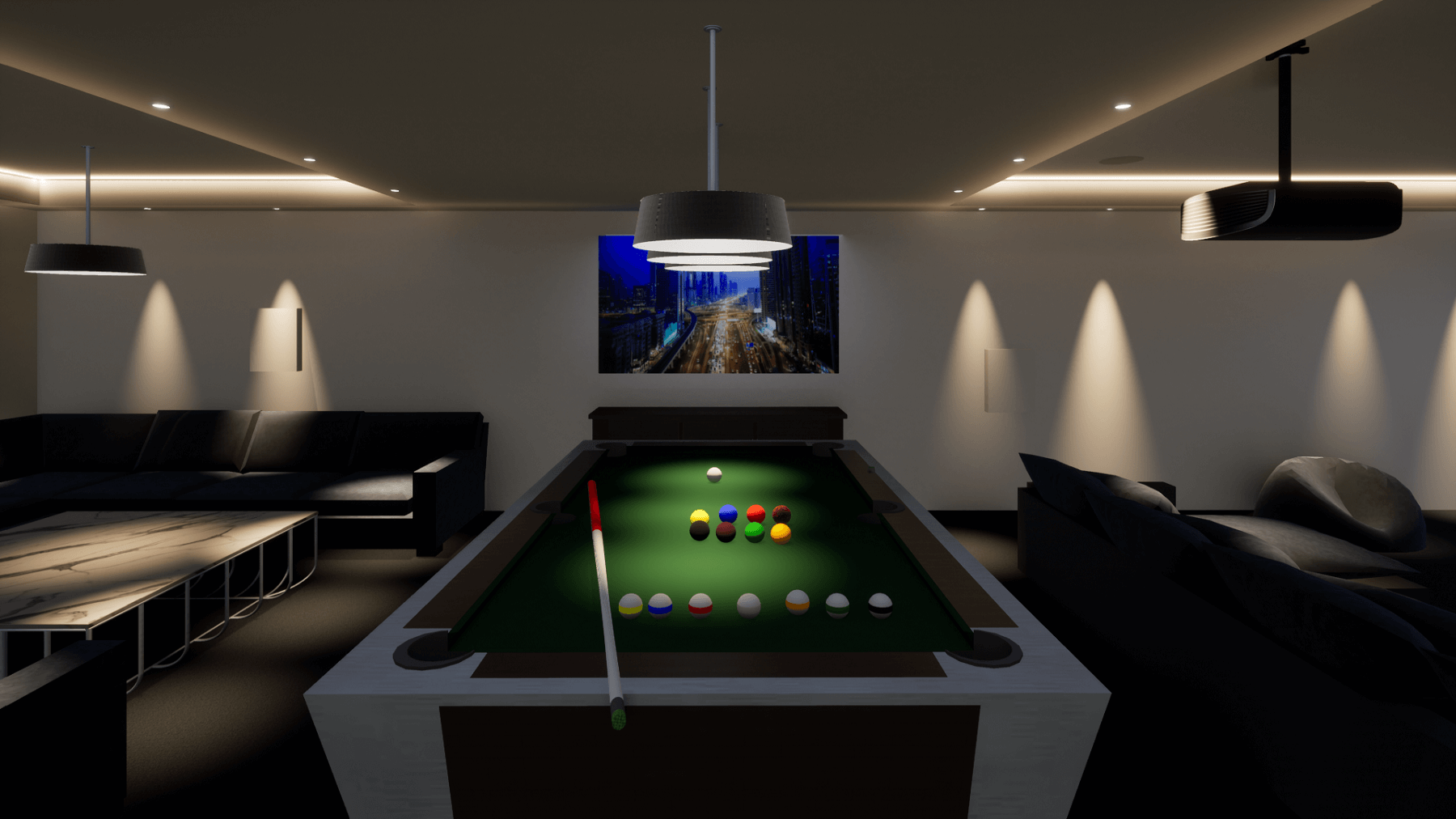 The Lounge Area
In addition to a sociable and comfortable seating area for 9 people the area benefits from it's own speakers, allowing background music to be played at a low volume with even coverage around the room – or the music volume increased to complement the cinema sound system for a truly involving experience! Excellent lighting design adds drama and visual depth to the room, again with easy control from the lighting control system.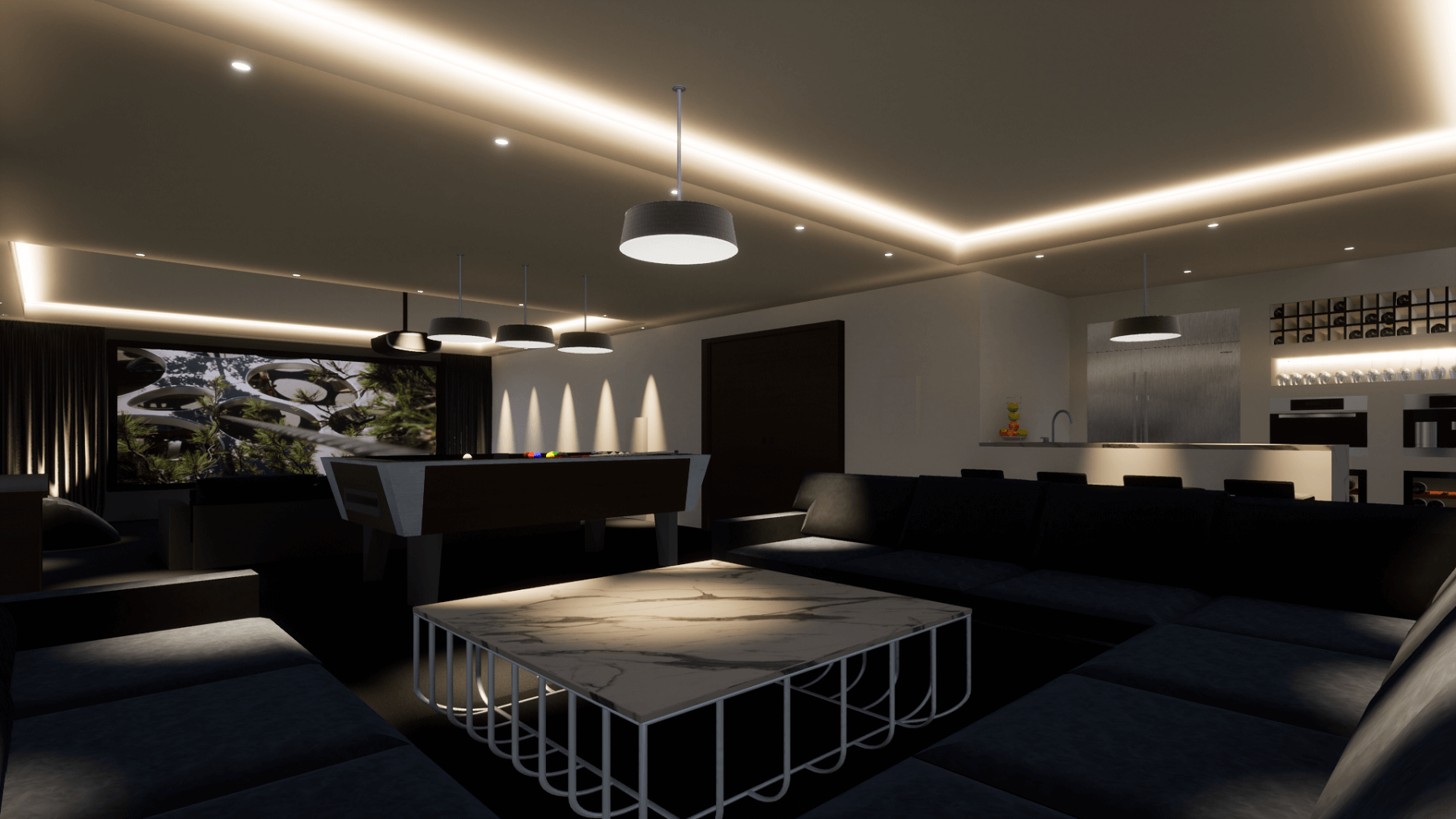 The Kitchen Area
All this socialising can be thirsty work so we have designed a small kitchen with wine fridges and a subzero refrigerator – plenty of storage for the clients drinks collection and a handy counter to make cocktails or popcorn for the big film. The worktop and lounge area table top are both sourced from the same piece of marble – flown all the way from Italy!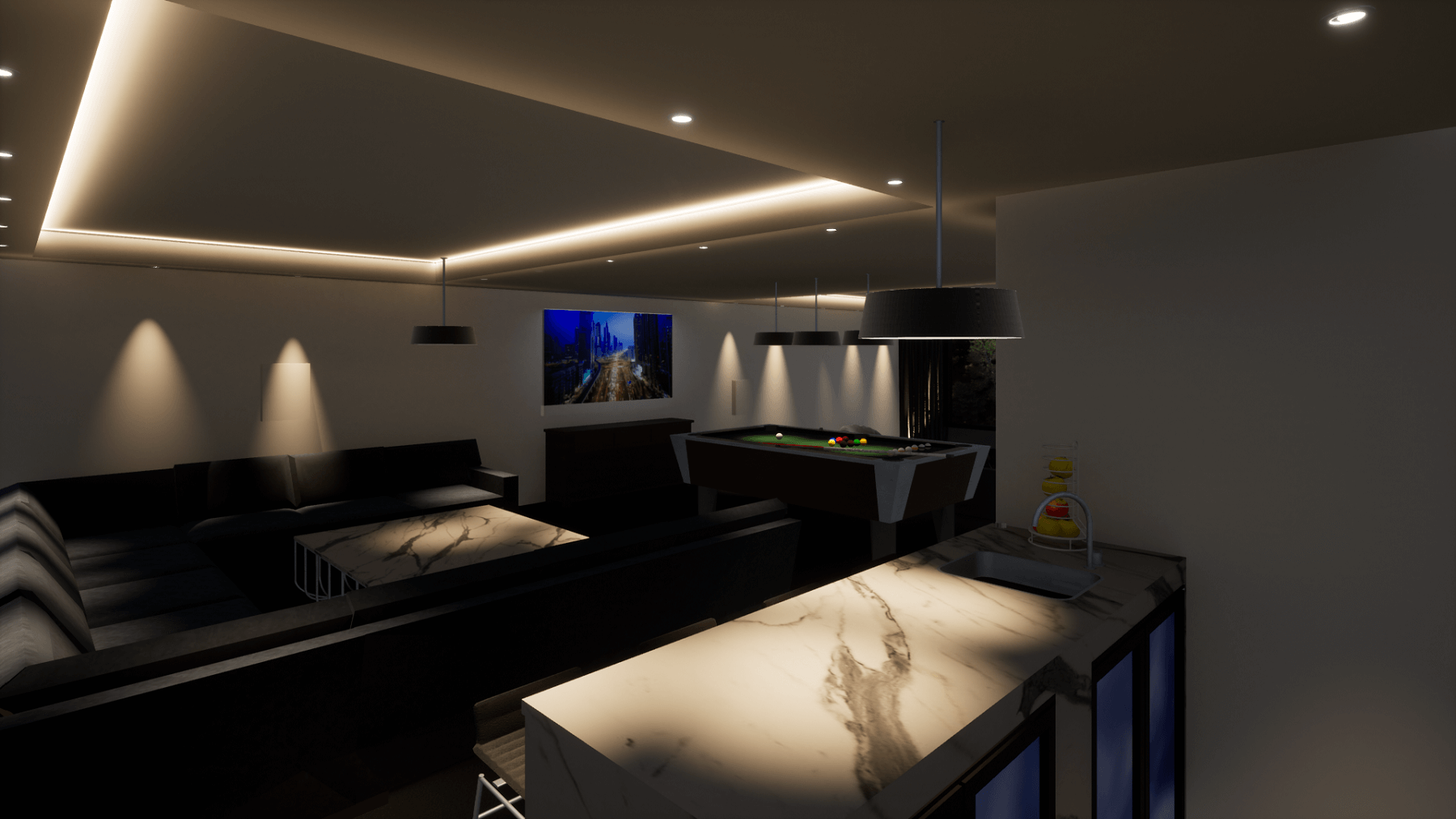 We are really pleased with how this home entertainment complex has turned out. If you would like a video walk around the room then simply click below.