Living Room Home Cinema in North London
A Luxury Home Cinema System installed in a Living Room
This is the ultimate living room cinema! A tricky window layout made integration of a fixed screen difficult, luckily as home cinema design specialists we had a solution! By utilising a huge drop down projector screen we were able to get the client the same cinematic experience as a fixed screen without the need to build a false wall to incorporate the front channel speakers. for this project we have designed the whole room from seating and lighting right the way through to colour choices and carpet fitting! This unusual shaped room works really nicely acoustically with the thick carpet and bean bags contributing to the overall acoustic experience.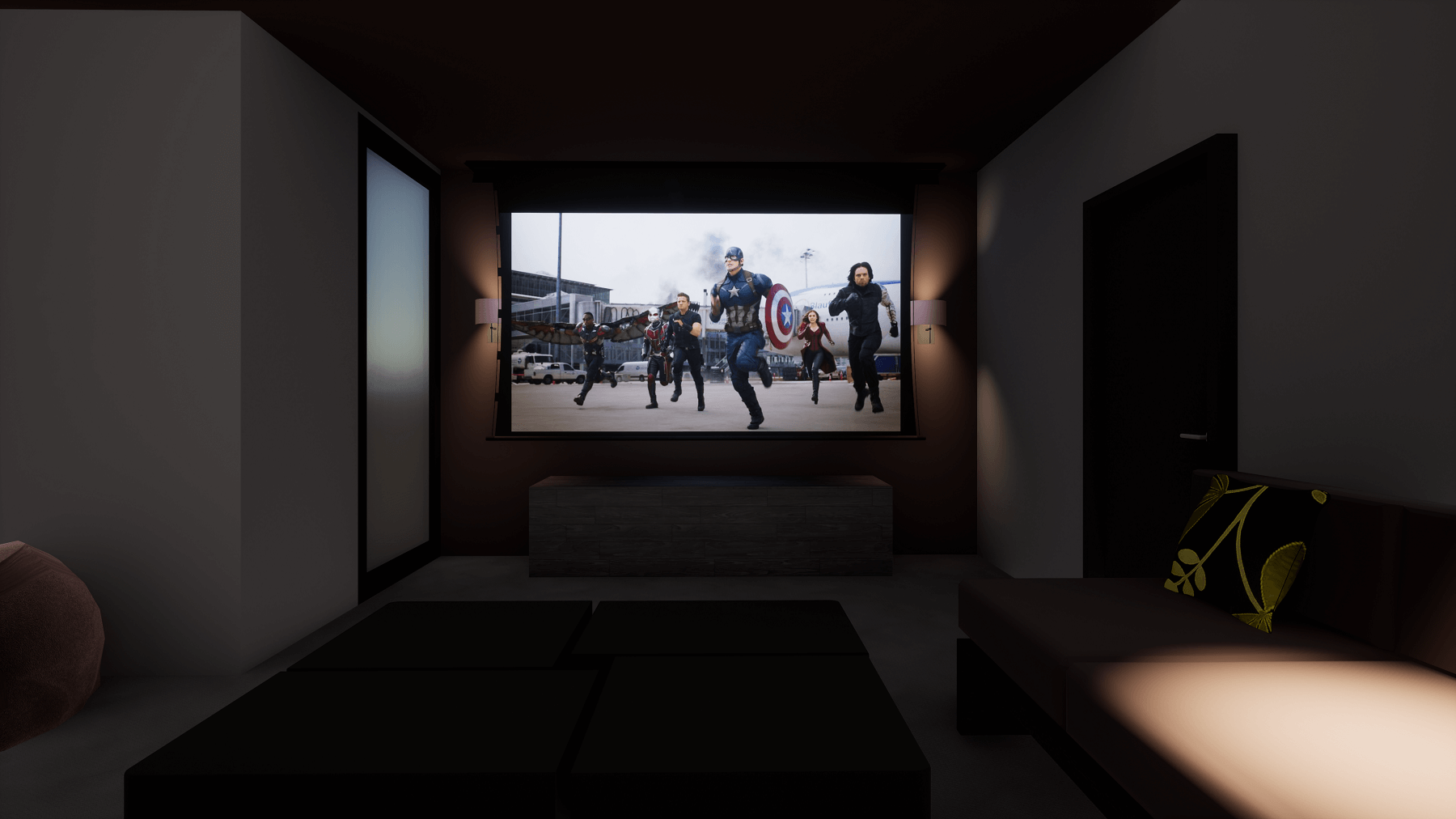 The Home Cinema System
This room certainly packs a punch! It shares its DNA with our larger cinema rooms – utilising an Artcoustic 7.1.2 surround sound system powered by an Audio Control AVR The speakers are laid out in the following format:
Front Left, Center, Right – 3 x Artcoustic SL Evolve 8-4 Speakers
Rear and Surrounds – 4 x Artcoustic SL Evolve 8-4 Speakers
Height Channels – 2 x Artcoustic SL Architect 4-2 In-Ceiling Speakers
Subwoofer – 1 x Artcoustic Sub2
The use of the same speaker throughout the surround sound system ensures a completely coherent sound which is incredibly immersive. The front speakers are behind the screen when the cinema is in use, ensuring a wonderful cohesion between the sound and picture. The projector screen is a huge drop down 150″ Screen Excellence acoustically transparent screen with the cinema projector supplied by Sony. A stunning 4K picture shows films and TV at it's best and with 2200 lumens it is bright enough to watch without having to be obsessive about a dark room.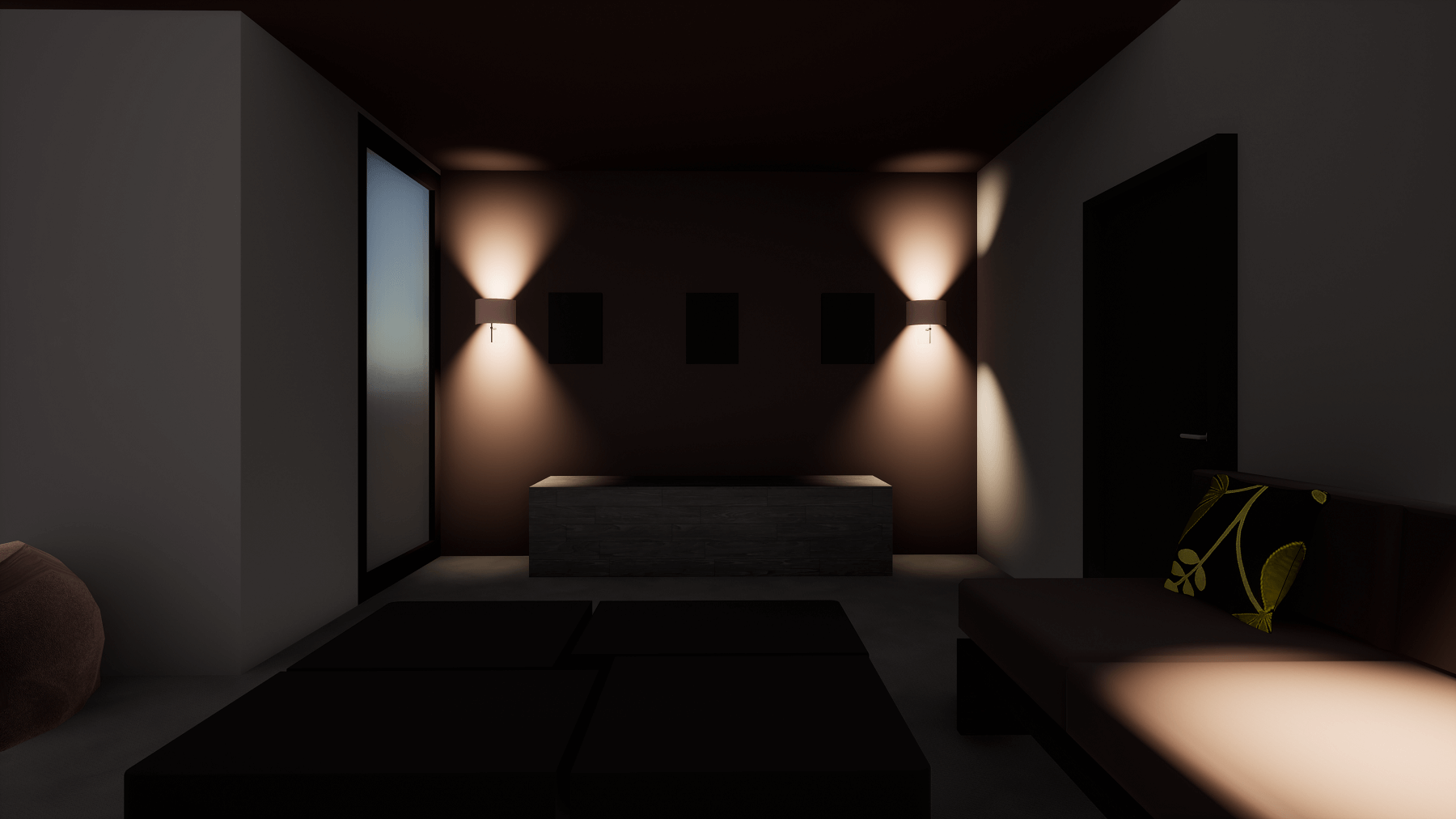 The custom AV cabinet, supplied by Hayden Furniture, contains four compartments with two used as storage, one equipped with a rack and one housing the Artcoustic subwoofer. This is a great approach for a stand alone room with a great aesthetic, we were able to specify the right wood choice to complement the colour scheme. The 5U rack compartment contains the Audio Control AVR, Apple TV, Sky Q and Crestron control system which allows easy room control via an iPad. The same compartment has a smart fan system ensuring ventilation is supplied when required.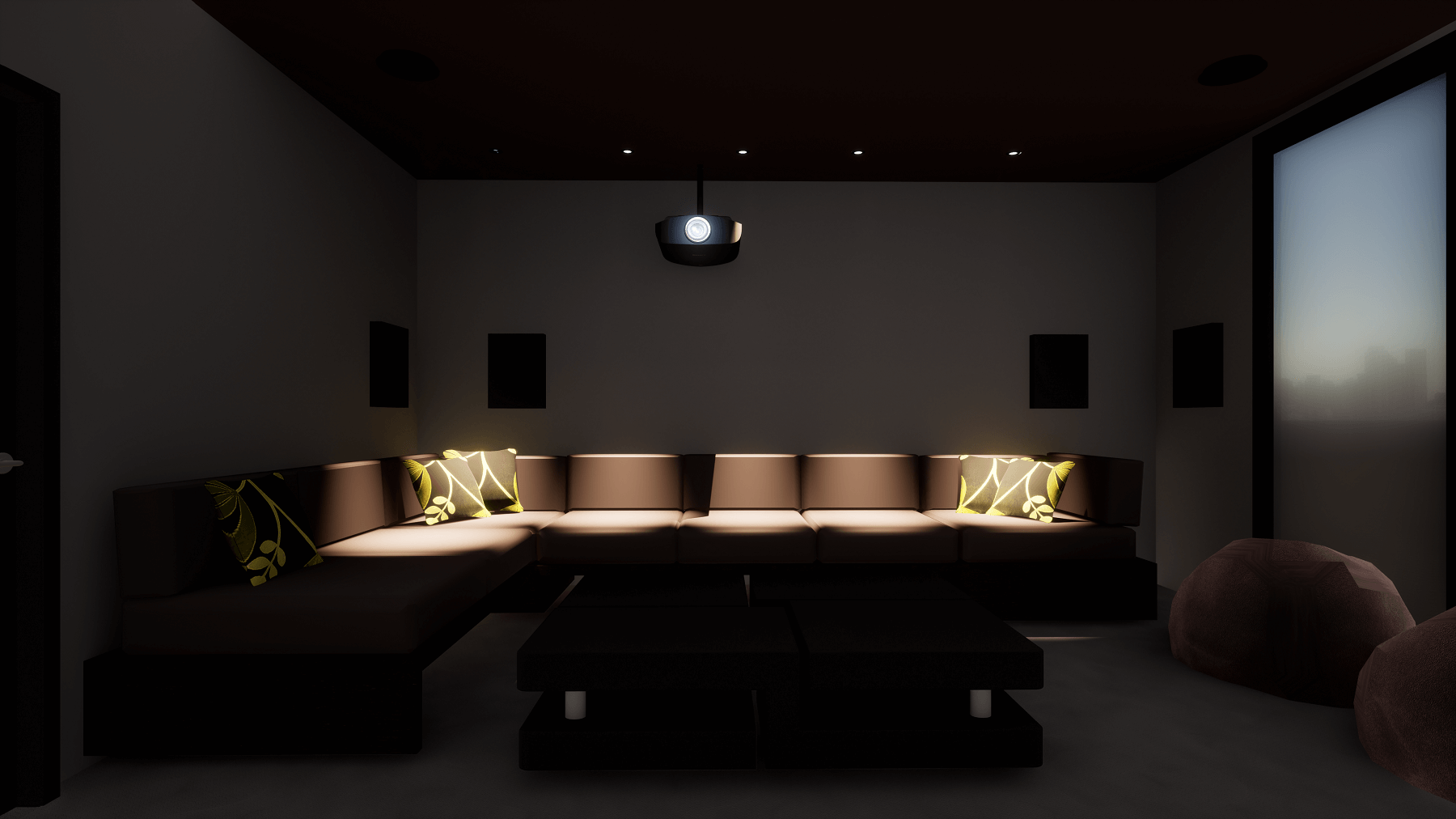 Our Home Cinema & Home Theater Services
Read more about our Home Cinema and Home Theater work:
Room Layout and Seating
The room layout lends itself perfectly to a wrap around sofa with occasional seating handled by a couple of bean bags (which seem to be standard fit in our less formal cinema rooms!). The speaker layout ensures a totally immersive sound stage whilst the lighting design ensures drama and a cinematic feel! Blackout blinds on the windows will allow the client to enjoy the room throughout the day and work in harmony with a Crestron lighting control system which allows precise dimming and control of all lights in the room.