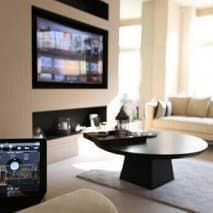 What is a Smart Home?
Home Automation Explained
A Smart Home is a home in which a central processor (or brain) controls electrical sub systems in the home – this can be to add convenience or save energy. Many homes of huge amounts of electrical devices – Wi-Fi, TV and Music systems, lighting and heating. A fully integrated Smart Home will take those subsystems and perform automated actions (a heating time schedule or outside lights on at nightfall) as well as presenting a single easy to use interface (for example controlling Sky HD and Blu-ray from one remote). Allowing different electrical systems to interact can save huge amounts of energy – dropping the heating set point when the intruder alarm is fully set is one example.
TV and Music – A great benefit to a home automation system is being able to enjoy TV and Music around the home. Centralised services can be distributed, and enjoyed, anywhere in the home. This allows you to watch your recorded TV shows anywhere in the home in addition to listening to your favourite playlists and radio stations.
Lighting Control Systems – Mood lighting is a great way to show your home off – preset lighting levels are instantly recalled at the push of a button and intelligent monitoring ensures lights aren't left on when they are not required. Curtains and Blinds can also be integrated allowing them to be opened or closed at the touch of a button. Integration with heating allows blinds to be closed if the sun is warming a room beyond comfortable levels.
Heating – Heating controls are the easiest way to save energy in the home. Integration with an alarm system can automatically lower the heating when no one is home. Smart control via a Phone or tablet allows you to switch the heating on remotely (in addition to any other electrical device in the home!).
Security & CCTV – Security systems can be a great tie in with an automation system – automatically switching off devices (lighting off, audio video off and heating lowered) can save huge amounts of energy. Actions can be performed for an alarm condition – such as lighting pathways in the case of a fire or bring on external lights to full for an intruder alert.
Wi-Fi and Internet. A Smart House needs a good reliable network infrastructure. Distributed Wireless Access Points ensure amazing coverage everywhere in the home and high end internet routers have the ability to load balance between ISP's and route traffic according to the best connections available.
Fun Things! – We have and do control anything electrical in the home – in the past we have controlled irrigation systems for indoor olive groves, fire pits around swimming pools and even trap doors to access wine cellars. These little touches add a real wow factor to a project and aid convenience too!


We have a huge range of options available to us to ensure a system which meets a clients requirements and our team are experts in guiding clients through the options. Systems can be retrofitted in to existing properties or designed in to new build properties. Systems are modular and flexible enough to incorporate new devices as they are released or as a clients requirements evolve.