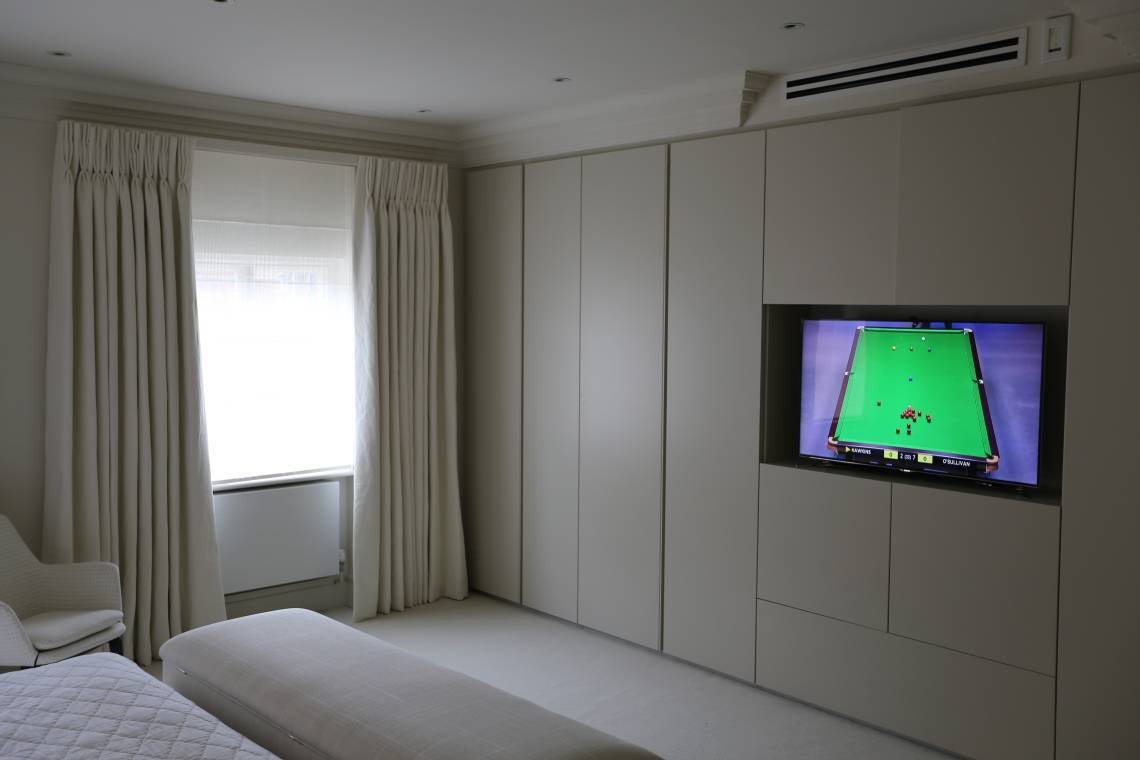 Crestron Audio Distribution & Control
Crestron Sonnex – Multi-Room Audio – An in depth review.
The Crestron Audio Distribution – Crestron Sonnex system is central in the vast majority of our designs – it's a hugely flexible system which allows 24 audio inputs which can be distributed to up to 72 individual audio zones! Any input can be routed to any zone so each can listen to an independent source or any of the 72 zones can listen to the same source.
The above paragraph only hints at the huge amount of flexibility this system has. In one of typical installs the first four inputs may be Sky HD, with the next four being Apple TVs. The next bank of four inputs may be inputs from an Autonomic MMS digital music server – allowing clients to easily access iTunes, Spotify or internet radio anywhere in the home. Digital inputs at 17 – 24 allow us to input devices such as Blu-Ray players and loop them through to home cinema amplifiers – this is important as it allows clients to enjoy digital audio in surround sound rooms but also listen to that same source (at the same time) in stereo zones – great for open plan spaces where a kitchen may want to listen to the same source as a connected living room. As the Sonnex is in charge of the signal there are no issues with delays and sound being out of sync in stereo and surround zones.
The amplified outputs of the Sonnex unit are hugely flexible and can drive in-ceiling, in-wall and even garden speakers. Within our software we can configure outputs as a single stereo zone, a single speaker mono zone or a subwoofer. This means that we can configure the system to be output 1 as a pair of stereo in-ceiling speakers and output 2 as a subwoofer zone (as the subwoofer only has one speaker, the zone would be bridged providing more power!). The two zones are ganged together in the software so ceiling speakers and a subwoofer will always play the same source and the levels of each can be balanced to ensure they work well together. We even have a full EQ so we can set the speakers up to sound their absolute best in a specific room – for instance a kitchen with hard surfaces. We use this exact setup on the basketball court of our Dubai case study – two pairs of pole mounted external stereo speakers are enhanced by four in-ground subwoofers, one at each corner!
The main Sonnex unit has eight stereo zones. Additional zones can be added by Sonnex Expanders (of four or eight outputs) connected by a single inexpensive Cat5e cable. This gives us huge flexibility – amplifiers can all live in the main AV rack with speakers cabled back to them or we can have a main AV Hub with mini satellite hubs. We use this approach in larger houses to ease wiring, we split the house in to areas and then wire all speaker points to a mini hub – one Cat5e connection from the main hub then gives us a further eight rooms of audio. This approach is also applied to network points (one Cat5e or Cat6 gives us 48 network points with a local network switch) and lighting (local lighting hubs allow mains wiring to have short wiring runs).The Crestron Sonnex is easily the most flexible audio distribution system available, allowing huge amounts of flexibility in design and configuration – it is so much more than an audio amplifier!