Crestron Design & Programming
Crestron Design & Programming in London & Cheshire
Proper Crestron design is fundamental to delivering a reliable home automation system. We are an official Crestron Dealership which means we are trained by Crestron on the latest technologies and best practices for system installation and operation. We have a huge number of case studies to show clients the possibilities and have systems which are 10+ years old, still working perfectly, like they did on the day they were installed.
The first thing any Crestron system needs is to be fully drawn and mapped out. This ensures every member of our team understands exactly how the system should be installed and also the scope. Below is an example of one of our system diagrams:
Our usual approach is to build the "head end" AV racks in our offices – this allows us to fully test and commission the system before we arrive on site -vastly cutting down on the installation time.
Phase 2 of delivering a successful system is the programming. Our fully trained and accredited Crestron Programming team are masters at programming flexible, powerful systems which above all are easy to use. We pride ourselves on the fact we dont need to train clients on how to use their systems and they are often used by non english speaking staff and visitors. In addition to the all important interface our team spend huge amounts of time ensuring code runs as efficiently as possible and also client devices run as efficiently as possible. A great example of this is our Dubai project where we enhanced the Air Conditioning system be cycling on and off when a room is at temperature – sounds simple but saves the client huge amounts of energy!
Below is an example Crestron interface, in this case showing Sky TV controls on an iPad: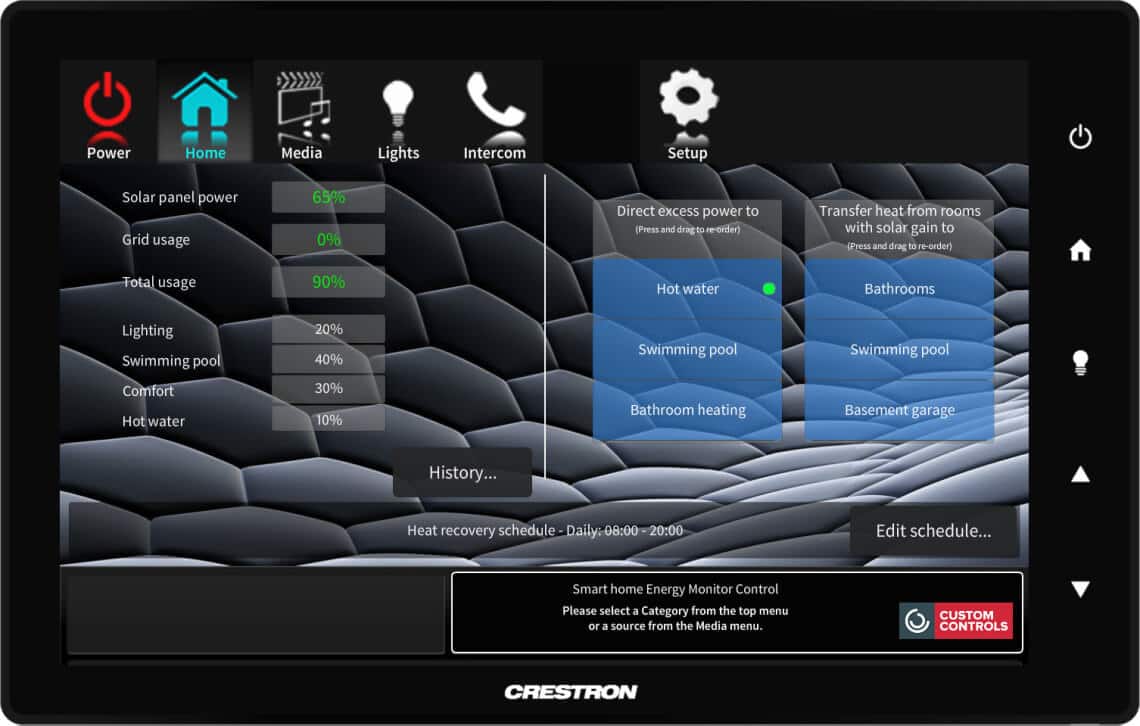 Our methodology works just as well for a project in London or Cheshire as it does for a project on the other side of the world. We regularly work on international projects – shipping complete systems which are pre-programmed and pre-commissioned to reduce time on site and therefore client costs.
Crestron Programming Services to the trade and end clients
As part of our Crestron Maintenance & Support services we offer freelance Crestron Programming services to the trade and end clients. Too many Crestron systems are badly programmed resulting in unhappy clients – hence why we are so happy for Crestron Home OS3 to make an appearance. Home OS3 will allow Crestron dealers with little to no programming skills to produce a reliable and easy to use system.
Crestron Programming take over work
If you are a home owner with a Crestron system which doesn't perform as it should or if you are a dealer who is over stretched then simply contact us and we can quote to revolutionise your system. We don't always reprogram we can also fault find existing programs to improve reliability and efficiency.
Below are some examples of our normal interfaces although we are totally flexible and can design interfaces to meet a clients particular needs.