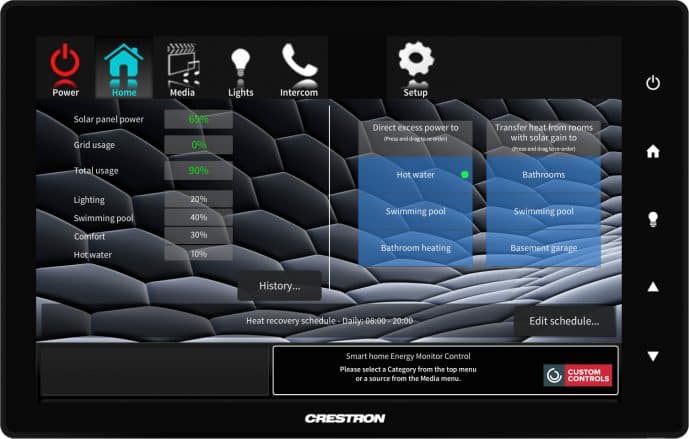 Crestron Energy Monitoring and Control Solutions
Be in Total Control of Your Home Energy
Prospective clients tend to get in touch with us when hunting for a great audio video solution for the home – Multi-Room Audio Video, Home Cinema, perhaps some Lighting Control. On a new build property we can do much more. As solar panels, ground source heat pumps and heat recovery systems become more common our energy monitoring and control solutions become more relevant. Imagine a bank of solar panels on the roof producing energy in a reasonably consistent pattern – production picks up during the day until the sun is at its highest and then gradually decreases until nightfall. Its important to use the energy efficiently – after all your energy usage profile might be an opposite pattern – lights and hot water usage during the evening and very little during the day.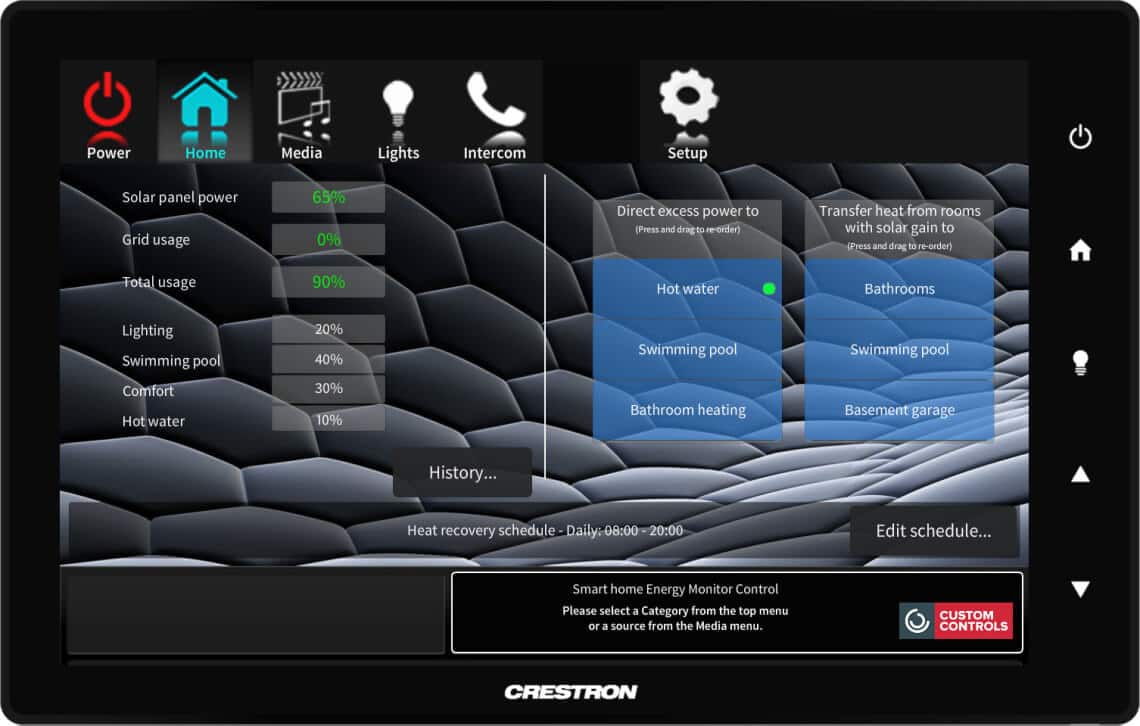 Our systems monitor how much energy is being produced and how much energy the home is using. This information can be used by the home owner to manually save money – dimming or turning down lights or lower a heating setpoint for example. Our system can also intelligently use any excess power produced to get the biggest saving – prewarming immersion heaters for hot water and underfloor heating or diverting energy to the swimming pool. These settings can easily be changed, over ridden or scheduled by using a centralised touch-panel.
Intelligent use of a heat recovery system can have a huge impact on energy use. Imagine south facing rooms with picture windows heating up as sun streams in to the room. Traditionally home owners would either shut the blinds, open a window or, if they are very lucky, switch on the air conditioning. With our intelligent systems the unwanted solar gain can be moved to a north facing room – pre-warming the master en-suite for instance or moving warm air down to the basement, gently warming traditionally colder parts of the house and keeping the fabric of the home warmer – for free! This kind of approach allows us to intelligently heat ski chalets in a very energy efficient manner.
The home owner has complete control – they can monitor which devices are consuming the most energy in the home and either schedule them to work as efficiently as possible – for instance running laundry machines when energy production is highest or running underfloor heating when the immersion heaters are at their peak. Simple touches and scheduling can have a huge impact on energy usage in the home whilst making the environment as comfortable as possible.