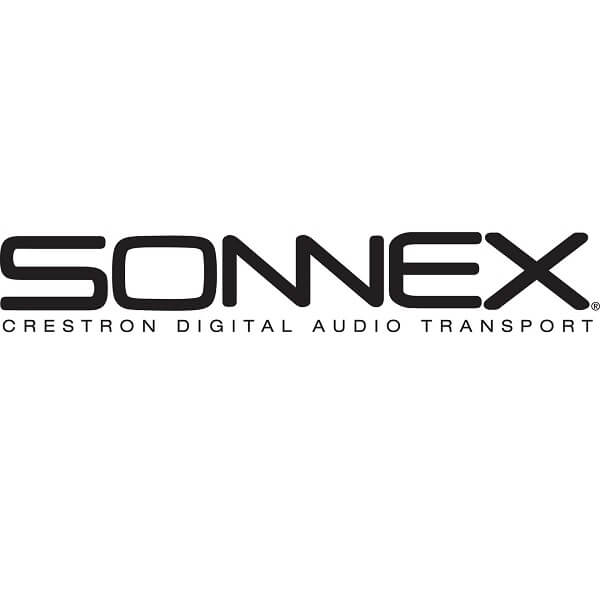 Crestron Sonnex – Multi-Room Audio
The World's Most Powerful and Flexible Home Audio System
The Crestron Sonnex audio distribution system makes it in to all of our systems. Every case study on our website is based around the Crestron Sonnex system – that is an amazing fact! We specify Sonnex for a number of reasons:
It is Powerful – Up to 400 Watts per Channel
It is Scalable – Up to 72 amplified channels = 72 Rooms!
It is Flexible – Channels can be ganged together which is great for huge rooms with many speakers
It is Easy – We can install the main unit in the rack and then add expanders in remote hubs via Cat5e = Easy wiring!
The main Sonnex unit accommodates up to 24 audio inputs in a variety of stereo and digital audio formats. These 24 inputs can then be routed to any of its 8 amplified channels – each channel (or room in essence) can listen to any source or they can all listen to the same. In areas with more than two speakers then channels ganged be ganged together to always work together – same source, volume etc. The super clever bit about the Sonnex system is expansion – for homes with require more than 8 channels of multi-room audio a Sonnex expander can be added to the system which connects via a single network cable. One network connection gives us another 8 rooms and as the cable can be up to 61m long we can house the expander elsewhere in the home which drastically reduces speaker cable run length. For larger homes and garden zones (at risk of lightening) we can even run the expander over fiber optic cable up to 2km away – more than enough for any size of home!
The Crestron Sonnex Expander
The above paragraph sounds great – another 8 channels of amplified audio anywhere in the home – but sometimes we need even more flexibility.
The back of the Sonnex expander shows the simplicity of the system – add power and one network connection then you are good to go! Add up to 8 channels of audio. Channels can even be bridged to cater for subwoofers – boosting power from the usual 250 Watt/channel to 400 Watt/Channel. In a recent project we installed a super high end garden audio system which resembled an Ibizan nightclub – 16 Channels of Stereo Audio and 4 huge 2 x 18″ subwoofer arrays. For this particular project we wanted the flexibility of the Crestron Sonnex audio routing and also the crossover functionality and power of the manufacturers own 1000W mono block amplifiers. Luckily Sonnex is flexible enough to accommodate! A Sonnex expander unit with no amplifier stage allows us to incorporate third party amplifiers and processors whilst also maintaining the huge benefits of a Crestron system.
If you would like to know more about how a Crestron Sonnex system can bring your home alive with the sound of music then please do contact us.