Crestron Window Coverings
Crestron Electronic Blinds & Curtains
Crestron dimming systems are well established in the lighting control system field. Hugely flexible and powerful lighting control systems are as happy dimming a studio apartment as they are controlling the lighting for a multi-building complex.
Historically the range as focused on controlling lighting fittings with everything from colour changing disco lights to traditional downlights being handled easily and efficiently. The missing piece of the puzzle has been curtains and blinds – until now!
The Crestron range handles most types of window covering:
Curtains via an end of the curtain track motor. Customer supplied fabric.
Roller Blinds – brushless motors and a huge range of fabrics from black out to sheers.
Roman Blinds – Precise control of each blind with a huge range of fabrics.
We often install multiples of these blinds on each window – either sheers and curtains or sheers and black out blinds (sometimes with curtains too!) to provide just the right amount of natural light in to a space.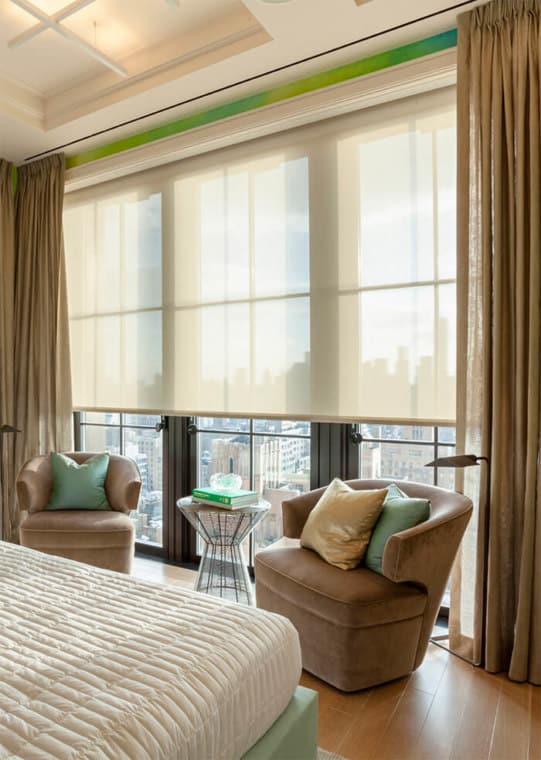 Crestron Blind Controls
Individual blinds and curtains have huge amounts of control and feedback, so your home automation system knows exactly how to control each blind. The advantages of this can be to look remotely at whether blinds are open or closed but also to allow the control system to open or close them in increments depending on the amount of natural light in a room. We often use this functionality to control the temperature in a room – too hot and too much daylight, just close the blinds.
In addition to seamless control and integration with lighting scenes there are advantages of convenience – closing all blinds on a front aspect at nightfall for instance. Security by simulating occupancy is also an added benefit – it is no longer apparent when you are home or away!
Check out our main Crestron Home Automation page for more details.