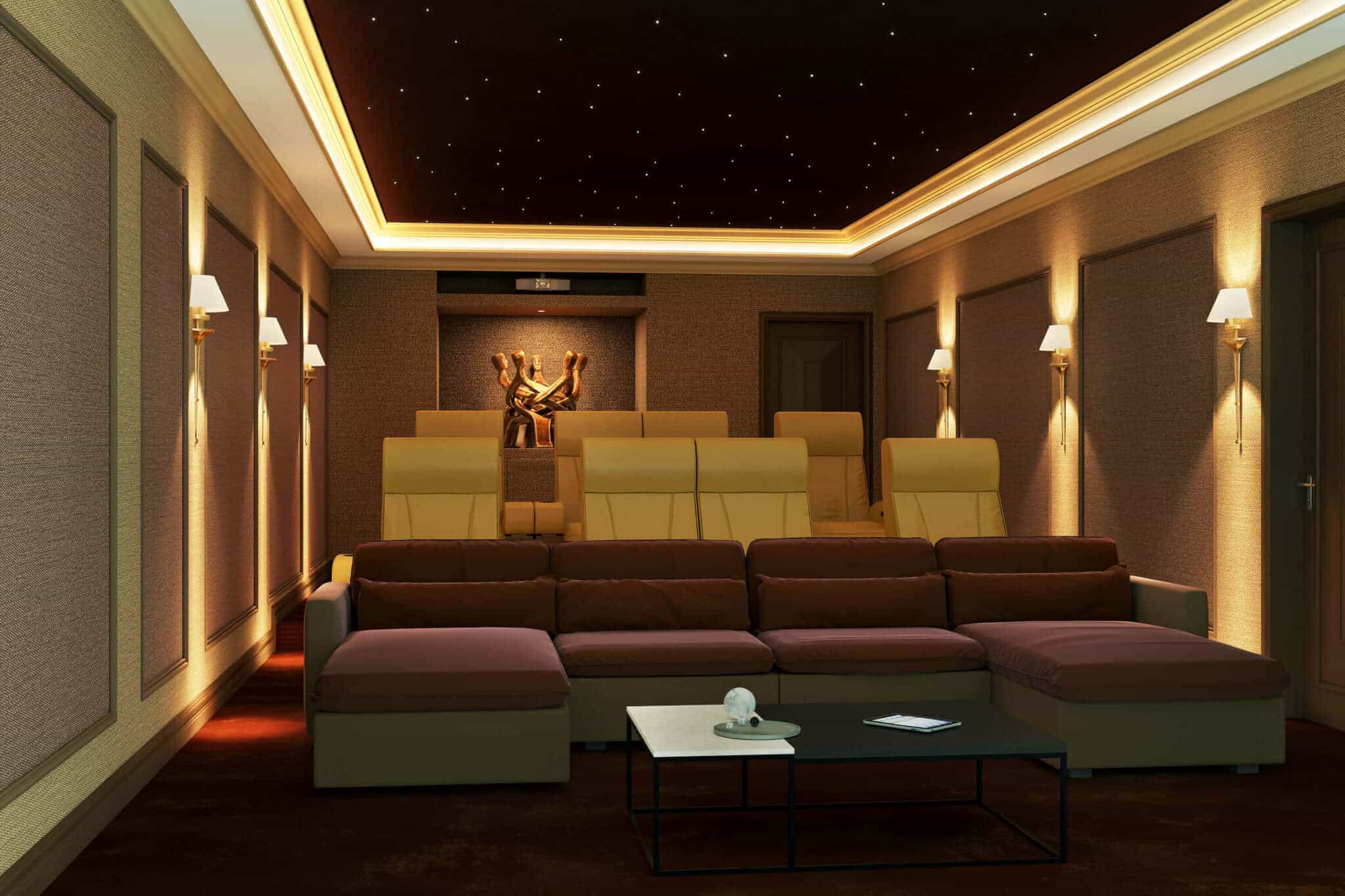 07 Dec

What are the best type of Lights to use in a Home Cinema?

Home Cinema lighting is critical to delivering an outstanding home cinema. For our home cinema installations we spend as much time on the lighting as we do on the seating – a considerable amount! A well lit home cinema needs three distinct scenes (in order of importance) – Film watching, general room use including getting to the seats and then cleaning. The last scene might not be the most obvious but having a high level of light for maintenance and cleaning is a must have if either task is to be performed reliably.

And now on to the lights!

– Star effect cinema ceiling – Star effect ceilings are a great way to add the wow factor to a cinema. Strands of fibre optic lights poke through the ceiling surface and, combined with a light wheel, can change colour or twinkle randomly. In a dimly lit cinema the effect can be stunning and the 'stars' can either be randomly arranged or for a truly bespoke finish they can be designed to match the date of the solar system at a certain time – for example a wedding date!
– LED strip lighting – LED strip is a great way to light up architectural features in the room – floating ceilings and stair treads are popular places to include LED strip lighting. Stair treads can be a great light source to leave on when films are being played back – allowing people to enter and leave the room in safety without the light distracting from the main viewing experience.
Squirrel cage bulbs / carbon filament bulbs – These particular light bulbs are reminiscent of very old light bulbs where the main filament was on show. When dimmed they produce a lovely warm glow which can give the cinema huge amounts of warmth and atmosphere – we regularly install them in wall lights level with each row of seating and if a bar is installed behind the rear of seats they can produce a great feature hung above as pendants. A huge advantage of the squirrel cage bulb is that when dimmed very low you get the customary glow but when at 100% they can be very bright – great for cleaning and maintenance work.
– Onyx tables – We install these as part of our home cinema seating – tables nestle between the seats and provide a soft glow when the film is playing. They make it incredibly easy to deal with drinks and snacks and also mark out the rows of seating in larger rooms. Again dimmed very low they give a great warmth to the room.We heartily recommend installing home cinema lighting with a lighting control system – running lights through a lighting system (maybe a Lutron Grafix Eye or a Crestron DIN rail system) allows complete control of lighting in the room. Our lighting scenes rarely turn lights fully off – a lamp at 1% brightness will emit a lovely warm glow which provides instant atmosphere to a room. For this reason it is critical to ensure that lights which are chosen with dimmable drivers etc!