Designing your Dream Home Cinema
We Help You Design Your Dream Home Cinema Room
Who goes to the cinema anymore? We live in a world where entertainment is a lot more personal and, because it is easily accessible, a lot more comfortable. After all, if you can put together the best home cinema in your own home, why would you bother to share the experience with at least a couple dozen strangers in a cinema?
Yes, large movie theatres can offer 4K image and 3D screening, but the technology is readily available for the home consumer as well. Even more, you can put together the home cinema of your dream without having to hire an expensive team. Once you know the technology you want, all you have to do is choose the general design and you're ready to start one of the greatest DIY projects possible.
Since this is an extensive project that requires a lot of decision-making, we will walk you through every step. But first, we'll start with a few design inspirations that will give you the chance to decide on the type of home cinema you like.
1 Home Cinema Inspirational Design Ideas
Inspiration is very important when it comes to putting together your very own home cinema! After all, this is a space dedicated to comfort and leisure that must be inviting and warm. Even more, there are several technical aspects that must be considered such as acoustics and sound leakage, wiring, and proper furnishing. All these elements must come together in a harmonious setting that transforms your movie nights into wonderful experiences.
We strongly recommend checking out the Pinterest home cinema designs to see if there's anything eye catching or beautiful that catches your eye.
1.1 Consider the Available Space
First, it's important to find beautiful ideas that apply to the space you have available. For instance, we put together a wonderful home theatre in Derby that includes a 4m wide, 4k resolution screen. The room was set to offer both comfort and intense movie experiences, but we had the necessary space for this project.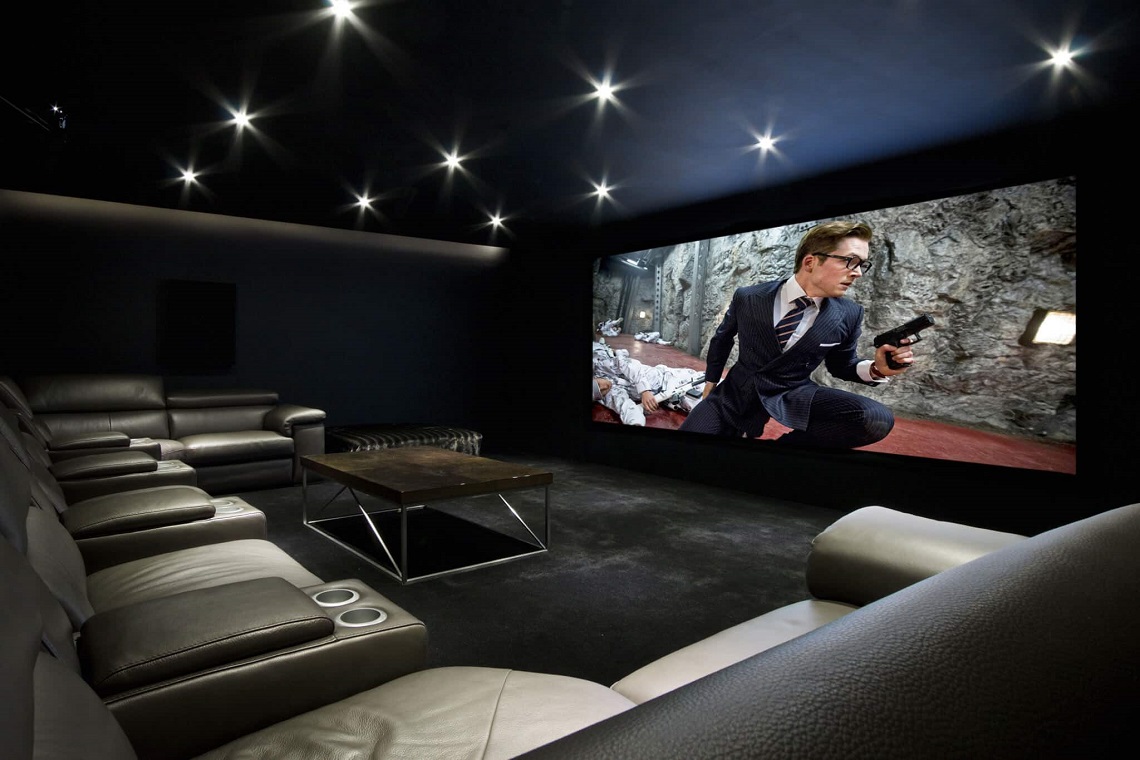 However, if you don't have the necessary space to accommodate this idea, it's best to make adjustments that will fit your personal situation. You can see a good example of a great cinema setting for a small space in the video below:
https://www.youtube.com/watch?v=55la7bJhd04
As you can see, you don't need to empty an entire room to organize a wonderful space for your entertainment needs. You just need a bit of creativity and some out of the box thinking.
1.2 Which Colours Work Best?
When it comes to the type of space, colours play a major role in the design and general atmosphere. When it comes to the furniture, people tend to choose dark themes like black or deep blue, but there are some design inspirations that play with warm colours such as orange or beige. These do work better in a smaller setting as they bring some spaciousness, but there are other elements you must consider.
The floor and the walls must be painted in matte, dark nuances to avoid any reflections. Specialists recommend painting both the walls behind and the ones surrounding the screen using a flat matte paint, but you shouldn't ignore the ceiling either.
Another element that tends to be forgotten when deciding the design of your home theatre room is the floor. Tile flooring and even hardwood have reflective surfaces that can disturb your wonderful experience, which is why it's best to install carpeting or a rug in dark colours. This has a double effect as, besides the reduced light reflecting from the screen, the carpet will also keep the sound echoing effect down.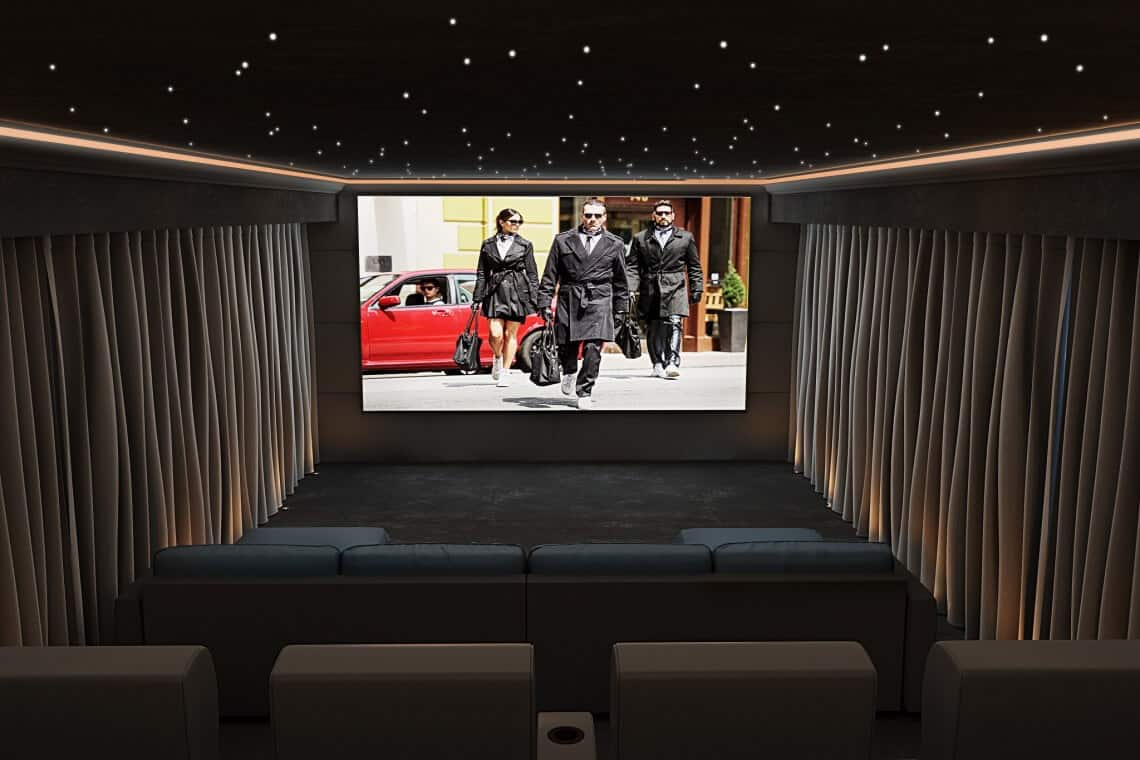 Of course, you can tone down the darkness with colourful upholstery, but this is a personal choice. Overall, a dark room, with soft surfaces is perfect for relaxation and movie time!
1.3 The Lighting
Did you notice that most public theatres implement soft lighting solutions that remain active during the movie? These are designed for guiding people who want to move around the room (although not recommended).
The same works for a home theatre where you have to consider your friends' needs (a trip to the bathroom or popcorn refill). Thus, while it's perfectly normal to consider absolute dark for your home cinema, make sure to install soft lighting fixtures (for the best results, install lights at different heights in the room – table lights, wall lights and ceiling lights – they all work together to create atmosphere).
It's also best to avoid installing any artwork that is protected by glass in this room. Glass is a hard, reflective surface and it has the possibility to ruin your experience.
1.4 The Furniture
A stylish cinema room must come with cosy surfaces that will allow you to lie down and be comfortable for at least several hours. You must also consider the number of people you like to invite for movie nights or other events so you'll have enough space for everyone. For instance, we worked on a Trinnov Cinema in Africa that created enough space for 12 people to enjoy a wonderful 4k-quality movie in comfort and style.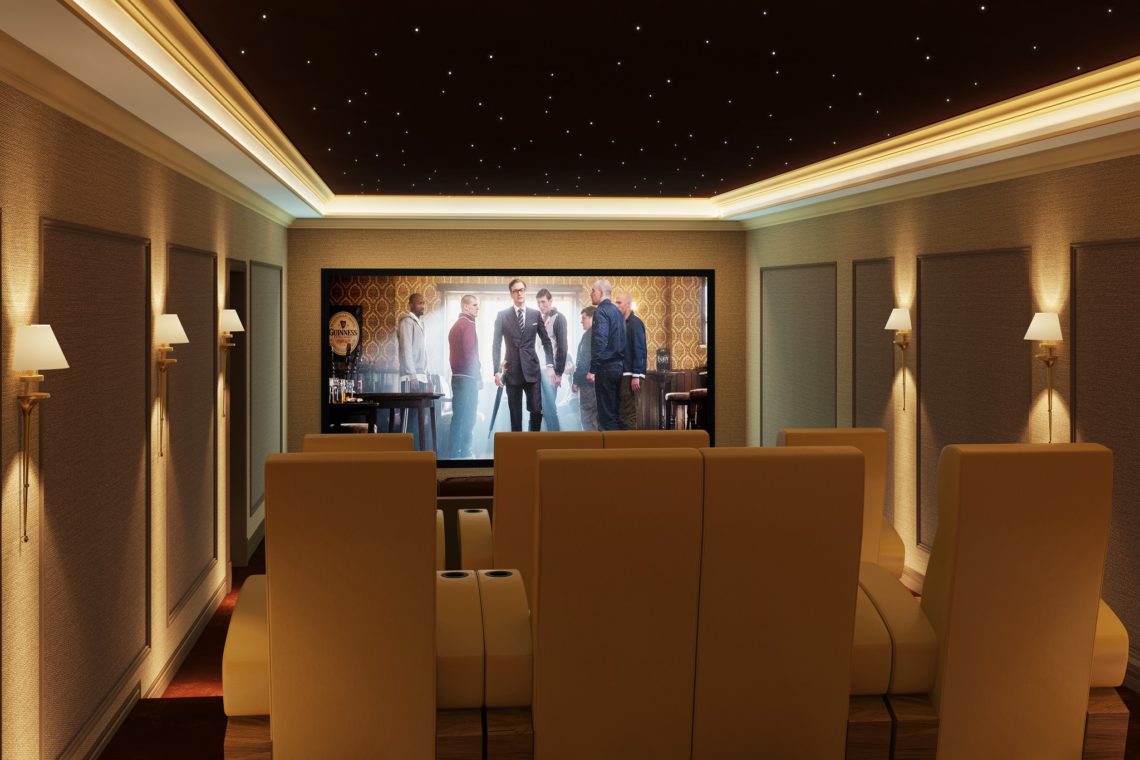 However, if you don't have that much space, you can always be happy with a large sofa that will offer enough room for the entire family or a close group of friends.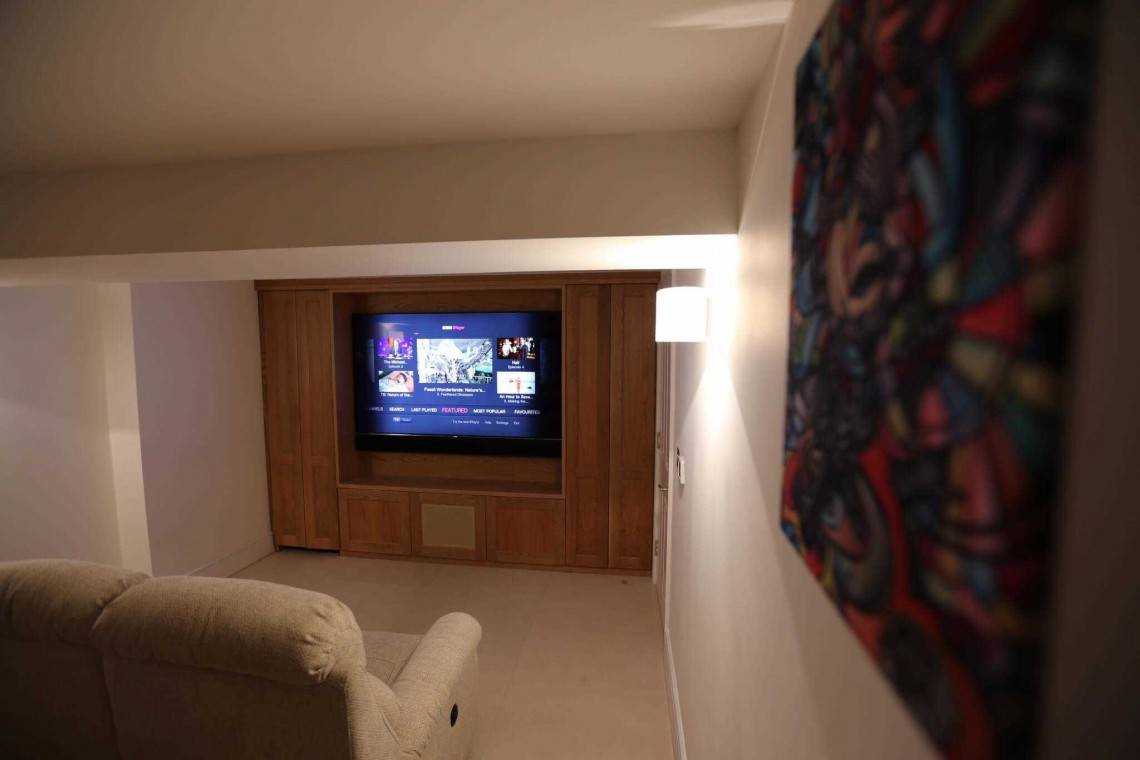 Overall, the design of a home cinema can be as creative as you want as long as it offers the right level of comfort and keeps the experience at an optimal level. It's also the type of project you can do by yourself and doesn't require a huge investment once you decide on the style you want to follow.
Of course, you should consider the available budget when you find the design that inspires you the most! But just because you are on a budget, doesn't mean you can't enjoy a wonderful cinematic experience in the comfort of your own home!
2 The Home Cinema of your Dreams – Cost Analysis
This is a costly project, but according to personal choices, the budget is going to be very different from one project to another. But let's take it step-by-step and see how much you should save in order to have a customize cinema room that fits your needs.
First, you need to prepare the room, which according to where you live and the customization you want, may cost somewhere between £40 and £200+ per square foot. This includes insulation, plasterboard, painting, and other materials you want to install.
You might be tempted to say that once the room is ready, it's time to start buying the equipment. Well, things are not quite like that. Now it's time to understand your room – you need to know how the speakers will react with the room and this requires measurements, tests, and even doing sketches. You do this to determine the placement of your screen, the seating configuration, and the speaker placement. If you know how to determine all these, you'll only invest time, but if you need to call a specialist, you need to budget to cover the costs.
If you want the sound to be crystal clear, we also recommend installing acoustic treatments. These will enhance the quality of your sound and, even if you have an average sound system, you'll see the difference. The costs can go from £400 (for some basic panels) and up to a few thousand for a fully fabric-wrapped room.
Once these steps are completed, it's time to start choosing the equipment. This includes (in large) a projector or a high-resolution TV LED, the projector screen, Surround Sound System, Home Theatre Receiver, and all the cables and accessories. These vary in price according to the quality you want, but if you went through all this effort to build the room, there's no point to install a cheap system, right?
The next step is furnishing the seating area, and here you can get creative. However, we don't recommend going with the cheapest settings in the market – the products are not durable in time and the general level of comfort is not that high.
Finally, now that the room is furnished and the equipment is installed, you must consider the final calibrations, which are best done by a specialist. This aspect is important because otherwise you won't be getting the quality you paid for – you'll just have a room full of equipment. Here the cost is highly variable, but you should be prepared.
3 DIY Home Cinema – Step-by-Step Instructions
Once you have an idea of the type of design you want and the costs that it will imply, let's see how to put together your own home cinema.
#1: Choose the space
A cinema room can be designed in any part of the house. So, if the space you want to dedicate for entertainment is in your basement or your attic, it doesn't matter as long as you have the necessary materials and equipment, coupled with a bit of creativity!
However, you should keep in mind that the preferred dimensions for a theatre room and it should be somehow isolated from the rest of the house. For instance, a room you use as an intermediary passage may not be the best choice because other people may interrupt your entertainment time. Even more, an intermediary room doesn't isolate sound that well and the sound from your entertainment system may disturb the rest of the house. You should also know that there is an ideal shape for a cinema room in order to avoid any sound defects. This is important because the ratios of wall length to ceiling height can have a huge impact on the audio performance of the room. The shape is special and is called the ultimate trapagon – if you want more information on specific sizes, check out the guidelines here.
#2: Prepare the space
The preparation phase of the project may be a bit messy, but all the steps you take here are necessary if you want to enjoy quality entertainment.
You should start by isolating the walls so the sound won't escape towards the rest of the house. After all, if you're building a cinema room, you must make sure the sound is exceptional, right? You should have an R30 rating for the ceiling, wall, and exterior walls, and an R11 rating for the interior walls.
Now it's time to run the wires for the sound system, the TV screen or the projector, and the lighting fixtures. Try to think ahead and consider the type of technology you'll be using now and in the foreseeable future. We'll tackle the topic of sound and image a bit lower in the guide, but now is the moment to consider them and run the wires.
Once this step is complete, you should add the drywall and additional sound barriers. Now, when you install the drywall, make sure to get all the cables out so you'll be able to install all the systems you need. With regards to the extra sound barriers, these are not mandatory, but it helps to have them in place. If the budget allows it, you can use a drywall specially designed for soundproofing, but the price is pretty steep. On the other hand, you can reduce the cost by covering the walls with a soft material that dampens the sound (like vinyl).
The final step consists in installing the lights (which we'll discuss below) and making sure the room is painted in a colour that doesn't allow for light reflexions. You should also cover the floor and ceiling with a sound-dampening material for an amazing effect.
Home Cinema Lighting
The lightning is an important aspect of this project and can make a huge difference if it is installed the right way. The main role of the lighting is to guide you through the room during the movie and create a cosy atmosphere when the movie is over.
So, you won't need anything too powerful. We recommend going with recessed lighting in the ceiling and/or sconces along the side walls. You can even install an RF dimmer that works with the same remote you're using to control the projector or the TV set.
Here are some products you can use:
The Cinema Screen
The screen is the focal point of you cinema room and requires some specials considerations. If you have the budget, we recommend going with a projector and a screen. You can check out some of the best projectors to create your own cinema here. This is the only way to get the most authentic theatre experience!
Side note: if you don't have the necessary space (screen diagonal is smaller than 100 inches), a TV is the best choice.
If you decide to go with a projector, you must decide on the size of the screen and choose the wall where it will be mounted. For this, we have a comprehensive guide that can help you with all the necessary details.
Once this is decided, it's time to consider the type of technology you want. This is a tricky step that requires research, but here are a few pointers to follow:
Decide your budget – If you would have unlimited funding, the best projector to buy, would also be the most expensive. This means that high-end models come with high resolution (4K is a fantastic choice for a cinema room), great contrast, amazing colours, and advanced brightness settings. Still, you have to consider your budget and buy the one that fits your needs
Brightness – if you have a dedicated room, built according to specifications, then you won't have to worry too much about brightness. However, if the projector will be installed in the living room (or another room with higher light levels), we recommend getting a bright projector.
Technical support – it's important to get quick replies to your inquiries, so make sure to choose a producer that offers great customer service.
To give you a helping hand and a bit more guidance, we have a list with the best projectors and manufacturers – don't hesitate to take a look!
The Speaker System
The combination between the sound and the screen must be perfect! That's why, it is highly important to choose the type of speakers, their number, and their arrangement with extreme care.
Most home cinema rooms use a 5.2.1 surround system, which (if installed properly) offers an immersive experience into the action. In most cases, these systems come with 5 surround speakers, one subwoofer and two ceiling speakers.
Here is how such a system should be installed:
The Centre Speaker – just above or below the screen
The Left/Right Speakers – on the sides of the screen, at ear height
The Side Surrounds – right behind the main row of seating, on the side walls
The Rear Surrounds – on the back wall
With this arrangement, the sound comes from all directions and you will enjoy a fantastic experience. If you want more, there is also the possibility of choosing a 7.2.1 system, with two extra surround speakers. For the best results, you should use an acoustically transparent screen and mount the front speakers and subwoofers in a void behind – this ties the audio and video together beautifully!
Once the wires are through the walls and the speakers are installed, you should choose a spot for the hub A/V equipment. This should be somehow hidden in a closet or behind the seats so it doesn't disrupt the wonderful design you created.
If you don't know which solution works best for you, here are some products you may like:
The Seating Area
Once the screen and the sound are set, it's time to consider the seating arrangements. If the room is small, we recommend a one-row arrangement, but if there is space, you can go for a multi-row setting that will allow you to invite lots of friends for movie night.
When you're choosing the furniture, make sure to focus on comfort – after all, you and your family and friends will spend hours in these chairs! You can choose to go with a sofa or a few comfy armchairs, but for the real experience, you should consider actual theatre style seating. If you don't know where to find such seats, here are a few manufacturers that come with some amazing offers:
Now, one issue you need to figure out is the distance between the seating area and the screen. Please keep in mind that this is very important and if you don't get it right, your entertainment experience may suffer in quality. For instance, if you install a big screen into a small room, this means the sitting area will be too close to the screen which can get tiring. Not to mention that the position may become uncomfortable as you'll have to keep your head up in order to see the entire screen.
The rule is simple: the larger the screen, the further away the seating area should be. We put together a basic guidance system, to help you understand the correlation:
75-inch screen – the first row of the seating area should be at about 3m
100-inch screen – 3.8m
150-inch screen – 5.7m
You can learn more about the distance from the screen from this article.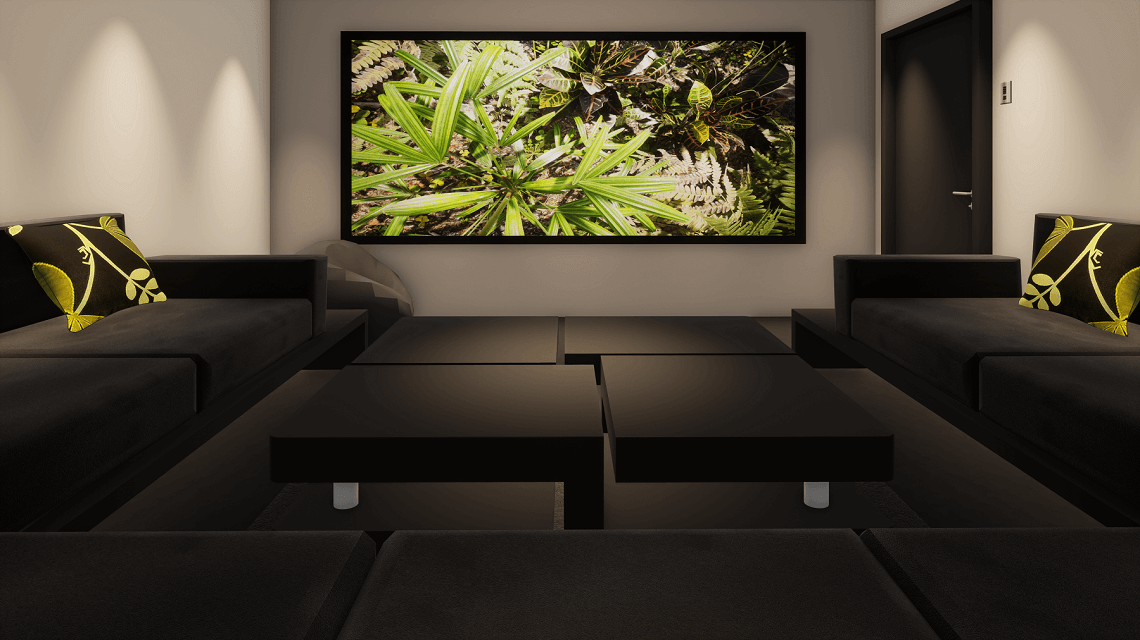 3.1 Common Mistakes to Avoid
Yes, people make mistakes when it comes to home theatres, and they are usually quite costly. So, if you can avoid them, you will save yourself a lot of time and even some money. That's why, we decided to list some of the most common (and expensive) ones:
The shape, size, and location of the room – this is an important aspect because the room must be a bit isolated from the rest of the house to avoid disturbing the other occupants.
Skipping the insulation process – Many people don't understand why so much insulation is necessary and as a result, they skip it all together. Well, the insulation is not just for keeping the sound from leaking out; it's also for keeping other sounds from getting in.
Using a room with windows – windows and glass surfaces are highly reflective and they will disturb your viewing experience. That's why you should also avoid installing any art that is protected by glass.
Installing the sound system wrong – If you don't know how to install the speakers to deploy the right sound, you won't be able to enjoy the experience as it is designed. In this case, we recommend calling a specialist. Otherwise, replacing the sound system (or even changing the position) will get messy and pricey.
The screen is too big – everyone wants a huge screen, but if there is not enough space for a properly positioned seating area, you'll lose a lot of the quality of your relaxation time.
Speakers' levels are not properly calibrated – this is another mistake that makes the sound horrible. For instance, if you can't hear the dialog over the background sound effects, there is a calibration problem.
Doing the budget wrong – this is quite common for homeowners who want a home cinema. They usually tend to include the large things like room decoration, furniture, and technology. However, they forget the small things like cables and accessories and these can be a big part of the budget.
Cable Jungle – we live in a world of cables and each new component comes with at least one or two new cables. But this doesn't mean that you have to let them get tangled or hang all over the place. If you do this, it will be almost impossible to track down a bad cable once it gives up. Use a label-maker or coloured tape to mark each cable. Also, use cable ties to keep them in place and organised.
Choosing according to brand or price – this is mostly valid for technology. While it's true that expensive technology is usually better, this doesn't mean you need to buy it. There are always cheaper versions (especially if they are not part of a big brand). So make sure to read specifications and reviews and choose wisely.
4 Design Inspirations for your Home Setting
Now that you know the costs and how to put together your very own home theatre, we have a few design inspirations you might consider applying.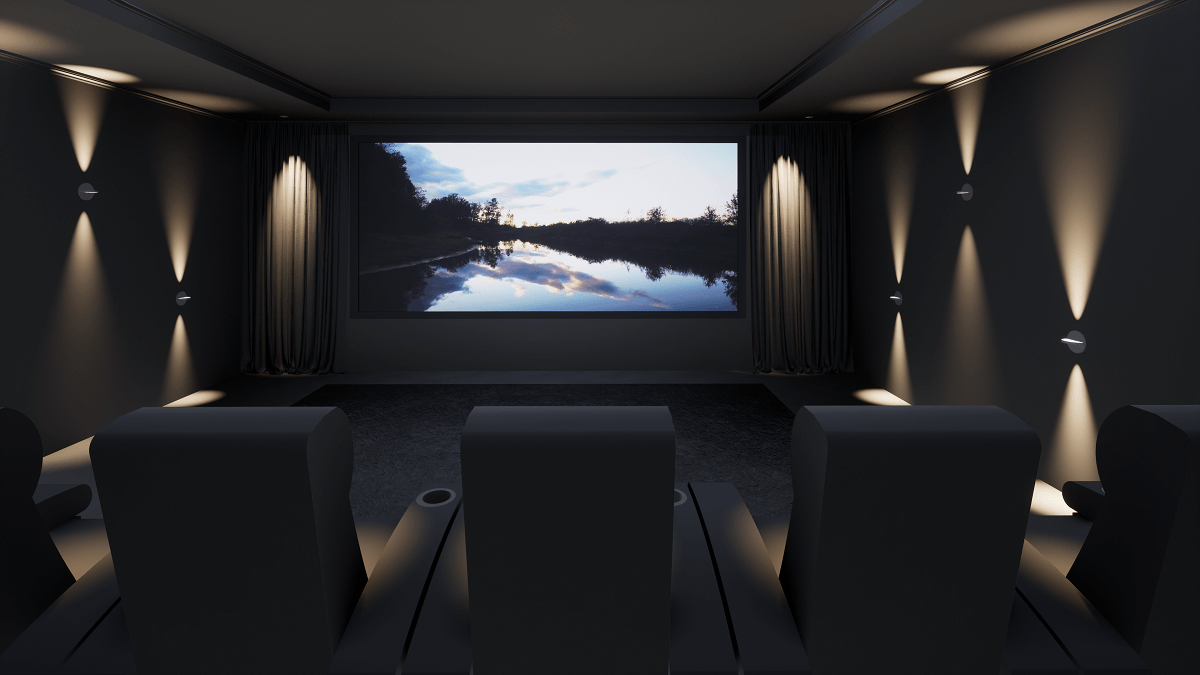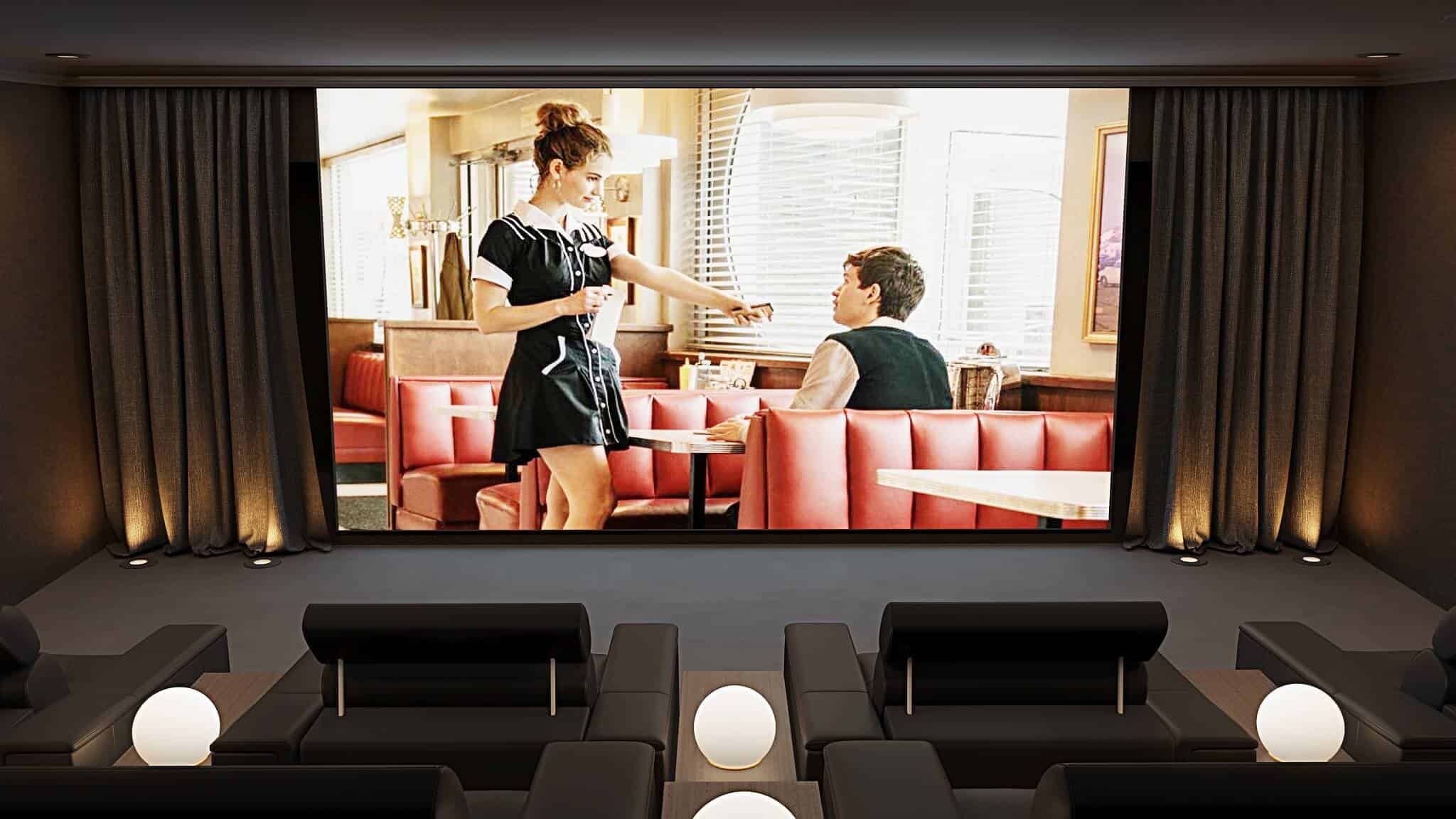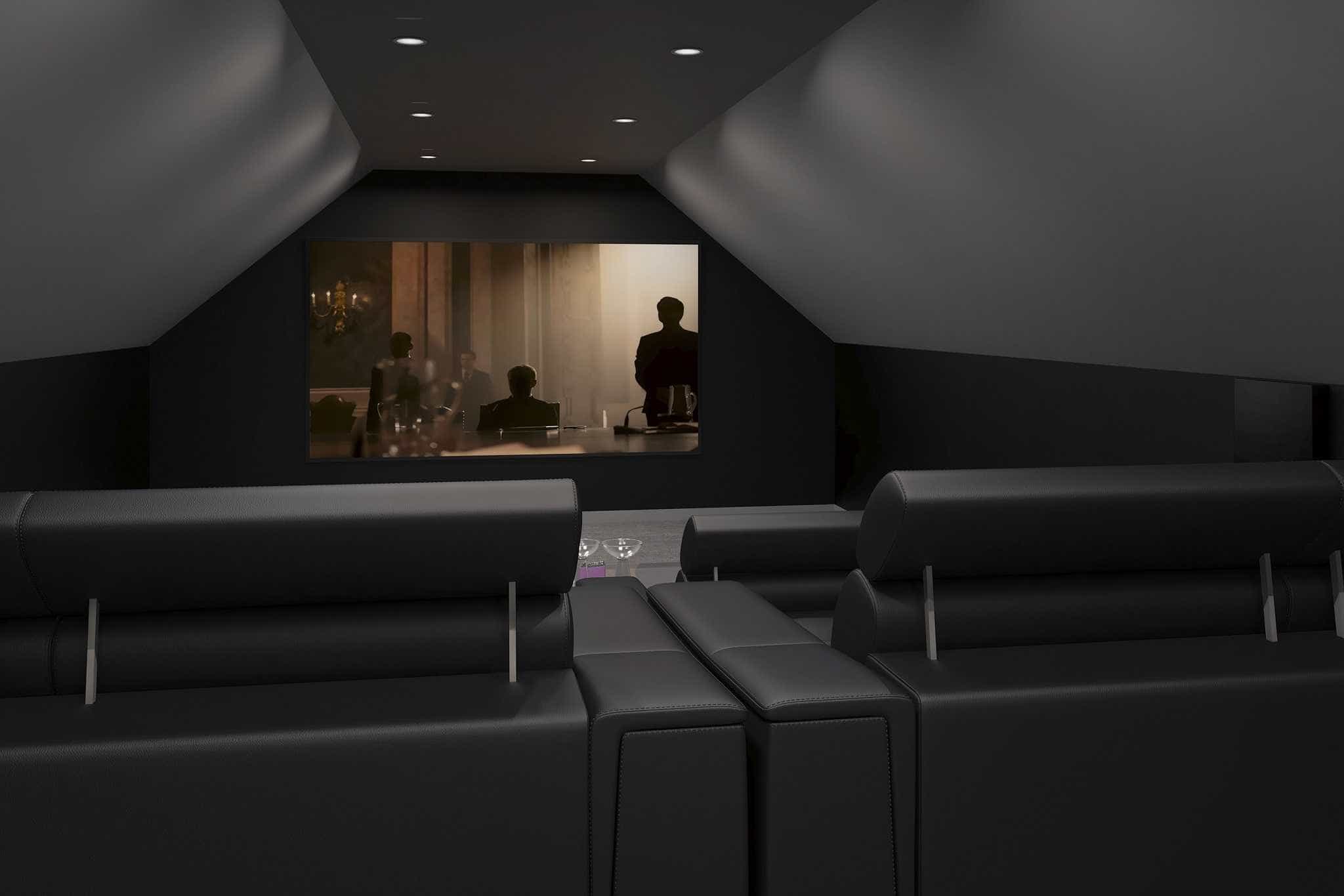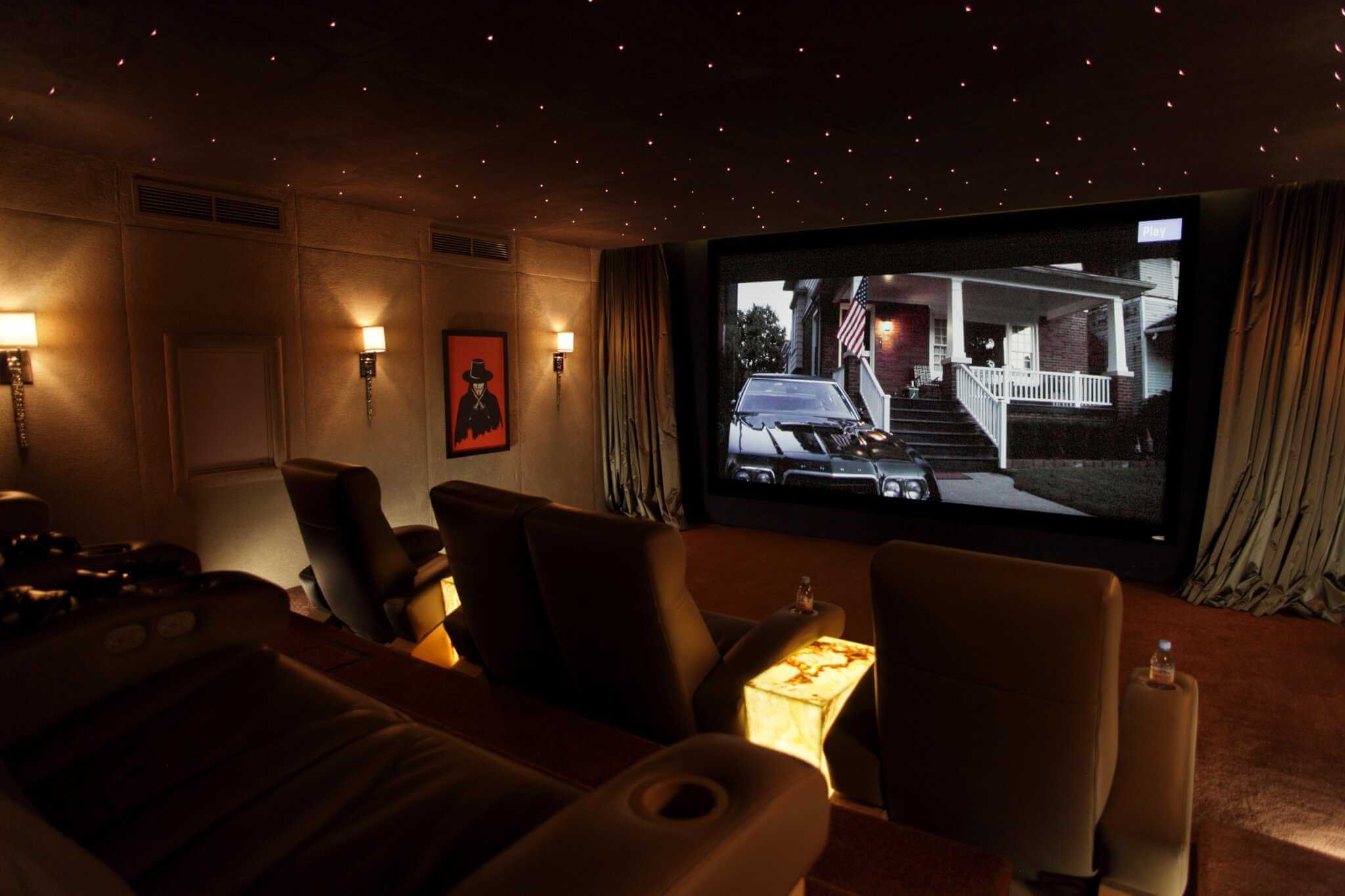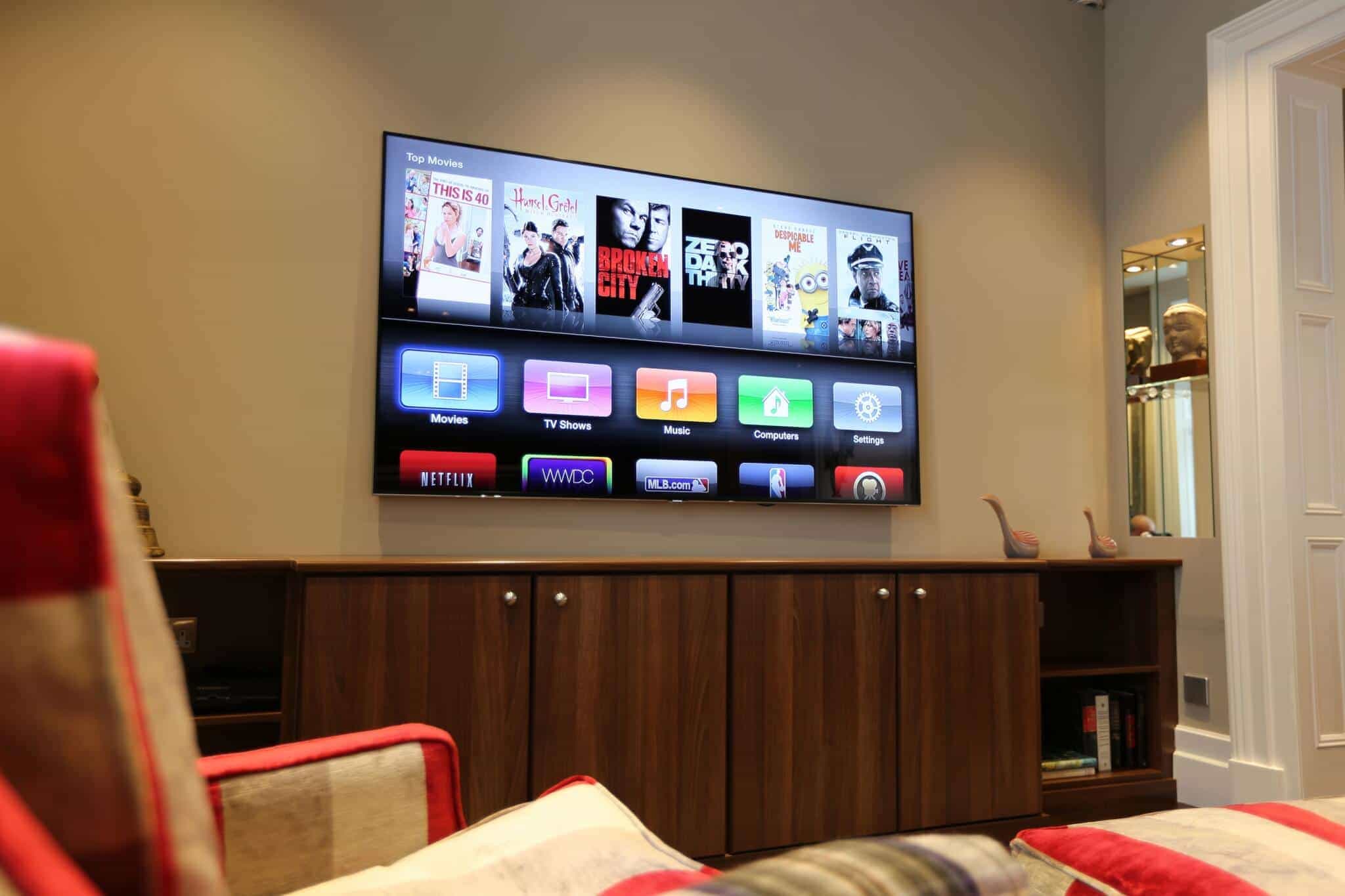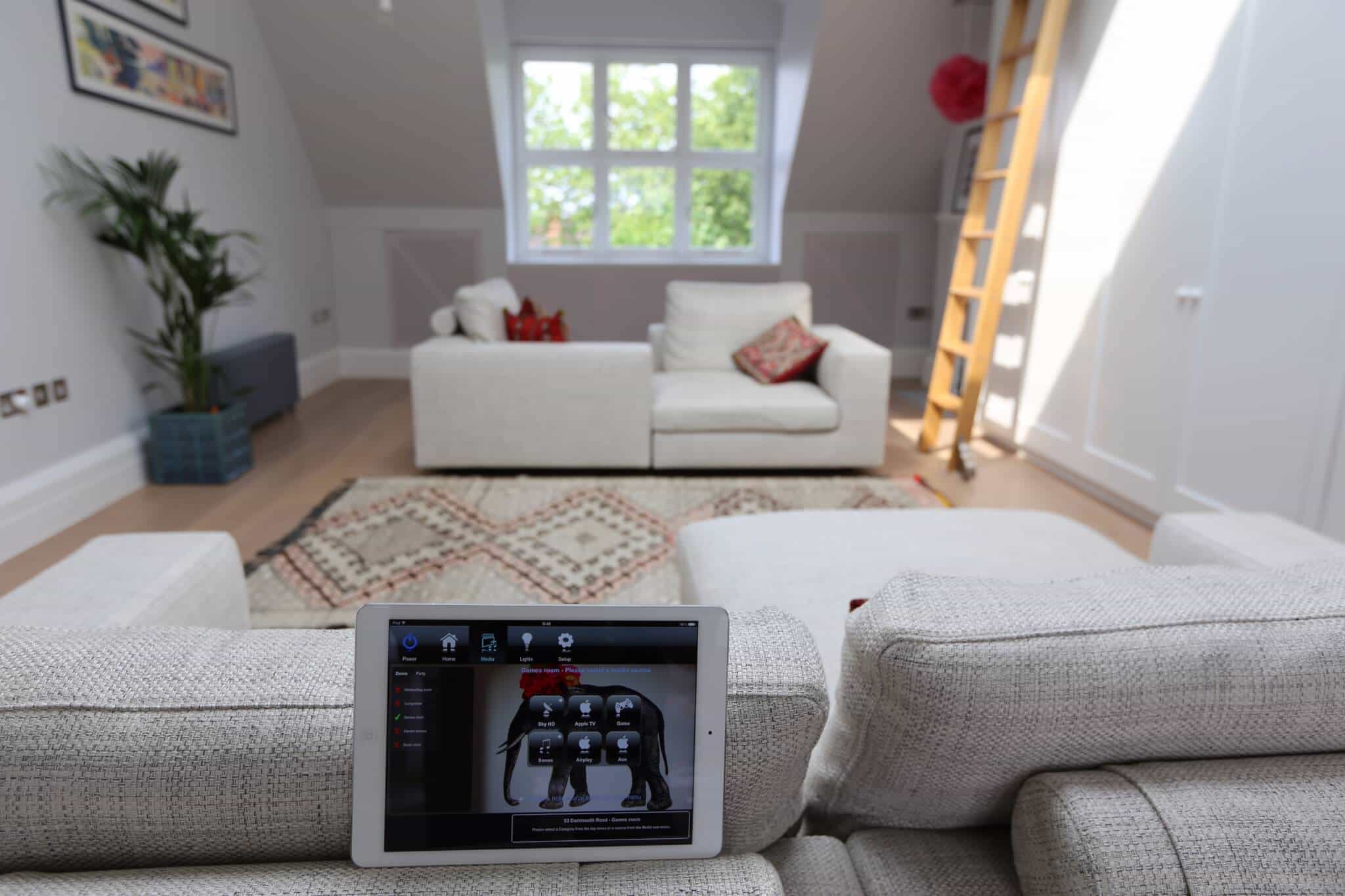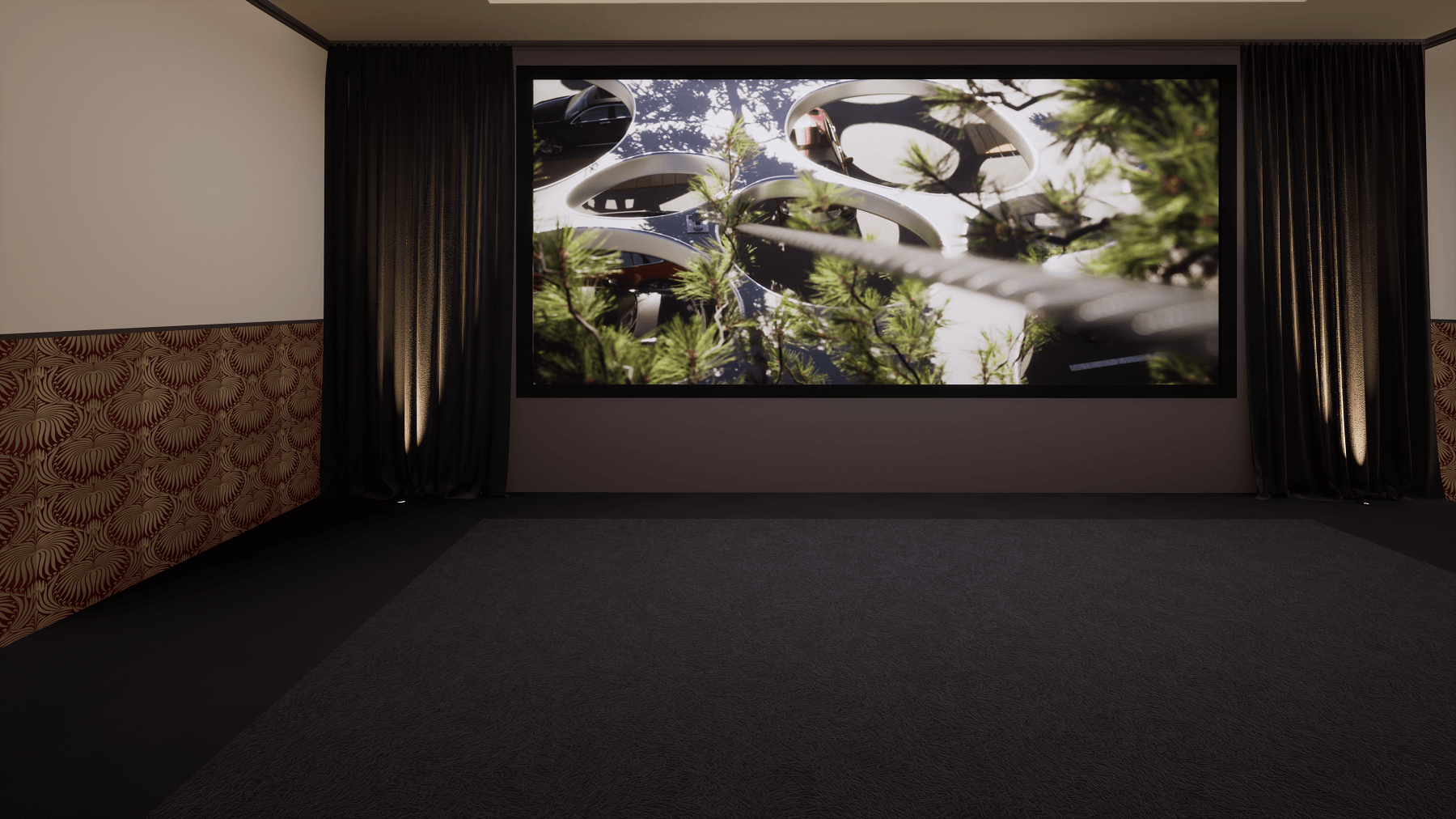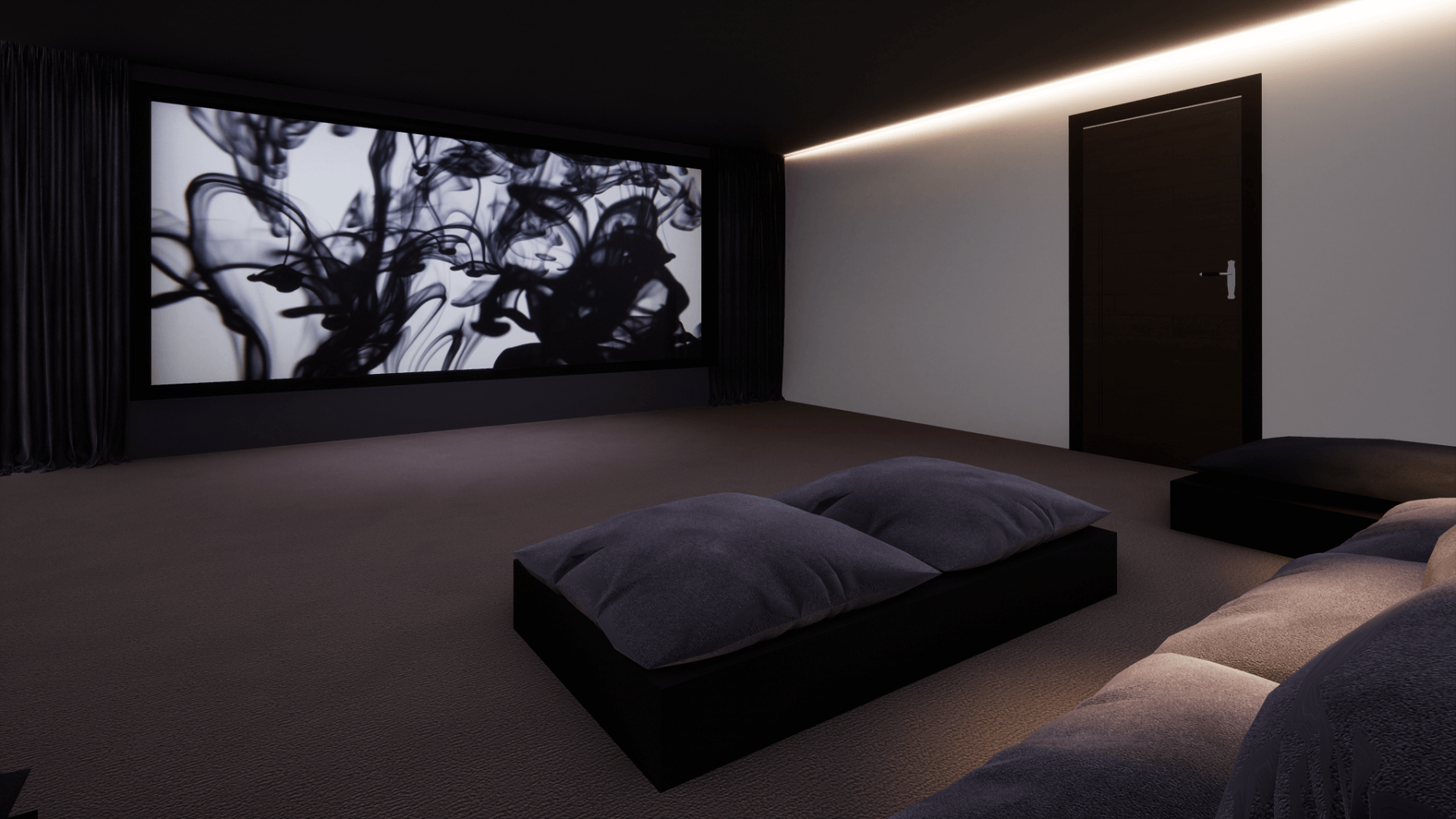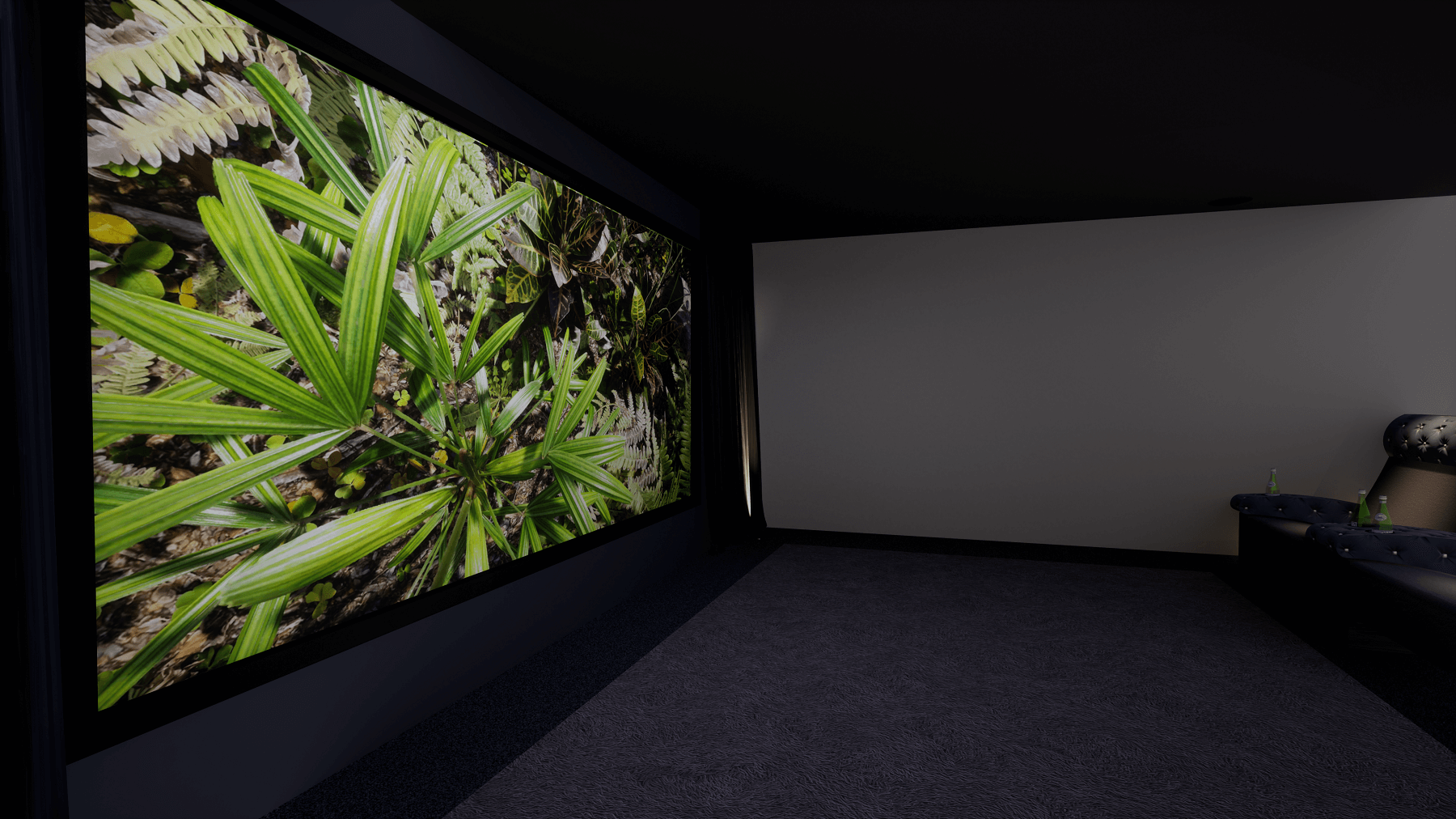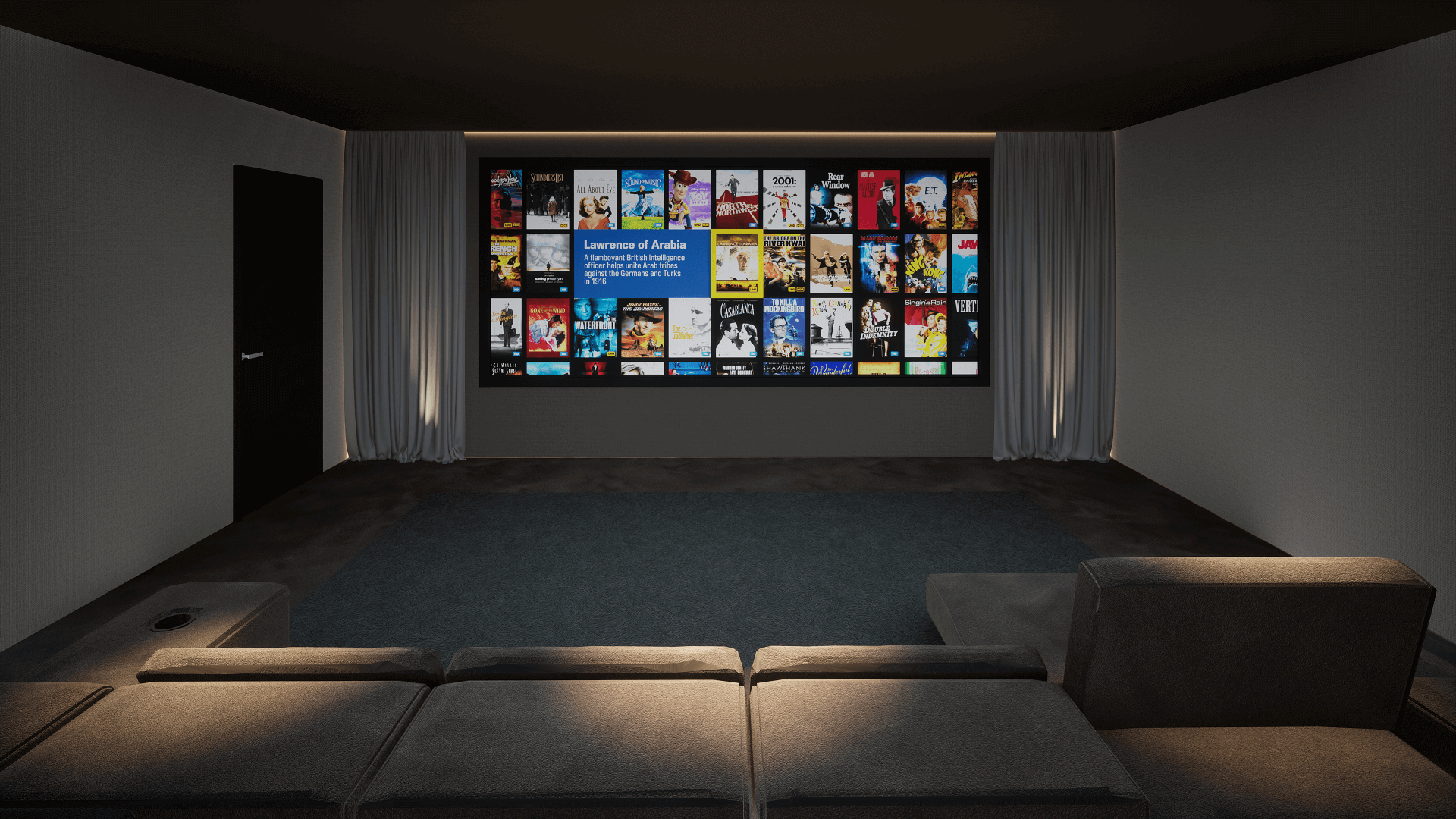 5 Wrapping Up
As you can see, a home cinema room can be quite costly, but there are so many solutions and cool designs that can be implemented that you can make significant savings. Overall, this is an investment worth having as you'll end up with a special place dedicated to high-quality entertainment. And no one can put a price on the thousands of amazing experiences you'll get to share with your friends and family! Contact us using the form below to see how we can help put together your Dream Home Cinema!
For more inspiration we suggest visiting our Top 10 Home Cinema Ideas post or our Home Cinema Installation Page.