The Ultimate Home Cinema Guide
Building a Home Cinema? This article covers room design, Equipment and Installation.
Decoding the Complex World of Home Cinema, From Room Size Considerations to Where to Place Your Snack Bar…Over 20 years of experience condensed in to an easy to read article!
Introduction
As a company, we have been involved in home cinema projects for over 20 years. While our beginnings were humble, today we are lucky enough to work on projects that are not only functional and bring satisfaction to our customers, but they have a special wow factor. Along the way, we have worked for ultra-high net worth individuals, celebrities, royalty, and famous hotels, which means we have unique insight into the field of home cinema and what it is that creates not just a good project, but a great one. This article aims to cover every element of the home cinema design and installation process. As always, we are more than happy to talk about this exciting field, so if you have any questions, please email or send us a message on Facebook or Twitter. As anyone in the industry can tell you, home cinema has changed immensely in the last 20 years. It was not that long ago that a simple surround sound system with a flat screen TV created a setting the whole neighbourhood was talking about. The arrival of flat panels and hugely expensive plasma TVs upped the ante considerably. One of our first case studies was a simple 50-inch plasma TV with boxed speakers in a basement room near Baker Street (you can read more about it here). Today, we routinely install 4-metre wide screens with completely hidden speakers. Yes, things have changed!
Why should you have a home cinema?
While a complete home cinema is not for everyone (although there is always room for improved audio over a TV's built-in speakers), for the lucky few who do have one, home cinemas are an amazing space to enjoy time as a family. They provide an oasis in the home with no distractions and total immersion with a captivating audio-visual experience. A professionally designed and installed cinema also adds value to the home and can utilise space which is otherwise wasted, such as basements, attics, and garages. Want to learn more? We have a huge number of case studies available which cover all of those scenarios and many more.
What are the options for a home cinema?
The options are nearly endless, as you will learn. We have a specific blog post which details our Top 25 Home Cinema Ideas that we have shared on social media, but we have also included a couple of examples below to get the imagination flowing (click on the image to go the case study):
Styles of cinemas
Living room cinemas: Home cinema installations vary wildly, from living room-based systems through to dedicated cinema rooms with individual cinema seating for as many as 16 people. Living room systems tend to be TV-based, but despite that they do not need to compromise on the audio system. We install custom width soundbars to enhance the TV audio and then fit either on-wall or in-ceiling speakers to provide fully immersive sound. These enhanced audio systems improve the viewer experience, adds depth and dimension to sound, and allows viewers to hear high and low notes with absolute clarity and precision. In this living room-based scenario, the speaker system is slightly smaller than can be found in a dedicated cinema but still provides a cinematic experience which delights the audience. Some clients with a TV-based living room cinema also install drop down screens and projectors to provide the best of both worlds.
Dedicated cinema rooms: Our usual cinema projects feature dedicated rooms, often a basement, spare bedroom, converted loft, or converted garage. We can even install cinemas in new build garden rooms! While typically more expensive, building a space from scratch can ensure your cinema is designed to maximise the viewer experience, optimize acoustics and sight lines, and incorporate custom elements like snack bars, drink stations, stadium seating, and more.
Space considerations for a home cinema
Every great home cinema begins with a great design. A complete pre-construction design can help pinpoint the element that will elevate your cinema from pretty good to spectacular. As bespoke cinema experts, we seek to understand every element you want included, and produce 3D renderings of the room and an acoustic model so we can deliver the absolute best possible sight and sound experience.
Is the room big enough? Most people do not have an option when it comes to choosing a space for their cinema. However, before settling on something, it is important to consider if the room chosen for your cinema is big enough to house your family and any guests comfortably. A sofa will take up less space than individual chairs and smaller children and occasional guests can sit on bean bags if needed. Lower seating works better in spaces with low head room. Rows of seating can be arranged in tiers — allow a 25 to 30cm step up for each row of seats so people can see over the heads of the row in front.
Does the screen fit? A large projector screen can easily be 3 metres to 4 metres wide, and fitting these huge screens in attic spaces can be a struggle. As a general rule, for anything less than 100 inches wide, a TV makes more sense than a projector. There are golden ratios for screen size and distance between the seats and screen, as covered below.
Do you need to worry about sound leakage? Cinema rooms can be loud. Do you need to worry about sound leakage in to the rest of the home? Installing a cinema in an attic can expose all the bedrooms below to noise, which is perhaps not an issue with older children but may be a bother to those with younger children and earlier bed times. We have solutions, as detailed below.
What is the shape of the room? The shape of the room has a huge impact on the audio experience. While this may come as a surprise to many, if you can, avoid square rooms at all costs — so much so that it is even worth building new walls to change the shape of your cinema away from a square. While it is possible to get good sound from a square room, square rooms can create sound patterns that result in uneven bass response and altered sound quality. What is the best shape for your home cinema?

The Ultimate Trapagon – The Ultimate Cinema Room Shape – The Ultimate Trapagon is as good as it gets – with a little acoustic treatment your sound system will perform at its absolute best. In this design the cinema walls taper slightly towards the back whilst the roof gradually drops from the screen down to the rear of the cinema. The rear wall is then set slightly off square. In a finished room it is very difficult to see the changes but crucially the design stops sound waves reflecting back on the same path they originated from, resulting in a clear, easy to differentiate sound. The addition of some acoustic treatments also stops sound waves from reflecting too much.

The Normal Trapagon – Easier to Implement than the Ultimate Trapagon – The Normal Trapagon is easier to pull off than the Ultimate Trapagon – walls are a little squarer. The sound quality will still be vastly improved on a standard rectangular room but the design does have more of a reliance on acoustic treatments. Careful positioning of bass traps, in particular, ensures a great sound whilst the room is easier to construct and fit in to an existing space. This shape is usually installed in our cinemas at around £100k and fits perfectly in to garages and basements with our false front wall (which houses the speakers and screen) making most of the room shape.

The Golden Cuboid – Easy to Implement & Construct – The Golden Cuboid is the easiest design to implement. Following the ratios here will ensure your sound system performs well but the design does need to be combined with acoustic treatments to ensure audio sounds at its best. This design is probably the one we implement the most – clients give us an existing room which we need to fit out. By building a false wall to accommodate the front speakers and the projector screen we can influence the room dimensions to get as close as possible to the preferred ratios.

How to determine if your cinema room will be adequate for your needs Like most professional home cinema installers, we use advanced software and other tools to graphically lay out cinemas and incorporate elements such as chairs, sofas, screens, speakers, and more. You can get a rough idea for yourself simply by using graph paper or a free software tool like Sketchup. Drawing the room out in this way performs two functions: it double checks that everything will fit and it also allows you to lay out seating in relation to the screen and overlay the speaker system. Most rooms have architectural features such as doors, pillars, and windows that dictate the speaker placement to some degree, but designing properly allows you to work through these details and take into account the particulars of your room, such as adjusting the seating location to take into account a pillar.
Colours, textures, and finishes
The purpose of a cinema is to create a space to fully immerse the viewers in the audio and video experience. This means that to create the optimal immersive experience, you need to look beyond simple screen width and speaker placement and delve into fine details such as wall colours, wall and furniture textures, and additional finishes.
All too often, we see professionally installed cinema rooms with distracting features. A room should look good but not at the expense of its function!
Generally speaking, colours should be from the darker end of the spectrum as this will reduce the light levels in the room and "increase" the brightness of your display. Paint finishes should be as matte as possible to reduce or eliminate reflections which can cause distractions when viewing. Our favourite paint ranges are the Farrow & Ball Estate Emulsion range and the Little Greene Absolute Matt Emulsion range. Both sites have a huge range of paint colours available and suggest compatible colours that can be used when choosing matching carpets, seating, and soft furnishings. We often keep the room colours fairly muted and then pick an accent colour for bean bags and cushions.
How do you manage cinema light levels?
A critical feature of a cinema room is the ability to manage light levels properly. Most of our rooms have no windows or natural light at all, and we manage light levels with a mood lighting system that can include recessed and hidden lights, narrow beam spot lights above each seat, LED strip lighting, and a dimming system that allows each light to be dimmed precisely to create the perfect viewing experience. This reduces distractions when viewing a film and really allows the viewing experience to be at its absolute brightest and best. The added bonus of this approach is that we can really create a huge wow factor when entering the cinema room – clients should get a real sense of anticipation! We have a dedicated article on cinema lighting here.
What are optimal cinema seating styles and options?
Seating is critical in a home cinema room as clients need to be comfortable for extended periods of time. Each client is different but we tend to find clients with younger families prefer less formal seating, which can include options such as day beds and chaise longues. Clients with older families, or those who intend to use the space to entertain, might prefer more formal seating – perhaps including double sofas to snuggle with a loved one.
In addition to the usual high street sofa workshops we have a range of specific cinema seating manufacturers we use for bespoke options. We are also big fans of the BB Italia Tufty Time, which is a high-end modular sofa that is readily available, with a relaxed style (we used it in this family cinema room).
Seating can be arranged in rows to create the perfect viewing experience. We normally install rows at 30cm height intervals so those in the back can easily see over the heads of those in the front. Generally, rows should be spaced around 80cm apart and we generally allow 80cm for circulation space down the sides of the home theatre.
Popcorn, snacks, and drinks stations
Popcorn and films have a long history and a professional-grade popcorn machine can be a memorable and surprisingly affordable touch to a private cinema. Generally, popcorn machines, fridges, and drinks stations should be outside of the actual cinema so their noise and smells don't interfere with the viewing experience, but they can be a handy way to occupy an alcove dictated by the room shape while creating a dramatic setting.
Optimal seating distance from the big screen
Getting the perfect distance from the screen is critical to delivering a great viewing experience. While there are general rules when figuring in seating distance, there is no truly correct answer. A general rule of thumb we work with is that the distance from the screen should equal the screen width — so for a 4 metre-wide screen, the viewer should sit roughly 4 metres from the screen. Note that this advice has changed recently as projector resolutions have leapt from 1080p to 4K – with the lower resolution, clients would need to be seated around 6 metres from a 4-metre screen. We have an article here which details with this issue in more detail.
Speaker layouts and surround sound options
A number of options exist for incorporating a speaker system in to a cinema room: what is chosen ultimately depends on the design of the room, the budget, and any client requirements. We hinted earlier that some TV-based cinema rooms can have a similar level of audio quality as their big brother projector-based rooms. In a projector-based system we install all the front channel speakers behind the acoustically transparent projector screen, as this ties the audio and video together beautifully. In a TV-based system, we install a soundbar under the TV that is custom made to the width of the TV and incorporates front left, center, and front right units in to one physical speaker. The bigger the TV, the further apart the drivers are and the better the audio experience. The bigger TVs also allow us to install taller soundbars which allow bigger drive units, which again improves the sound quality. We typically pick from Leon or Artcoustic for our soundbars, with the choice being determined by the rest of the room. For truly large TVs, such as the CSeed Blade+, a TV with a huge 236inch width, we can install speakers above and below the TV and calibrate the audio system to mimic sound from the centre of the screen.
We have a huge number of options for the surround channels, which is the part of the sound system where all the speakers are apart from the front ones, including ceiling speakers and on-wall and in-wall speakers. We tend to partner the Leon soundbars with ceiling speakers and the Artcoustic speakers with on-wall surrounds. The Artcoustic speaker range is very modular, so we can install smaller speakers in less important audio areas like the surrounds rather than the bigger front speakers.
Modern audio formats support 3D audio, which introduces height channels. For our approach with Leon based soundbars and ceiling speakers, it can be difficult to introduce height channels as the ceiling already contains the surround channels, so we tend to use this solution for living rooms where the client wants very good audio but not necessarily the full cinema experience. With the Artcoustic approach, the front speakers and surrounds are all on the walls, so the ceiling is a blank canvas and we can easily install height channels as required to produce a fully immersive sound stage. The fact that the speakers are all from the same manufacturer, regardless of size, means that the audio flows around the room in an extreme smoothly and natural way.
Home cinema receivers
All of the speakers installed in a home cinema need an amplifier to drive them. A surround sound processor takes the signal from a source such as an Apple TV, Kaleidescape Movie Server, or a Sky TV receiver and decodes the audio signal before presenting to the amplifiers. All of this functionality can happen in one box, with the HDMI in and the speaker cables out. The same home cinema receiver can even take multiple HDMI inputs and present one to the TV or projector, acting like a video switch to easily manage multiple sources. Home cinema receivers come in all shapes and sizes, and the better ones can handle a huge number of speakers for fully immersive sound. Higher end options involve splitting out the preamplifier (or decoder/processor) and the amplifiers, which allows both more processor options and/or more amplifier options for things like amplifier power, which can be important for driving large speakers such as subwoofers, which have up to 18" drive units that deliver powerful bass you can feel as well as you can hear.
One of the very best higher end solutions is a Trinnov system, which allows up to 64 speakers to be installed in a cinema room! It also does some extremely clever processing to create a seamless and fully immersive cinema audio experience, and while the number of speakers may seem excessive, each speaker performs a specific task and may even be present just to relay a specific note range.
Room correction and automatic calibration
The vast majority of home cinema receivers should have some kind of room correction software built in. Calibration occurs by plugging a microphone in to the front of the receiver, which then runs a series of tonal tests to determine the characteristics of the room, including variables such as the distance from each speaker to the listening position (where the microphone has been temporarily placed) and the tonal response for the room. We delve in to cinema room acoustics further down this article, but it is important to note that this calibration tends to get better with the more expensive systems. The Trinnov microphone, for instance, maps in 3D to allow the system to work out the distances and the heights of speakers, something that is essential to delivering a successful client experience when this number of speakers is involved! Without such a correction, sound quality may be compromised and notes may be lost or muddled.
What acoustic treatments are used in a home cinema?
Cinema acoustics may be the most important consideration in your home cinema project, and it is something we take very seriously in every home cinema we install. There are two elements to cinema acoustics – in room acoustics and sound leakage to the exterior of the room.
In-room acoustics are optimized with frequency mapping and fabric selection:- Acoustics have the biggest impact on a client's enjoyment of a home cinema. Even the world's most expensive system can be impacted by poor acoustics. When we design a cinema room, we model the room in its entirety to ensure fantastic frequency response throughout the speaker response range and to make sure the audio system is allowed to work at its absolute best and without limitations. Hard surfaces are the enemy of clarity, as they allow sound to reflect and result in the listener having to filter many instances of the same sound. This quickly becomes tiring and is not an enjoyable environment to spend time in. Soft furnishings, such as cushions, carpets, and curtains, all do a great job of absorbing sound waves; often, we take this to an even higher level by installing fabric walls. This approach not only enables us to hide speakers but also adds acoustic specific insulation in key areas to help tune the room to its absolute best.
Sound leakage from a cinema room:- Sound leakage can be a huge issue depending on the location of the cinema room. There are a number of techniques which help minimise sound leakage and we often install a combination of them for maximum effect:
Mass loaded vinyl: We often use a mass loaded vinyl system to prevent sound leaks from a company called Acoustiblok. We start construction of the cinema room by making a skin of the mass loaded vinyl before any other construction begins and this can have a huge impact on sound leakage. A skin made of 4mm Acoustiblok has the same sound deadening as one foot of concrete!
Green glue and plaster board: Doubled up plasterboard can work wonders for killing sound dead. When doubled and if installed correctly, it also reduces gaps between the boards. Green glue is a specialist product that minimises sound transfer between the layers whilst also binding them together.
Acoustic underlay: Acoustic underlay installed under the carpet can significantly dampen audio transmission through the floor, which is incredibly important when converting loft and attic spaces and preventing sound leakage into bedrooms and other living space that may be beneath the home theatre.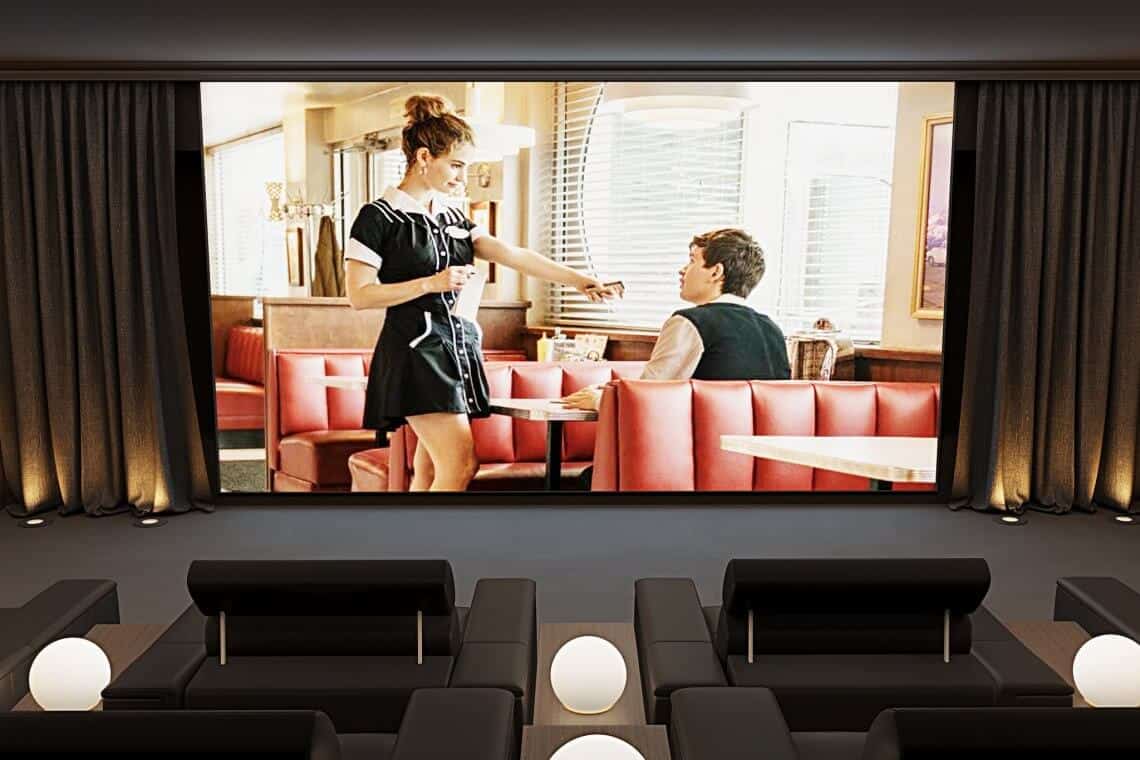 How is a home cinema constructed?
Constructing a cinema space can be as simple or as complex as required — for a TV-based system, it can even involve no construction at all! While each cinema room is custom constructed, our cinema rooms tend to fall into one of two approaches: wall or ceiling mounted speakers in normal plaster boarded walls and rooms with fabric walls installed. In each case, when constructing a space, the surround sound, video project, and lighting systems are all pre-wired while the room is stripped down to its studs. At this stage, we can also incorporate other features such as Wifi and intercom systems.
Our fabric walled rooms are built up like layers of an onion – first we start with any Acoustiblok treatments to prevent sound leakage and then we plasterboard. Next we install a stud frame which houses surround sound speakers and in-room acoustic treatments. On top of the joists we then install a custom track solution which allows us to stretch fabric over it, which hides all of the speakers and treatments and provides the final room finish. The fabric itself is typically acoustically transparent, so it lets sound through from the speakers and also allows the acoustic treatments to work. We have a huge range of fabrics and finishes available and a number of techniques to incorporate lighting as well – as detailed in this home cinema lighting article.
For the front wall, we create a stud wall with a larger recess to allow front speakers and subwoofers to be installed behind the projector screen, and we can pack this wall with acoustic treatment to make the overall room perform well even if the budget is not available for the fuller fabric wall solution. In our Cinema Rooms that include tiered seating, we tend to raise the rear rows up by 30cm per row to allow those seated in the back to see over the heads of the people in front. The constructed box which creates each tier needs to be dampened (traditionally with sand) to stop unwanted harmonics from entering the room. Integrated lighting ensures that clients can move safely around the room.
How much does a home cinema cost?
It is incredibly difficult to give generic pricing for home cinema rooms – each project we embark on is truly unique, from the shape of the room through to a client's requirements. While all of our cinemas have the same DNA — cutting-edge design, thoughtful touches, custom features, and an unyielding dedication to quality — their individual parts vary massively. Even for projects that look the same, the work that went in to creating may have varied wildly, from a full fit out to simply providing wiring diagrams and then installing the technology. For these reasons, the costs we present here are for the technology only, and merely provide a suggestion for what any particular home cinema might cost.
In addition to the technology prices above, we also regularly supply and install the following:

Cinema seating – Starting at around £1,500 per chair
Fabric walling – Starting at £15,000
Cinema lighting – Starting at £5,000
Easy-to-use control systems – Starting at £2,000

By picking and choosing from these elements, and using existing client-supplied contractors, we can put together a project budget and approach to suit most of our clients.

Home cinema equipment

As indicated above, our home cinema installs vary hugely, as each client has a different requirement and budget. But there are, of course, some common equipment types to become familiar with:

Home cinema projectors: Most of our cinema rooms utilise projectors simply because it is more economical to use a projector when the screen requirement is greater than 100 inches, as TVs above that size are enormously expensive. Like modern TVs, most projectors are able to display a 4K picture, which provides a huge amount of detail and also has the additional benefit of allowing clients to sit closer to the screen. We typically install projectors from the Sony Professional Projector range that, in addition to showing a 4K resolution, also feature a laser light source which is incredibly bright. As a general rule, the more you spend the brighter the projector.
Projector screens: There are a couple of approaches to projector screens – fixed and retractable. The retractable type allow us to install cinema systems in to non-dedicated spaces such as living rooms. When the system is off, then it is hidden. A simple tap of a button, however, activates the system and drops the projector and screen so they are ready for viewing! In a dedicated room, where the screen can be permanently on show, we install fixed screens. This has a number of benefits including fewer moving parts (which results in fewer alignment issues and less maintenance). It also allows us to build a recess behind the screen to house the front speaker channels, which ties the audio and video together perfectly. Other choices to make when choosing a projector screen are the aspect ratio (we have an in-depth article on this very subject here!): simply put, the option is HD (which is what most TVs are today) and widescreen (which is wider). Widescreen is a really nice solution for dedicated cinema rooms with a decent budget and creates a memorable, immersive experience when watching films and movies. Some of our more premium screens even feature automatic masking systems which convert a widescreen projector screen to HD when the source material is in that aspect (i.e. when changing from movies to TV sources)!
Speaker options: There is a vast array of speaker options available and even the most basic speaker package should sound better than a standard TV speaker. Most people start off with a simple surround sound system consisting of "5.1 audio" – the numbers tell us that there are five surround speakers and one subwoofer. These speakers are normally installed at ear level around the room and different audio plays from each speaker allowing the listener to hear sounds moving from one side to the other or front to back. Modern sound formats can also include height channels which use speakers in the ceiling to play sound from above, opening up another audio dimension. Systems with these speakers are typically called "5.2.1" systems — five surround speakers, two height speakers, and one subwoofer. Our very high end speaker systems often go up to 15.8.4 and above, and in fact we break the format sometimes, as one surround channel might include a dedicated speaker for high, medium and low frequencies, with a dedicated subwoofer for that audio channel. As you can see, systems can get big and complex in a hurry! Luckily, our preferred speaker manufacturers – Artcoustic and Krix — offer modular systems, so we can pick and choose the absolute best speaker package for each specific project.
Living room speaker systems: We also have a range of speakers specifically for living room-based home cinemas. These offer exceptional sound quality but are more modest in scale than the speaker options described above. In-ceiling speakers are an easy way to provide surround sound in a living room; here, we angle the drive units to point at the clients' normal listening position to minimise the effects of the speakers being above you. A better option is to install a soundbar under the TV so the front channel audio is coming from the same direction as the TV, and ceiling speakers can then be used for the surround channels, which are less critical. To enhance the aesthetics, we custom-make the soundbars to be the exact same width as the TV – yes, it's the little touches that matter!
Home cinema receivers and amplifiers: All these speakers need to be powered, and the easiest way is with a home cinema receiver. In this setup, audio/video sources are connected to the receiver, which then decodes the audio and sends the correct signals to each speaker. Different receivers have different numbers of amplified channels and can be a great one-box solution capable of powering some pretty high-end cinema rooms. Some good manufacturers in this area are Anthem, Audio Control, and Denon. For our cinema rooms with many set of speakers, we need something a little higher end. In this situation, the best solution is made by a company called Trinnov. A Trinnov system is capable of accommodating up to 64 individual speakers. The amplifier requirements for that many speakers are huge but the truly impressive part of a Trinnov system is the decoding. They take the same source material as any other system (Blu-ray, streaming, etc.) and each of up to 64 channels gets its own discreet audio stream. This arrangement is highly impressive and is made possible by some high end processing and a wonderful 3D microphone that allows the system to accurately map the exact location, including the height, of each speaker in the room.

How we Create the perfect Home Cinema Room – Step by Step

Most clients are confined by the amount of space they have and would like to convert an unused basement, loft room or garage space. Increasingly clients are building dedicated buildings in back gardens and this can often be done under permitted development. The spaces we are allocated can either be dedicated to a cinema or, more likely, multi-use so the space needs to double as a living room, games room or exercise space.

Step 1 – We will analyse the space to determine the most logical layout – taking in to account doorways, windows and access. This will often dictate the maximum screen size available and then the numbers of seats available. For these reasons we often work off plans of the area – it enables us to get a feel for the room and then discuss options with the clients.
Step 2 – We work out a rough budget with the client. Home Cinema's are fully bespoke so the levels of equipment to be installed can vary hugely, even if the rough design from step 1 doesn't change. For example two projectors can illuminate a cinema screen of the same size yet one can cost five times the cost of the other. The difference being primarily brightness of image, resolution etc.
Step 3 – We prepare a full quote to maximise the value for money with a clients budget and the space available – carefully balancing the cost of the amplifier, speakers, projector and screen with the cost of installation. These modular quotes enable client's to see exactly what is being specified and we can work through each line item to justify its position and cost – it is important for us clients understand the design decisions we have made.
Step 4 – This really occurs at the same time as Step 3 – we fully model the room to ensure the correct sound pressure levels and acoustic repsonse. Essentially checking that the speaker system and amplifiers will perform as required in the space. This step also allows us to design the layout of speakers (including subwoofers) and acoustic treatments to account for room specific requirements.
Step 5 – We take the information from Step 4 and we create a 100% correct virtual copy of the room – allowing clients to check everything from colour choices through to lighting levels and viewing angles. We can present this virtual room as either static images or virtual reality spaces – wearing a VR headset allows clients to physically move around the room! This level of detail gives clients complete confidence in the finished room before any work has begun.

A Layout Drawing for a Home Cinema Room

Step 6 – Our team perform the full installation, handling all aspects of the project and hand over the finished room. We are also happy to work with, and manage, sub-contractors provided by clients.

Post Installation Home Cinema Calibration

One of the most important services we perform is the home cinema calibration. Regardless of the level of equipment we install – from the cheapest Denon AVR through to a 64 channel Trinnov audio system – they all need calibrating to ensure they are working at their absolute best. The audio system calibration ensures all the speakers are outputting at the same levels and then balances frequencies to minimise the effect of the room (and furnishings and the environment!) on the sound being produced. The video calibration ensures the projector is showing the best possible image on its bespoke projector screen. We use a variety of techniques to ensure perfection, some use microphones, laptops and real time graphs and some use our years of industry experience!

Home cinema – Big-screen cinema experiences without leaving your home

Installing a home cinema gives you the best of the big screen in the comfort of your own home — and a well-designed system in the right room can be every bit as good, or better than, a commercial cinema. Staying at home and entertaining with your family is becoming increasingly popular. It allows you to:

Get the same movie experience, without the hassle
Take your video games to a new level
Have front-row tickets to any sporting event
Experience optimized acoustics tailored specifically to your liking
Throw incredible viewing parties
Provide a great space for your kids to entertain their friends.
Increase the value of your home


Ready to see what a home cinema is like for you? Contact Custom Controls today for a free consultation. Please do also check out our Top 25 Home Cinema Rooms, as shared on our social media channels.