Ultimate Guide To Home Cinema Rooms
Absolutely Everything there is to know about Home Cinema Rooms
Designing and installing Home Cinema Rooms are one of our most popular services – more and more customers are choosing to convert an unused space in to a home cinema room. By the end of this article we will lay out the steps we take to create the perfect solution for our clients and also show some examples to inspire potential clients. Hopefully this article will be useful for people who are attempting a DIY approach, after all a DIY-er of today could be a client of tomorrow!
The Initial Steps
Most clients are confined by the amount of space they have and would like to convert an unused basement, loft room or garage space. Increasingly clients are building dedicated buildings in back gardens and this can often be done under permitted development. The spaces we are allocated can either be dedicated to a cinema or, more likely, multi-use so the space needs to double as a living room, games room or exercise space.
Step 1 – We will analyse the space to determine the most logical layout – taking in to account doorways, windows and access. This will often dictate the maximum screen size available and then the numbers of seats available. For these reasons we often work off plans of the area – it enables us to get a feel for the room and then discuss options with the clients.
Step 2 – We work out a rough budget with the client. Home Cinema's are fully bespoke so the levels of equipment to be installed can vary hugely, even if the rough design from step 1 doesn't change. For example two projectors can illuminate a cinema screen of the same size yet one can cost five times the cost of the other. The difference being primarily brightness of image, resolution etc.
Step 3 – We prepare a full quote to maximise the value for money with a clients budget and the space available – carefully balancing the cost of the amplifier, speakers, projector and screen with the cost of installation. These modular quotes enable client's to see exactly what is being specified and we can work through each line item to justify its position and cost – it is important for us clients understand the design decisions we have made.
Step 4 – This really occurs at the same time as Step 3 – we fully model the room to ensure the correct sound pressure levels and acoustic repsonse. Essentially checking that the speaker system and amplifiers will perform as required in the space. This step also allows us to design the layout of speakers (including subwoofers) and acoustic treatments to account for room specific requirements.
Step 5 – We take the information from Step 4 and we create a 100% correct virtual copy of the room – allowing clients to check everything from colour choices through to lighting levels and viewing angles. We can present this virtual room as either static images or virtual reality spaces – wearing a VR headset allows clients to physically move around the room! This level of detail gives clients complete confidence in the finished room before any work has begun.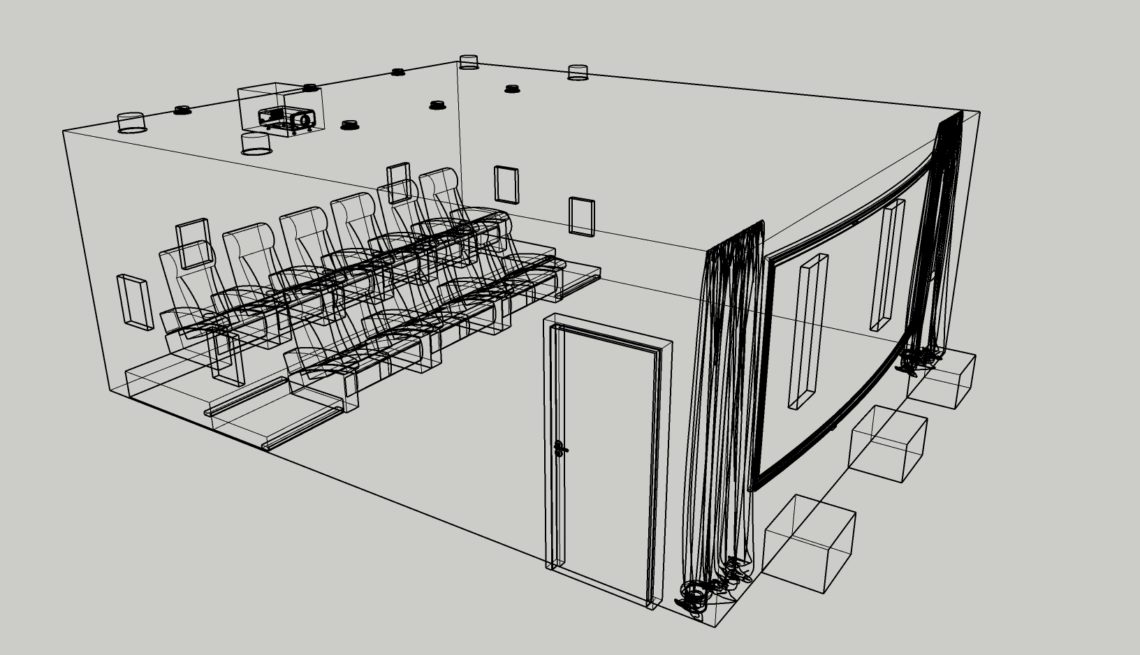 Step 6 – Our team perform the full installation, handling all aspects of the project and hand over the finished room. We are also happy to work with, and manage, sub-contractors provided by clients.
The Shape of the Physical Room
When designing a custom built room there are certain designs which perform better than others from an acoustical point of view. A square room, with hard surfaces, will allow sound waves to reverberate easily and in a uniform style – resulting in a very confused sound. Rooms with offset angles and / or different lengths of walls reduce standing waves dramatically.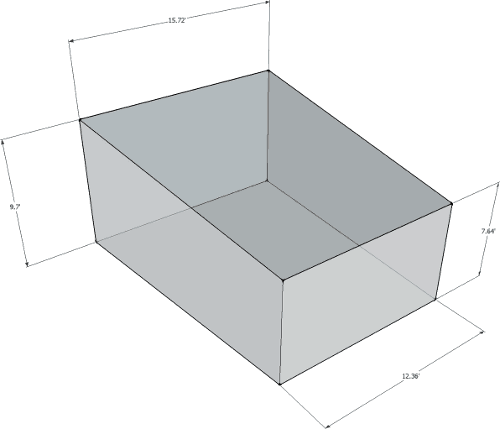 The Different Types of Cinema Room
Each and every client and project is different which means no two projects are ever the same. Each of our systems share the same design ethos – performance, quality and value for money. Below we have detailed some of our favourite cinema rooms, both designs and actual projects. Enjoy!
PS Click on any of the images below to go to their case study and read more information…
The Luxury Room
This room pushes the limits of both opulence and technology – luxurious silk fabric walls hide a huge array of speakers which work with one of the best projectors available to deliver a stunning experience for up to 8 cinema fans!
The Modern Room
This room encompasses every a cinema should do well – muted colours and lighting focus the attention on the most important element, the screen. Minimal distractions and a high end audio video experience combine to create a truly immersive experience!
The Garden Cinema Room
This specially built room really pushed the boundaries of home cinema design! Huge amounts of glass meant thinking out of the box but the end result is worth it!
The Budget Home Cinema Room
Although this budget cinema room is lucky enough to be in a dedicated basement room the actual technology is installed is minimal. A TV works in harmony with a soundbar, subwoofer and rear speakers. The end result is a great home cinema which is easily achievable for the keen enthusiast!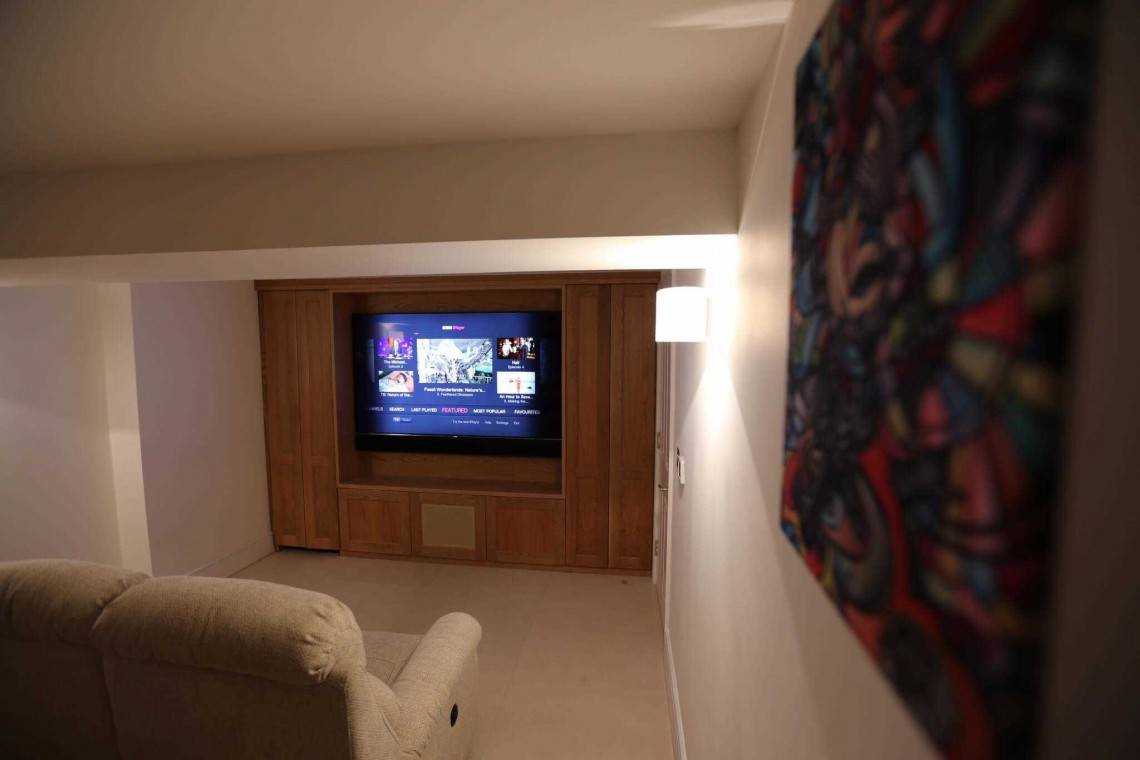 The Living Room Home Cinema
Most people with an interest in home cinema end up with a surround sound system in the living room – we design solutions which are bespoke for each client, ensuring the best aesthetics whilst taking in to account the principles outlined above. Our living room systems can share technology with our more luxurious rooms, being installed in a living room doesn't need to be a compromise!
The Contemporary Cinema
This system could happily exist under the modern heading but it deserves a special mention as it manages to hide in plain sight without upsetting the clean lines and aesthetics of the room. The speaker package is on a par with some of our bigger home cinema rooms, creating a great experience!
The Attic Room
Attic's can be great places to create home cinema's as they are often under utilised and unloved spaces. The room below is a design for an attic space above a triple garage in Surrey.
The High End Dedicated Room
For clients with the room to spare a dedicated room can be a great addition. This room has huge amounts of acoustic treatments ensuring the very best performance for the clients in the room but also minimal sound leakage to the rest of the home. This is quote important given the six 10″ subwoofers used in the system!
The Basement Room
Basement and cellar spaces can make great home cinema rooms as this basement room clearly shows! A large TV is partnered with a simply stunning, yet discreet, sound system!
The Outdoor Cinema
Probably better suited to warmer climates than the UK! We also design and install in to outdoor spaces with high end audio system which seamlessly toggle between background music and high end surround sound depending on the source selected. Coupled with an outdoor TV and a warm evening this ensures a stunning outdoor cinema experience!
The Boat House Cinema
Included simply to show that almost any space can be transformed in to a stunning home cinema – in this case a boat house in the Lake District!
The Themed Cinema Room
This room was designed to fit in an old crofters cottage on a Scottish Estate so the colours and materials were chosen to fit in to the environment.
The Gaming Room
Did you know that all our home cinema rooms can be used for games consoles? Imagine your favourite game on a super large screen, with no compromise on quality, and a super immersive sound system!
Summary
If you have made it this far then thank you! Hopefully the above information has illustrated the approach we take to designing and installing these valuable additions to clients homes and also inspired people to think of the possibilities! For more information on any of our services or projects please do feel free to contact us.